One thing is for sure about your first semester at University, it will go incredibly fast! It feels like literally just yesterday my parents were waving goodbye and I was embarking on Freshers Week. With just 3 weeks of term left the last few weeks have been pretty hectic as the first wave of scary assignments are due and the dreaded in-class tests started appearing.
I am of course, over-exaggerating.  Your first assignments are in actual fact not that scary and the in-class tests really aren't as difficult and horrible as they might sound. However, when you do them for the first time they can seem like they're a bit daunting. I know I've definitely been panicking a bit the last few weeks so I'd like to share with you a few top tips so that when you arrive at university you won't need to worry at all!
As a Business Administration student, the first semester is largely about introductory modules in the various areas of business. This is designed to get everyone up to the same level before progressing onto the more advanced topics. Obviously some students have studied some of the module topics before (for instance I've already studied 2 years of economics, where as others have no economics experience but are absolutely amazing at Accounting - which I am definitely not!). Which is where my first top tip comes in: Study Groups!
When it comes to learning everyone is different, but I certainly find it much easier to get to grips with that pesky statement of financial position when I'm learning in a group of friends. It's a great way to exchange knowledge, get motivated to study and mutually benefit everyone.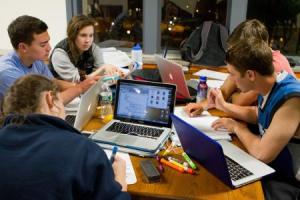 Second up is Office Hours, what on earth are they you ask? Well, each lecturer at the university will have set office hours advertised. This is usually a few hours a week where you can simply drop by their office and question them on that tricky problem you've got stuck on. My real tip though is to utilise this time - I spent far to long sitting around not being able to work out problems because I didn't want to bother my lecturer with my silly problems. It's really important to remember that's exactly what they're there for - so no matter how small your problem, as long as you've spent time considering and working on it then just pop along and get it sorted before it comes to exam time! If you really don't want to head along to their offices, try grabbing them at the end of a lecture or during the break.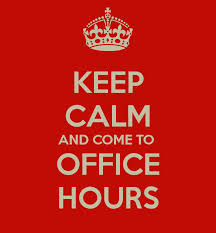 Third and final is Time. Keep track of it and don't leave it to the last minute (although we all inevitably will right?). I know I got caught out by the fact that 3 deadlines all fell within 1 week, and didn't allocate enough time in order to get them all done. Which involved a lot of Red Bull and not much sleep. I've certainly learnt for next time!
So there you have it, 3 top tips on not panicking about assignments and in-class tests. Get in groups, utilise office hours, and keep track of time!
Until next time!
Harry.