I'm a big technology fan, and certainly like to think of myself as a bit of an entrepreneur (I am a business student after all) so when I joined Banter, the society for Bath Entrepreneurs, and learned about their competition to design an app and win a trip to Silicon Valley in California you can be sure I was going to enter. The competition, called Apps Crunch is run by Enterprise Bath which is an alumni funded initiative run by the university which provides fantastic opportunities for entrepreneurs at the University of Bath.
Apps Crunch then, requires you to join together in teams or 2 or 3 (enter my cofounder Cecilia) to come up with an app idea (Back to Business - more on this in a bit!) to write a business plan, produce a wireframe for the app and then potentially present your idea at the finals for a chance to win the trip.
The level of competition was fantastic; having done a few business competitions back at school you really could see this was the next level. There were so many ideas that were genuinely innovative and original - something that is not easy to do in a world where there seems to be an 'app for everything'.
So what was our idea I hear you ask! Well, without giving too much away we came up with Back to Business, an app that feeds information to small business owners. The rationale being that micro-business owners (businesses with 0-9 employees) spend far too much time searching out information that they need to know but simply don't have to time to find. A prime example of this would be a change in health and safety regulations. Business owners need to know this, but unless they're told when do they find out… usually when they're in trouble for breaching the rules is the answer!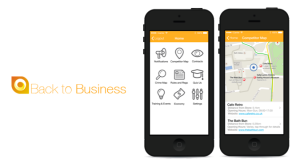 Our app aims to make sure business owners no longer find out these things when it's too late. This is just a snap shot of what the app will do, but until it's up and running you'll just have to wait and see, I'm afraid!
So how did the competition go!? Well, the short answer would be to tell you that we didn't win. Although the real answer would be to say we learnt a huge amount about writing a business plan, making a wireframe - digitally sketching out all the screens in our app (which neither of us have done before) and how to develop an idea from a simple concept to a realistic business plan. We're already working on developing the idea into a proper feasible business plan through another of Bath Enterprises competitions and are now working with a mentor to add more direction to our work. It just goes to show that if you're in the slightest bit entrepreneurial the support and encouragement from both the University and students around you can really inspire you to make cool ideas a reality.
I hope to be able to update you on our progress next semester. For more info on Bath Enterprise just check out their Facebook page!
Cheers, Harry.