During Fresher's week people will tell you two things constantly:
You will definitely marry someone who you met at university
University life is an emotional roller-coaster
I can't tell you if the first sentence is true but I can verify the second sentence. University life is definitely an emotional roller coaster!  I didn't believe it back then but now I want to share my personal experience with you. If you are ready, take a seat and fasten your seatbelt. Let the fun begin!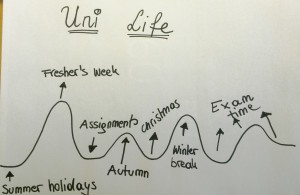 The summer holidays
That's the part where you enter the roller coaster. You have already paid for your ticket and look for a seat. You don't know if this roller coaster is worth the money or not, and whether you will have fun. Your feelings probably change by the minute. From joy to anxiousness. You just can't wait for it to start, while being afraid at the same time.
Fresher's week
Finally! The ride begins. University hasn't really started yet and you spend most of your time trying to get to know as many people as possible and finding your way around campus. In the first lectures the professors won't mind if you are a little bit late as you are still trying to find all your lecture rooms, and it's not a drama if you haven't started reading your coursework yet. After all, university life is also about making friends and trying out new things.
Assignments and presentations
Real university life kicks in. You will get your first assignments to do and professors might tell you something about mid term tests. You probably didn't even know that mid term tests exist. You start to panic! You might start to actually open your textbooks and have a read in them. You might start to look for study friends. This one kid who always answers questions in lectures - it might be a good idea to ask him/her for help if you need it. Oh, and you thought it would be wonderful to cook for yourself all the time or that food on campus will be marvelous. Now you realise that your dads steak wasn't even that bad and that it would be nice to have it for dinner tonight. Too bad that you are skint as well. Oh glorious university life - we thought you were better.
Autumn/Winter
It starts to get cold in Bath and at least if you live in Westwood you will be woken every day by the ticking noise of the heating. But while the temperature goes down your mood goes up. You don't get lost on campus anymore, you have found some people who you can call friends, you know what to do with your free time,  and you might even enjoy your lectures again. Bath feels like a home away from home. This is the fun part, but as we all know good roller coasters don't only go up and down once!
It's beginning to look a lot like Christmas
Christmas season at Bath is wonderful. The Christmas market opens early in November and is the biggest in the whole country, and you shouldn't forget about the lights. There is nothing better than strolling through Bath in the night and just looking at the beautiful lights.
Although it's just before Christmas and the winter holidays, you can't wait to get time off. After all, getting up for an 11:15 lecture is hard! We don't even want to think about the 9:15's and let's pity all the poor ones who have these rare 8:15 lectures or seminars. You might be tempted to just skip your lectures as there are only three weeks left till your holidays but I can tell you - don't listen to that evil voice.
Thanks to WhatsApp/Snapchat/Facebook you always know what your friends do and they decide to send you pictures of the fun times they have without you - thank you, modern technology. You might even think life can't even get worse - but it can. You still haven't reached the lowest point on the roller-coaster. My lowest point was when I was so fed up with washing up my dishes and how the kitchen looked in general, that I decided not to cook at all anymore. This last week before I went home, I just had breakfast at my flat - that's it.  I couldn't take it anymore - I just hate dirty kitchens. But then it was over. University closed for the winter holidays. Time to go home or even if you stay on campus - time to relax.
The holidays
Finally you are home again. You might not have seen your family or friends for 3 months but now it's time to catch up with them again and sleep. The roller coaster is going up again. Hooray! How much did you miss it to just watch TV all day and not having to cook for yourself? I loved my holidays but just till the point I realized I should start revising soon.
Revision week and exams
I had four exams and they were quite spread out so I wasn't that stressed, but still. There were days when I was actually looking forward to the library and to read more about this topic the professor mentioned in the lecture, but then there were other days when I couldn't take it anymore. I thought I wouldn't be able to study everything, and there were times when I just gave up and left the library to watch another episode of Grey's Anatomy in my bed. But I did it, or at least I think I did, because haven't got our grades yet!
So this was my experience so far, and while I think I won't be able to leave this roller coaster till the end of my university career I think the ride next year won't be quite as scary.  I want to share some tips for international students on what they can do to reduce homesickness, as I think homesickness hits us sometimes a little bit harder than our English friends. After all, we don't have our family in the UK and we come from a different culture. This can make it even harder sometimes.
1)    Join societies - The University of Bath has a range of societies and I bet there is one you  are interested in. It will give you the chance to make friends who will help you cope with the homesickness and the society meetings will give you something to look forward to.
2)    Meet people from your home country - sometimes it's just nice to talk to somebody in your own language and have a chat about what you miss from home.
3)    Bring your culture to your flat - as I love baking I decided to make some traditional cookies from my hometown to share with my flatmates. It made me happy and my flat was thankful for the delicious, free cookies.
4)    Talk  -  there is nothing wrong to admit that you are homesick and that you might need help to cope with it and everybody is homesick from time to time. I haven't meet one person who wasn't at one point. Just talk with your friends about it.
5)    Skype - there will be this one weekend where your whole flat is empty because everybody goes home. It's just you and this one kid from up north whom it takes to long to go home for a weekend. You don't know what to do know, but thankfully Skype exists. Now is the time to catch up with everybody from home. Nobody will mind if you Skype for hours and hours and nobody will interrupt your conversation because nobody is there and you will just feel better. You might not be able to go home but Skyping is as near as you can get. I know it's still not the same but I have heard some parents even put the laptop on dining table so their children can be part of the dinner conversation. It might sound a little bit crazy but who cares if it makes you happy.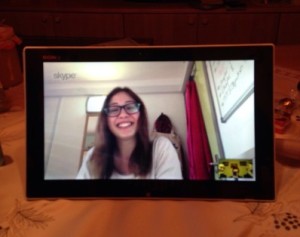 And don't be put off from studying abroad at the University of Bath just because you are afraid of becoming homesick from time to time. At least I can say all the happy times I have had so far made up for it.