The most famous citizen of Bath is not a living one but a dead one. It's none other than the famous Jane Austen herself.  As a young girl she was quite in love with Bath as you might have guessed from her first novel "Northanger Abbey", which is set in Bath. However, in later years, when she had to live here in Bath with her family she quite detested the city, which is also shown in her last novel "Persuasion". Nonetheless, Bath still celebrates its most famous resident not only with a Jane Austen Festival in September but also with a Jane Austen Centre.
When my friends visited me last week I quite knew that I had to go there with them, as they are big Jane Austen fans. I have only read Pride and Prejudice for school so I wasn't quite sure what to expect from the Jane Austen Centre.  I thought it would be one of these museums where you just stroll around and look at some pictures, but it was completely different.
First of all, there is a presentation about Jane Austen. One of the museum guides, who looks like a character from a BBC film adaption of one of Jane Austen's novels, talks about her life and her connection to Bath. After that, you are led to the real museum.  You can see some pictures of her and her family members and read about life in Bath during Jane Austen's lifetime.
It's quite interesting that Bath used to be a town where everybody wanted to go to in the summer season to be seen and to see people, and maybe even to find a future spouse.  At the end of the museum you even have the chance to dress up and look like you just stepped out of a Jane Austen novel!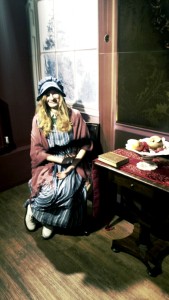 The best way to end this museum tour is with afternoon tea, and you don't even have to leave the building. You just walk up the stairs and step into a lovely little tearoom called the Regency Tea Room. Unfortunately, all the tables were occupied, but I am definitely going there at some point, as you can just go there without going to the museum.  If you are planning a visit I definitely recommend booking ahead as it looks like they offer a really good afternoon tea!
As I still wanted to show my friends what an afternoon tea is, as they have never experienced it, we walked to the Boston Tea Party, which is just a little walk away from the Jane Austen Centre. The Boston Tea Party is also featured in the Bath Leap List. I can highly recommend going there at any time of the day as they not only offer a good afternoon tea but also a good breakfast and lunch (try the pancakes or the warm croissants there, as they are delicious ).
My friends were quite surprised that scones with jam and clotted cream can be so filling, while also being so delicious.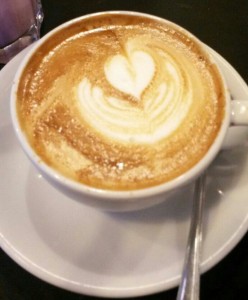 You probably really want to come to Bath now to experience afternoon tea with Jane Austen and you should definitely should do! However,  if you can't come right now, you should definitely do the following:
1. Get yourself a copy of the BBC adaption of Persuasion and/or Northanger Abbey
2. Buy strawberry jam and clotted cream
3. Make some scones yourself (http://www.bbc.co.uk/food/recipes/paul_hollywoods_scones_70005)
4. Watch the DVDs while having  afternoon tea
Enjoy!