WOW. It is already spring. I cannot believe it. Time flew by while I was making memories, which will hopefully last me a lifetime. Just read my other blog posts, if you are curious what I was up to.
To be honest, the past three weeks before the Easter holiday were horrible. I had a midterm test, had to hand in an essay and I had to start some group works. Therefore, I could not wait till the Thursday before the Easter Holiday and the Easter Holiday itself.  The Thursday was the day I was looking forward to the most, as it was the day of the School of Management Spring Ball. As you might know the University of Bath has different Faculties (School of Management, Engineering& Design, Humanities & Social Science, Science) and in each Faculty different departments as well. Every Faculty and Department organises socials. Obviously, I am biased and I am going to tell you that the School of Management Spring Ball is the best of all the socials compared to the other departments (this is obviously not true- Pharmacists have their own amazing ball, Economists went to a social at a restaurant where they got free food and so on…)
The School of Management Spring Ball took place in the famous Pump Room above the Roman Baths. You might know the Pump Room from the Jane Austen movie 'Northanger Abbey'. It is an absolutely fabulous place and the best choice to host a social for the School of Management. You can even go there during the day. They offer Afternoon Tea and also have a restaurant. That is the place to take your parents to if they visit because as a student, you are probably not able to afford Afternoon Tea there. I am still determined to persuade some friends to go with me. If I succeed at it, I will definitely write about it.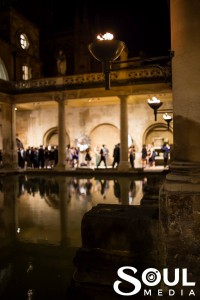 The theme for this year's Spring Ball was the roaring twenties. Even though, I am not a big fan of dressing up, I got my mom to buy me a feather boa and some long black gloves. Unfortunately on the Thursday I had a lecture till 6 o'clock, which I did not want to miss for anything in the world. If you are wondering why: It is Operations Management, which might sound really boring but I can guarantee you, all my course mates agree it is a fabulous lecture where you learn a lot and even if you are not interested in the topic itself, you will leave the lecture hall with a smile on your face because the lecturer is really funny.
This is the reason I was not able to arrive at the Spring Ball at 7:30 because you know as a girl it takes me time to get ready and look pretty and so on. So I arrived there with my friends about 8:15. This was a mistake I will definitely not make again, and I am warning you don't do it yourself. There was a drink reception at the Roman Bath, itself. So people were standing right next to the hot water and drinking their glass of wine or coke. There was even a professional photographer who took pictures but as we were too late we missed that part. We were just able to have a peek at the Roman Baths. After the drinks reception closed at 8:30, everyone moved upstairs to the Pump Room. There was music playing and finger food was served. The food was nothing fancy  (Fish&Chips, Risotto with Mushrooms, Beef with mashed potatoes,..) but it tasted sooo good. Especially after a week of just eating pasta and rice, because I could not be bothered to buy some real food the week before I go home.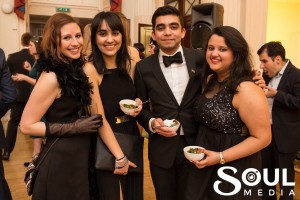 After the dessert was served, a live band started playing. Moreover, there was also a professional photographer, who took pictures. Apart from all the food and drinking, the Spring Ball gave me the chance to talk to people I hardly ever talk to. First of all, as it is for everyone who studies for an undergraduate degree in the School of Management, you see a lot of people you kind of know, but have hardly ever spoken to. The same applies for my course mates. After a semester at being at university, I already have a circle of friends which whom I sit at lectures, so there is no point anymore in sitting next to a person you have never spoken to. Yet, at the Spring Ball you get this chance. Your friends might know some of these people you have hardly or never talked to and so you just join their conversation. The Spring Ball ends at midnight but we decided to go a little bit earlier to celebrate with our course mates the near end of term. We went to 'Be at One', which is just next to the train station. It is a really nice cocktail bar and just the right place to go when you are dressed up in 1920s style. All in all, I can recommend every School of Management undergraduate to attend the Spring Ball. You will definitely not be disappointed.
I am really glad to say that the Easter holidays have finally started. Even though I will miss all my university friends and all the fun I have here at the University of Bath, it will be so good to go home again. When I come back from my holidays I only have six (!) weeks left till my first year at the University of Bath is over. It is ridiculous how fast time went by. I hope you are all enjoying your well deserved break and for all the prospective University of Bath students: Good luck with all your exams!