A few weeks ago I took part in one of RAG ('Raise and Give') Week's biggest events - the annual Bath2Paris Charity Hitchhike. This is the story of how I, or rather we, (introducing Megan my fellow BBA course mate and hitchhiker extraordinaire) hitched (almost) all the way to Paris and raised over £500 for four local Bath charities.
So as I mentioned, every year 30 or so teams hitch from Bath2Paris for some amazing charities. This year we were raising for:
Time2Share which aims to reduce social isolation by recruiting volunteer befrienders to visit service users to build the confidence and self-esteem of young disabled people in a friendly and non-judgemental environment
Jamie's Farm who use a unique 'family, farming and therapy' method to transform the lives of vulnerable inner city children, acting as a catalyst for children to make positive changes, and supporting their teachers to make a lasting difference
Forever Friends raises funds to support thousands of patients cared for at the Royal United Hospital in Bath, currently supporting the Cancer Care Campaign to build a new cancer centre
Unseen who provide emergency 24-hour accommodation at a 8-bed safe-house for female survivors of human trafficking.
I urge you to check these out if you think you can help, they are all brilliant causes.
So on the 17th of April, at exactly 8:20am dressed as Mario and Luigi (because why not of course) we set off from the Students' Union in the hope of getting to Paris in the shortest time possible! They staggered each teams departure time and marked your arrival time to calculate who made it fastest to Paris, and being just a tad competitive we were quite keen to give this a good shot! Oh how young and naive we were…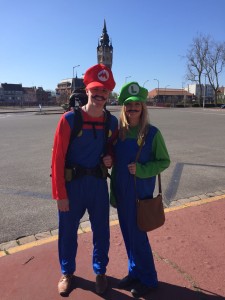 First port of call was the campus bus stop - with hardly anyone leaving campus at this time we decided to try and blag our way onto the Number 18 bus. Shoutout to the driver who kindly gave us a free ride down to the bottom of Bathwick Hill and then it was a walk to London Road to try and get us a our first lift. Given our optimism we through we'd wave our sign around a bit and see if we could attract a lift on the walk. Lo and behold the first car stopped and took us to the petrol station on London road. In utter disbelief another 5 minutes later we where in the back of a builders van on the way to the motorway. Comments such as "I thought hitching was supposed to be difficult" and "well this isn't so bad is it…" were thrown around with a lightheartedness that only the blissfully unaware could manage.
On arrival at the lay-by before the motorway that leads from Bath to London we hopped out of our kind builders van and set about flagging down our next ride. 10 minutes passed and a lovely kind women stopped and offered a lift - Megan, not familiar with the local geography, was ready to jump in the car before I had to point out that in fact Bristol was in completely the wrong direction to London. Crisis averted it was only a few more minutes before Lauren, our next driver was to stop and offer us a lift all the way to Surrey! In utter disbelief we climbed aboard the rather lovely Audi and were well into the front runners (being able to track everyone's progress via the hitch's website). I think it was at this point we began thinking we'd be in Paris by the evening, and were trying to work out how to spend our Saturday in Paris. Oh sweet optimism.
The plan was to get dropped at Cobham Services, a massive station south of London on the M25. From here we were confident we could catch another lift towards Dover and the Ferry. This is where things took a bit of a turn. The service station was closed. Some rather frantic planning ensued as our driver was now late for work. We had to get dropped at the next junction, not ideal. We then became stranded in Surrey for 2 hours of constant waving of signs as optimism dwindled and our emphatic 'get a hitch dancing' with it. Having moved around several times we decided we had to try something different. A quick Google Maps search later revealed the closest petrol station was an hours walk - stick or twist moment. We decided to go for it - beginning with a leisurely stroll though the woods followed by walking through the poshest private school in the country (it looked like a village on the map honestly!) and being photographed by what felt like every child in the school as we sheepishly walked through the playground at lunchtime. Much to both their and our amusement.
Exhausted we finally arrived at the promised petrol station, exhausted and deflated after over 3 hours of waiting around and walking. But once again the hitching gods shone down upon us, in the form of Rachel our next lovely driver who pulled over almost immediately as we arrived at the petrol station. The feeling of elation would only rise as Megan managed to secure us all a free dinner and drinks at what must be one of the friendliest pubs in the UK (if you're ever in Surrey definitely get yourself down to The Feathers). With morale back at maximum we hit the road en route to Maidstone - seemingly within touching distance of Dover and the Ferry.
The delays (and to some extent to the time spent at the pub) meant we'd now fallen into the mid-pack in the race, and this proved to be our downfall. With many teams now saturating service stations on the way to Dover getting lifts was proving ever difficult. A few uneventful rides later we arrived in Dover at about 5pm. With the vision of just being able to get on the Ferry that evening and finding a potential lift to Paris onboard we hitched our hearts out on every lay-by in Dover but alas, it was not to be. At 7pm we decided to concede and pay to get on the ferry (this was within the rules of the competition yes, given how difficult it is to get onto the ferry). To our dismay upon arrival in the port we found that they'd stopped taking foot passengers until the morning. Gutting.
We went back outside with heavy hearts and tried one last time to hitch onto the ferry. With the light fading and seemingly endless hooligans of Dover pouring onto the streets we decided to call it a night. We start walking toward the Premier Inn to get a room when we bump into another team - Enter The Swiss Roles (Chris and Tach). Having offered us cake we instantly become friends and agreed the bar was the only place we should be heading so off we went. The Premier Inn, being the only place to look more favourable to stay in than a cardboard box (sorry if you live in Dover) was unsurprisingly full. So we headed back up the high street to find a rather dubious hotel. Now, words cannot really describe how poor the hotel was so I'll leave you with the fact that is was £10 per person per night and some reviews I found on Google, and leave you to imagine what staying there was like…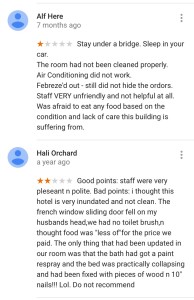 Up bright and breezy the next morning (or more like Chris and Tach where) as we hauled ourselves out of bed to try and hitch one last time onto the Ferry. Eventually admitting defeat once more we paid to get on, in the hopes we could talk to all the passengers on the ferry and try and get us a lift to Paris from there. Alas, it was not to be - either the Mario Brothers or The Swiss Roles where able to get a lift off the Ferry at all and a long march into Calais followed. There isn't a lot to see in Calais, bar their magnificent clock tower (pictured) which we're fairly sure they spent the entire town's budget on before remembering they needed to build the rest of the town.
A few more hours of desperately trying to get a lift followed, but even when we deployed the Swiss Roles secret weapon - the ability to speak French, we were still unable to get a lift. As the hours wore on, we eventually decided that we'd have to get the 2pm train to Paris or not make it before the deadline. So unfortunately, we didn't quite make it all the way there hitching, but there was some relief in that while sat on the train we were joined by the smurfs and a plethora of other teams showing how difficult it really is to hitch the whole way there.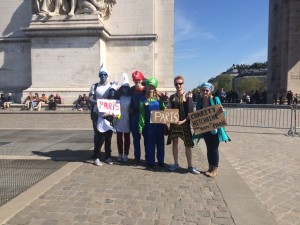 Nevertheless, we raised a huge amount of money between us and that was reason for celebration enough so in Paris we treated ourselves to crepes, wine, good food and explored the city by night which was, needless to say, great fun. So, if you're reading this and thinking of coming to Bath next year then I can't recommend enough signing up for the Hitch- it's a rollercoaster of emotions but this is just one story of so many that were made this year. Don't miss the chance to find out yours!