During Freshers' Week people tend to put their name down for at least 10 societies. Obviously a normal human being cannot be involved with 10 societies and pass university as well. However, I would encourage getting involved with 1-2 societies and 1-2 sport clubs. I tried Lacrosse and joined German Society and the Baking Society. After the first semester I only stuck to German Society and when election time for next years committee came up I decided to nominate myself. Eventually I was voted as the Chair of the German Society. Back then I did not have a clear understanding of what the role would involve but I was prepared to spend some hours each week dedicated for the German Society and it seemed a fun activity to meet new people.
In the German Society we have 4 committee members – bigger societies tend to have more positions – Chair, Secretary, Treasurer and Social Secretary. My role is basically to be the CEO of the society and do different things, a lot of them involve administrative stuff. The secretary is responsible for the communication with the Societies members. The Treasurer handles everything involved with money but as we do not have a big budget, this is not too complicated. The Social Secretary is there to organize the fun stuff – the socials!
Before the end of my first year, the handover from last year's committee to us happened. Basically, you have to fill out a lot of forms and just think about what you want to do with the society in the next year. For us this was a little bit complicated as our Treasurer and Social Secretary were on placement in Germany and Austria. However, we eventually did it and handed in all the forms (does not mean we will now stick to everything we wrote!)
During the summer I was only responsible for filling out forms for Freshers' Week. However, as I realised later, I only filled one out of two forms out. That is why German Society was only at Freshers' Activities Fair and not at the Societies Activities Day on Parade. We only realized that on the day of the Societies Activities Day as our society did not have a stall. I was quite depressed after I realized it was my fault. I thought we would not be able to get anybody to join us. However, it was also a chance for us. We were not prepared at all for the Societies Activities Day,  so it might have looked quite unprofessional if we had a stall. As we now had some days left to actually think about how we should decorate our stall for the Activities Fair we put a lot of thought in it. We baked cakes, made German bread, had sweets, and printed out flyers. It was quite a success and as a result we now have 58 official members.
The main thing societies do is to host socials. Our first social happened in the second week as we wanted to get involved with the new Freshers' as soon as possible. We wanted to start with a bang and organised two barrels of beer and German food.  Unfortunately, or should I say luckily, so many people showed up that we ran out of wine after half an hour. We clearly miscalculated how many people would actually show up, but the whole committee was relieved that so many people attended.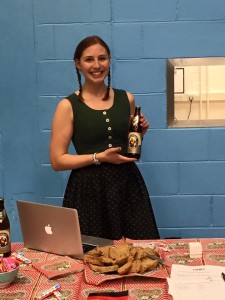 For the next few weeks my society has planned some socials, film nights and the Christmas meal. The biggest event we have though is the annual Berlin Trip- Wish me luck that everything goes well with the planning of it. *fingers crossed*
Here is my top 10 list of what I have learned so far about running a society:
1)   You should read EVERY e-mail the SU Society team sends you REALLY carefully
2)   Running a society involves filling out a ton of forms
3)   You meet a lot of people and by the end of the year you will have made new friends
4)   Being part of a society takes up a lot of time – do not only do it because it looks good on your CV, although....
5)   It does look good on your CV!
6)   Finding a date when every committee member can attend a meeting takes sooo long
7)   You have to be the n°1 fan of your society – if you are not passionate about your society then nobody will want to join it
8)   You talk about your society all the time and might even dream about it (mostly nightmares about filling out forms)
9)   You will get addicted on checking how many people have joined the society & how many people actually came to socials
10) It is a lot of fun and I would recommend it to anybody who is willing to spend some hours a week dedicated to your society