The first thing I should say here is that I haven't actually got 99 problems and I don't actually have any deadlines set for Friday. I do have one for Tuesday but "I have one assignment and it's due on Tuesday" is more of a small talk conversation starter than a thought provoking blog title. No matter, it is what it is.
I have however just come out of an incredibly intense four weeks in which I was pushed to the limit in terms of trying to balance university studies with everything else. This has led me to ask if trying to balance too much is worth it, what the drawbacks are and what is the best way to cope in situations where you feel like you're drowning in work.
I started off this semester by resigning from my part time job at a local restaurant in Bath with the plan of focussing 100% on my studies and relaxing this year. I've worked part time with my studies since I was 15 and I'd decided it was time for a year to just study. This all went down the drain less than a week later when I received an unexpected email from a very well known technology company, inviting me to attend an interview for a position in their store - I really couldn't say no.
By the end of October, I'd managed to secure a job within the company and went on to begin working in one of their stores which for the first few weeks was incredibly demanding because I had so much to learn and do - I was spending on average 45 hours per week there for the month of November before I resumed normal contracted hours at the beginning of December.
On top of the 45 hours at work, I had to make sure I attended all of my lectures which involved some very creative time management. I had multiple coursework deadlines due throughout November along with a number of mid term assessments. So how did I try to manage this and what were the drawbacks?
Staying on Top of Coursework & Assessments
The key to staying well on top of coursework is to start it as early as possible. Most courses will give you your coursework assignments in the first couple of weeks and as soon as you know the questions, you can begin to get some books and start reading about it at the start of semester before you get too busy.
I'm really not a nerdy person - I usually facilitate watching Netflix all day by setting myself personal deadlines for a week or two before the actual deadline and force myself to have my essays finished by then. Just before my crazy four weeks, I realise that I needed to get on top of things early so I went home to Northern Ireland for 4 days. In the 4 days, I completed two essays by dedicating two full days to each and not allowing myself to return to Bath without two essays ready for submission. I find this tactic of doing loads of research and blasting the essay out in a couple of days is often a good one. It stops you dragging out one essay for a few weeks. It also lets you quickly check a whole task off your long list of things to do and this will majorly reduce your stress levels - make sure you do adequate research before starting though!
With two essays already ready to go before I'd even started working, that left me to organise my calendar and schedule in specific times to prepare for my 4 assessments and write my remaining essay. I found that having an incredibly precise daily calendar allowed me to keep on track by knowing exactly what I was doing and when. I'd usually prepare this a day in advance and it looked something like this for a few weeks: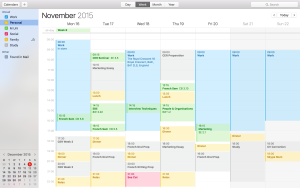 Drawbacks
As you can see from the calendar picture above, I didn't really have much of a social life over those few weeks but at the same time, I was making a lot of new friends in the training for my new job so there was a social side to that in some respects. I also missed out on things like going to the gym which I usually do quite regularly to relax which was a definite drawback.
I found that the most important thing was making sure that I got adequate sleep because if you get out of a regular sleeping pattern, it becomes incredibly difficult to catch up. That meant strict bed times and wake up times. I tried to set aside an hour at the end of every day before going to sleep where I could just chill and watch some TV or see some friends but it didn't always happen.
There were multiple times where I felt like there was no end in sight and the lack of free time often made it feel like days were just running into one another.
Is it worth it?
I think that for anyone who tries to get involved in extracurricular activities at university, there is always going to be a point where you're going to be biting off more than you can chew and sometimes you are going to have a couple of really intense weeks where you maybe don't get to do all the things you'd usually do.
Whilst I wouldn't recommend taking on so much that you constantly find yourself too busy to cope, I would say that there are times where you just need to roll up your sleeves, have a few late nights and get your head down for a few weeks. It's important that you stay on top of work and have a clear plan about how you're going to keep on top of everything and have a time in the future that you're working towards where you know you can finally relax.
"There is no substitute for hard work" (Thomas Edison)