As semester one draws to a close and exams loom ever closer, I feel it's best I write a post about what on earth I have been getting up to in the engineering department over the last eleven weeks.
Let me get one thing straight - I know that I said lots last year about how busy life was as an engineer but, if I'm totally honest, last year's work load was incomparable to the workload we have now been given as second year students. Although I am finding the work very challenging, there is always help at hand and just as before, tutors and professors are very willing to respond to emails and help you out if you get stuck. I will endeavour to give you a breakdown of my term so far and how I've managed the intensity of the course whilst remaining organised, healthy and devoting lots of time to rowing too.
The start of semester was relaxed and allowed us all to be eased back into the realms of engineering – no shock to the system given the enormity of the summer vacation. In second year, integrated engineers are expected to submit two design projects, the first of which was announced not long after our return from holidays. We had to design and analyse a snowmobile shaft in pairs. Although this sounds simple, the report required was very thorough and it was great to get to know my partner so well. We ended up spending an awful lot of time together and this meant we could really work to our strengths as a combined pairing. To date, this was the best and biggest piece of academic work I have ever submitted and I am still very proud of what we achieved. Working on digital engineering drawings on the train makes you look very clever indeed!
In a similar fashion to last year, there were a number of laboratory exercises to complete during the term. Although daunting at first, it's miraculous what we are able to produce in the labs. We have even produced an amplifier system with a small speaker that could play music, using only simple components and a bread board! This is one of the highlights of my engineering career so far and I was very surprised that the circuitry we designed ourselves actually worked. A very satisfying feeling indeed.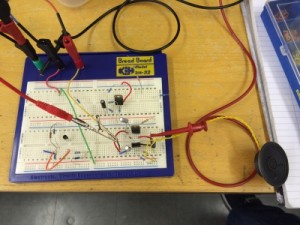 Unlike last year, this semester, engineers (both Mechanical and Electrical) have learnt lots about computer coding. I had never done any coding before university so this was very new to me. I wasn't quick to pick up this skill set, but now I have, I really enjoy coding and how powerful simple coding languages can be. One thing I really love about IMEE is that although you are working at a basic level, it is clear to see that the skills we learn will be very important to engineering in the future. In just a few weeks we have learned to write simple programs in MATLAB and we have even coded for our own images to be outputted from hardware blocks using a VGA cable (the same cable used for desktop computer displays).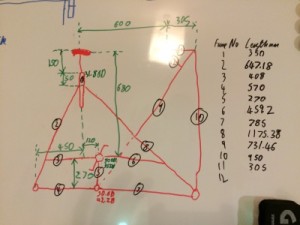 Towards the end of the semester, in weeks ten and eleven, we finished off a project whereby we designed and constructed a ping pong ball launcher. This was a very challenging and fiddly task but was lots of fun at the same time. We worked in big groups and wrestled endlessly with our devices to try and get them to function as designed. It was much harder to get our bits to work properly together than I expected, but a vibrant atmosphere in the workshops meant that most of the problems incurred could be laughed about as we worked to find a solution.
The final task of the semester involved another big design project. Again, this was great fun as we were given such broad scope and were allowed to design any 'off-grid laundry machine' that we wanted. All we were told is that the laundry machine had to meet a short list of requirements and off we went. After much deliberation I opted for a pedal powered device to be used on campsites in the UK. This was another massive project and a piece of work I am very proud of – let's just hope the marks I get equate to all of the hours I put in!
Having done so much work in such a small time frame I am relieved it's all over and I can now start revising in earnest. Let's just hope that the Christmas holidays don't prove to be too distracting!
If you have any questions about studying Engineering here at Bath, the feel free to comment below!