There are certain expectations that you should set for yourself if you're planning to go to university.
Someone will always steal your milk and not own up to it
You will often be faced with the choice of going to your 9:15am lecture or sleeping in
You are going to spend most of your Christmas holidays studying for January exams.
Personally, the third one is holding true at the moment but this year I am also in the midst of applying for placements for my year abroad. As part of my International Management & Modern Languages (French) degree, or FIMML for short, I spend my third year in France. I have 12 months abroad and this can be spent in any of the following combinations:
12 months placement
12 months in a French business school
6 months placement / 6 months business school.
For anyone who is considering applying to France, it is worth noting that the French government has just brought in a law which restricts placements to 6 months maximum within any organisation. In order to spend 12 months in a French placement, it is now necessary to apply for two separate 6 month placements in different departments of the same company or different companies altogether. My cohort is the first to experience this new law and therefore it will be interesting to see how it all plays out!
Preparation
From the offset, our year abroad officer, Ninon, has been brilliant in preparing us for our applications. I will not get bogged down in the details of the preparation but if you attend all her presentations which will be scheduled into your timetable, you will be ready to start applying. In terms of learning to write French CVs and cover letters, this will be dealt with in your french seminars but it is coordinated between Ninon and the seminar tutors. For this reason, I would say it is crucial that you do not skip any of your French seminars in 2nd year.
Ninon's presentations have included:
A presentation on all the different business schools
Advice on applying for placements
Organised meetings with 4th year students who have just returned from their year abroad, and much more.
All of this information has helped me to make an informed decision on how I want to spend my year abroad and I'm going to attempt to apply for two 6 months placements. I've actually just submitted my first application and am now moving onto my second so let's discuss that and see how straightforward it was.
If you want to go to a business school, it acts like an exchange. Uni of Bath takes some of their students and in return they take some of ours. There are a number of prestigious French business schools which you can apply to including multiple ones in Paris, Strasbourg and Nancy. You'll be inserted into one of the business courses and complete your modules in French. These marks are then converted and added to your degree at Bath. I had the pleasure of visiting Nancy last June and it is a beautiful city in the east of France. I was also in Strasbourg train station however, I'm not sure if that counts.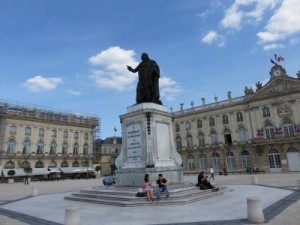 Applying
Around November, companies will start making placements available to apply for. These will be sent to your year abroad officer and they will then post them on Moodle. Moodle is an online service which every university student has access to with their online login details. It also contains all your course and module resources. Once on Moodle, you can download the job advertisement, see the application deadline, see who you need to send your applications to etc.
My first application was to a company called Thales. They're a huge global company, specialising in defense, aerospace and security and all those sorts of things. Thales, like many other companies will have a good relationship with University of Bath because of our fantastic reputation. As a result, some of the placements advertised will be exclusively for University of Bath students which reduces the competition to your cohort.
Some applications will ask you for a CV and cover letter in French or English. I chose to send both in french because the next step will be a Skype interview in french. My logic is that if I have already submitted two documents in good French, my interviewers will already have faith that I can write well in french on the chance that I stumble with my french in the interview. It is worth bearing in mind that most companies will appreciate that you are not yet fluent and the point of the year abroad will be to become fluent in french so there is some leeway (apparently). Still, you want to impress them right?
Another useful tip is to try and get into contact with any Bath students who have either had a placement with the company or are currently on placement with the company. I am really lucky because I actually have a friend who is on her year abroad with Thales at the moment. Well, I use the word friend. To her I'm probably just the annoying Irish kid who is constantly begging for help with his CV at 2am (3am in Paris). If you're reading this, I'm sorry but also thank you. Yeah. Moving swiftly on.
So I typed up my cover letter which was one page long; I tweaked my CV to make it specific to the role I was applying to and I emailed it to Thales. It was right before the Christmas holidays so I don't expect a reply for a little while. However, I'm going to send another one tomorrow and hope that I get an interview for at least one of them. In the meantime, I'm going to go back to spending time with my dog. It is Christmas day after all. Happy Holidays!