Time for another blog and now that Semester 2 has begun I am feeling a lot more motivated and am therefore in the mood to chat about my course. I'm on the 4 year psychology course which includes a placement in my third year. So far I am loving it! My course is so interesting and the lectures are really varied and engaging.
I'm sure you've sensed a 'but'… the course is quite a bit harder than I expected it to be. This maybe because I had unrealistic expectations but it is taking me a bit of time to get used to the workload and the standard of work required. I guess I did sign up for it! Thankfully the support given to us by members of staff in the department and older peers is great- I don't know what I'd do without it! I also think coming from a state school has meant I've been a little less prepared for university by my teachers due to large class sizes etc. but in other ways it has been to my advantage so I can't complain.
My favourite module so far has to be 'Mind and Behaviour'- it is pretty much the foundation of psychology and covers everything from the history of psychology to why we dream. It's a huge lecture as all psychology students take this module as well as students doing other degrees such Social Sciences who can take it as an optional module. This module is co-ordinated by Ian who is great, and manages to hold my attention for 2 hours which is pretty impressive! He also tries each week to tie his t-shirt into the content of the lecture which can be quite amusing.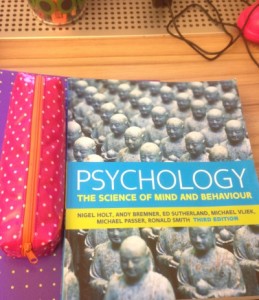 There are some modules that I have particularly struggled with, for example research methods. I think this is probably because I prefer writing essays than scientific reports and this module is assessed via numerous lab reports. Saying this the feedback I have received each time has been extremely helpful in helping me improve so I'm getting there! This semester we are tackling a new model called 'Quantitative Methods'. I have been really nervous about this as I am aware that it focuses on statistics and I haven't done maths since GCSE and that feels like a long time ago. Our lecturer told us to make friends with mathematicians and I am planning on doing just that!
As part of our course we are required to pick an optional module and there's such a great variety to choose from. Some of the options include: cell biology, a foreign language, exploring effective learning and psychological skills. I have picked the modules that make up the psychology stream (psychological skills). These have been great for me as they've allowed me to develop a broader knowledge of psychology and also to develop the skills needed to complete the course to the best of my ability. My flatmate, who also studies psychology, follows the neuroscience stream and therefore completed the cell biology module and she loved being able continue with biology beyond A-level.
Unfortunately all these modules have to be assessed- I sometimes forget this and have to be reminded! However, I am actually enjoying the variety of assessment methods used. For example we've had essays, exams, group presentations, poster presentations and online debates. Not many degree courses give you that variety!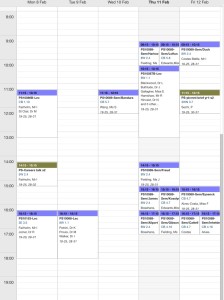 It's also worth a mention that our timetable is relatively quiet (around 10 contact hours a week) –much to the disgust of my flatmates who study maths! However the time we have off is needed to complete the reading we are required to do. The timetable is varied and includes lectures, seminars, lab sessions and workshops.
Overall I am really enjoying the psychology course here and with the staff, lectures and resources I am feeling very privileged to be able to study such a fascinating subject in such a great place! If you have any questions about anything to do with the course please don't hesitate to ask.