As you probably know by now the University of Bath has a week's holiday (inter-semester break or ISB) at the end of semester one (September-January) in the last week of January before semester two (February-May) begins. It's a chance to relax after exams and recharge your batteries before the second semester kicks off. You have lots of options for your ISB, last year I used it to visit some friends at their universities and I spent a couple of days in Paris with the family I au paired for in my gap year. Some people prefer to spend some more time with their families at home as you don't get a very long break over Christmas (and most of it is spent revising) and some go on holiday with friends. One of my housemates decided to spend her ISB in the Gambia topping up her tan.
I opted for something a bit different and decided to go on the Ski Trip – organised by Bath Snowsports. This sports club is one of the biggest in Bath and each year they offer the chance to go on a ski trip. In 2016 the trip was to Val Thorens in France. Initially I wasn't really sure if I would enjoy it, I was worried there would be more focus on the nightlife than actual skiing and before I signed onto the trip there wasn't a huge amount of information available on what it would be like. In this post I've broken the trip down into 5 sections, so that if you do decided to go you'll know more or less what you're getting.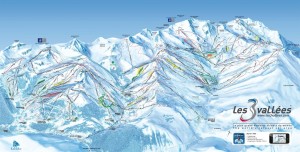 Travel
I will not lie to you, this is definitely the worst part of the ski trip. The journey ended up being around a 20 hour journey on the way there and a 16 hour journey on the way back (and I got off early!). However despite those travel times it's not as bad as it sounds. We were mostly held up at Calais, as the coach takes the ferry over to France, and while we were there we could get off the coach and stretch our legs a bit. It's also a good idea to use the bus journeys to catch up on sleep as you won't get a lot of it on the trip! Rechargeable batteries for phone/iPods/laptops are another essential. Some people who weren't keen on the idea of an endless coach journey, or had a placement to get back to, chose to either fly out there or back or both for around £65-£80 one way if you book in advance.
Food & Accommodation
Before you go on the trip you will have the option to sign up to a "friendship group". You will get the coach with people from this "friendship group" and it is likely that your rooms will be close together. The size of the group can be as big or as small as you like (although there had to be a minimum of three people). This year there were 5 people per room and you sign up to rooms with the people in your friendship group.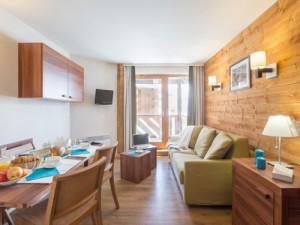 Although the accommodation was a little cramped, one bedroom-kitchen, one toilet, one shower and another bedroom with bunkbeds, this just added to the fun of the trip and as it's only 6 nights the size of the accommodation doesn't really matter. Though I signed up for a self-catered apartment as they were cheaper you also have the option of partially catered if cooking really isn't for you. Two of the people I was sharing with also chose the "bread in bed" option for an addition £7.50, and two baguettes were delivered to our door every morning, making breakfast much easier. For making meals we brought some ingredients from home (snacks, pasta, pesto etc.) but there were plenty of supermarkets in the resort. I also ate out for dinner twice as you can find fairly inexpensive meals (10-15 euro per person).
Skiing
Now to move on to the best part of the trip – the skiing! Whether you're a beginner or an expert this trip caters for everyone. I went with several friends who had never skied before, some who had only dry slop skiing experience and some who had been a couple of times but still weren't very confident and they all decided to take three days' worth of lessons. They all agreed that the lessons were really useful and good value for money. As I've been several times before I decided not to have lessons this time and to make the most of my three valleys ski pass. Val Thorens is connected to two other resorts, Meribel and Courcheval (ski map below) and so we made several day trips to try out the runs there. We were incredibly lucky with the weather and had both blue skies and perfect skiing snow. The trip also offers some skiing workshops, such as off-piste skiing.
Après
A lot of people's favourite part of the trip was the après-ski, or the nightlife. Bath Snowsports offer you a £12 wristband which gets you free entry into most of the bar and clubs, discounted drinks and discounts at the supermarket in our accommodation block. I would strongly recommend buying the wristband, even if you don't plan on partying much, it helps save you a lot of money. The après was divided into three parts; a bar with a DJ up on the mountain until around 5-6pm, live music/DJ's in one of the bars 10pm-12am and then onto a club. This meant that you can pick and choose what you want to do, if you'd rather focus on the skiing then you can choose just to go and relax in one of the bars, but you also have the option to go out and dance the night away! One event I would really recommend going to is the Mountain meal, dinner in one of the restaurants on the mountain. For £30 we were treated to beef fondue, salad, chips and half a bottle of wine, with night-skiing down afterwards.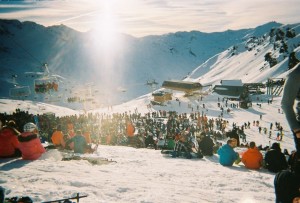 Money
A big worry when going skiing is that it will be really pricey. While I won't deny that the ski trip is an expensive holiday it's still relatively cheap for going skiing. I paid around £650 (including a £50 damage deposit, wristband, mountain meal, accommodation, ski hire & lift pass). It's also recommended that you take around 250 euros spending money for the week. However I only took 200 and I had some left over, even after eating twice in a restaurant so you can definitely manage on less.
I had a really amazing week in Val Thorens and if you're thinking about going next year, I would really recommend it!