So the first semester of university is over, January exams are already long forgotten and inter-semester break felt like the most needed holiday of my life. It's now the first week into semester two and I can already tell you that this semester is going to be very different.
Looking back at the first semester, I sort of agree with my friend who referred to it as a "trial semester". By this I mean it was the point in university where you learn the ropes. It took time to get adjusted to "uni life" if you like, getting used to living on my own, taking control of my learning and practically having to do anything and everything by myself. Of course I haven't forgotten about the pleasurable side to it, such as going to all the student events set up by the SU and A List event reps and just generally making the most of the social aspects of university.


Of course as a Fresher I wanted to go to every social event and night out, wanting to meet as many people as I could and maybe just enjoying the fact that my parents are no longer here to ask me where I'm going and when I'll be back. Looking back, I found that it's so easy to get caught up in the moment and say yes to every night, forgetting that I'm actually doing an intense course that requires me to do a lot of independent work. But, now that I'm going into a new semester, I realise that learning to prioritise what's important and knowing how to balance things is probably going to be a lot easier now that I've experienced what everyone refers to as the "uni lifestyle" (and yes, it's actually a thing).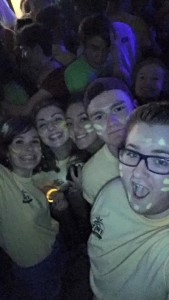 On the academic side of the first semester however, I do admit there are quite a few things I would do differently, the main one being the amount of work I put in the first few months. It's easy to convince yourself that you're just at the very beginning of a 3/4 year course and that these first few months are needed to enjoy yourself first. While that's true, I can see that keeping on top of your work from the very start and not leaving it for the "catch up" weekend that never actually comes is so much better. It saves all the stress later on when it comes to revising for your January exams, and realising that you've maybe never even seen some of the content before (something that I may be guilty of…)
However, because I can say that there are things I would to do differently from last semester, it makes transitioning into semester 2 much easier. I say "transitioning" as if it's like starting university all over again, but I guess you could look at it in such a way. I mean, you've just finished January exams, which for me was probably the most stressful exam period I've experienced (thanks to having five exams (and trust me, that's a lot at Uni), four of which were in a row in the first exam week), and having just come back from Inter-semester break, which like I mentioned before, was the most needed week off I've had in a while.

Going into semester two, you're starting new modules in your course and are able to do things differently to how you did them in the first semester. Plus, like me, I'm pretty sure you'll have New Year's resolutions about how you want the rest of your first year to go, and the start of semester two is the best way to begin.
While I want to treat semester two the same as semester one by making the absolute most of my time here at university, I now also want to to make the rest of the year as easy and stress free as is possible, which I now know will require some good planning and time management in order to cope well with the demands of my course.