The season for open days is coming up! An open day can be really useful to help you decide which universities you want to apply to. You'll be able to visit your subject department, learn more about the course, meet some of your future lecturers, and get an opportunity to explore the campus and accommodation.
While open days are often pretty busy with trying to cram in all the talks and events you want to attend and trying to see as much of the university as possible, it's also a good idea to get a feel for the town or city that you'll be living in for the next three or four years. While I haven't been into the city centre on a regular basis during my first year at Bath, I'll be living in the city next year and in my final year after I have completed my placement. That's twice as long as I'll spend in my first year university accommodation, and so open days are a good opportunity to see what Bath has to offer. If you've got some time to kill before your train home after the open day, or if you will be spending the night in Bath, the city has some great places to explore.
Bath Abbey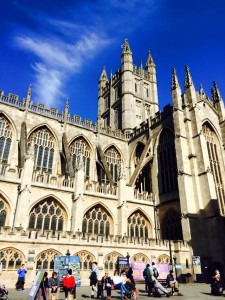 One of the main attractions in Bath is the beautiful Bath Abbey. Entry is free (although they do ask for a small donation), and there's a lot to see inside. When I visited the Abbey with my family (it's a great thing to do when family and friends come to visit you in Bath) we spent ages reading the plaques and stone tablets of people who had been interred in the abbey and buried in the churchyard. People from all over the world have been buried there – I think we read nearly all of them! You can also go up the bell tower, and although they do charge (around £7), it offers amazing views of Bath. There are only certain times of day you can go up though so make sure you check in advance if this is something you want to do!
Museums
Hopefully you will visit Bath on a sunny day, but if not there are plenty of things to see and do indoors as well. Bath is famous for its link to Jane Austen, several of her novels are set here and she herself lived in Bath for part of her life. The Jane Austen Centre offers a wide range of information about her life, her family, and Bath society during the Regency period. The museum is situated in a house very like the one she would have lived in, and there are frequent talks and tours. There is also the chance to dress up in Regency period costume – something me and a friend enjoyed a lot when she came to visit me!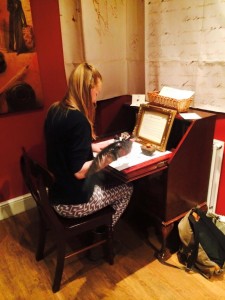 If, like us, you hadn't had quite enough dressing up in the Jane Austen Centre you can also visit the Fashion Museum which has a really good exhibition of fashion from the 1700/1800s to modern day. Again, there is a whole room dedicated to dress up, this time with crinolines, corsets and a special backdrop so that you can take photos. The fashion museum is also free for Bath university students so it's a good place to go when friends visit you at Uni.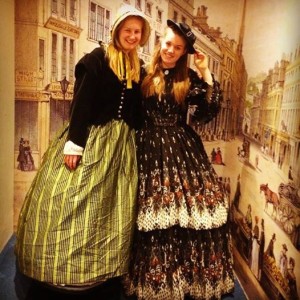 You can find out more about the great museums in and around Bath here.
Walks
If the day you visit Bath is sunny then I would recommend either the Bath Skyline Walk or a gentle stroll alongside the River Avon. The Bath Skyline Walk is a round walk of around six miles that starts in the city centre, climbs to the top of the hill where you get amazing views of the city and then descends back down. The walk is accessible from the University campus – walking round the edge of the golf course just above the university you will soon find signs pointing you to the walk. If you prefer a walk more in the city there is a path that runs just alongside the river and gives you great views of the city.
Shopping and Eating
And last, but not least, what lots of people come to Bath for: shopping. Bath has an excellent range of shops- both chain high-street stores (Primark, H&M, Topshop, Zara etc.) and also many smaller boutiques and independent stores. Wandering round the shops is also a good way to get to know the city centre and to try out some of the great cafés and restaurants in Bath. If you're looking for a light lunch or a snack I would recommend the Boston Tea Party (amazing lemon cake) and although I am still to try it, the world famous Sally Lunn's is very popular as well.
Whatever your tastes you should be able to find something to see or do in Bath that suits you. I think that getting a feel for the town you are going to live in is as important as getting a feel for the university, so don't pass up the opportunity to sample what Bath has to offer!