Agnes Wong, one of our MPharm students, has just returned from taking part in this year's Roche Continents project in Salzburg, Austria.
The project aims to bring together 100 top students from across Europe to give them the opportunity to explore sources of inspiration at the intersection of science and art, as well as the creative processes that drive innovation. 
Agnes has written a short blog about her experience
---
The journey did not start in Salzburg, nor at W.A. Mozart Airport, nor at Stansted airport… It all started with the application form.
The Roche Continents program was a pivotal moment in my three years as an undergraduate pharmacy student. After being nominated to attend the event, I was directed to the application site where I was to put on a different thinking cap after a long time since studying Theory of Knowledge during my IB days. "What does 'The Edge' mean to you?" This question was not an easy one to tackle but it definitely set off my personal expectation for Roche Continents 2016 – it was going to be an exceptional experience.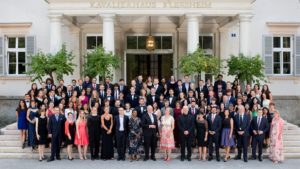 This year's theme was "The Edge" and broadly speaking, we were meant to challenge the boundaries of our thoughts across the arts and sciences – two subjects at both ends of the area of knowledge continuum. Throughout the week, we had the privilege to listen to talks by renowned speakers on various topics such as astrophysics, evolution, cancer and genome sequencing as well as musicologists and Salzburg artists on the evening concerts we were to attend. Another brilliant experience I had was when we were given a task to present an artistic concept representing "a billion" which had a mix of science and art students. This was definitely an eye-opener for me as I had the opportunity to explore the mind works of scientists and artists.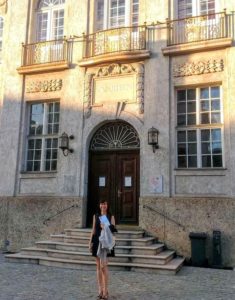 Intriguing talks, evening concerts, sumptuous food (yes, we had waffles for breakfast) etc, but personally my best bit of Roche Continents was the opportunity to listen to the stories from my fellow friends from across 29 nations. During the week, I met some of the most inspiring personalities and creative characters who are courageously pursuing their passion in different fields, some of which I have never heard of such as theoretical chemistry. The individuals I encountered were bubbling with so much enthusiasm when they spoke of the work that they do, be it producing compositions using African polyrhythms, doing a PhD in Wallerian degeneration or even organizing Roche Continents for the nth time; these special people have certainly helped deepen my understanding on what it means to be Passionate about something. Over the course of six and a half days at Salzburg, this group of strangers became a group of friends whom I seemed to have known for six and a half years.
The Roche Continents experience has taught me a lot about passion, to never lose the willingness to explore the unknown and last but not least, to continuously push my "Edge".  It has been a pleasure to have been part of the journey. Thank you, Roche Continents and thank you, DPP!