Fécamp, Normandy, France.                                                                                                   October, 2016.
Bonjour! My name is Zoe and I'm a Modern Languages and European Studies student at Bath. My language combination is French and Italian and I am currently on my third year, which means that I am doing my compulsory Year Abroad with the aim of perfecting my skills in both languages. I've divided my year into two parts. First, I will be doing an English teaching placement in a small English language school in Fécamp, on the north-western coast of France, until Christmas. Then, I will be heading to Siena, in the Italian Tuscany, for an ERASMUS study exchange during the second semester. I hope you will find my blog posts interesting at least, helpful or relatable at most.
So, what is moving abroad like? The prospect of having to move to a new country is something I find quite daunting. It means having to move to a foreign and unknown place, far away from your home and all you know and are comfortable with. You have no idea what to expect or what the place and people will be like. You will probably be on your own having to deal with the ever-so-tedious tasks of finding a place to live in, opening bank accounts and getting new SIM cards… all of which, to top it off, will have to be done in a language that is not yours.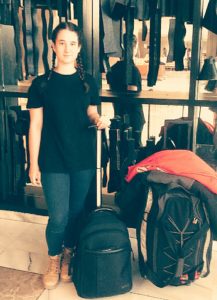 At the same time, however, the idea of starting from scratch in a new place is always one that attracts me. You are bound to live adventures and discover new places, meet people of all sorts and have wild experiences. The feeling of adventure is one that, as a language student passionate for foreign cultures, has always appealed to me and keeps me motivated to pull myself out of bed every morning and go explore, wherever I am.
As a Spanish national, I had to do the 'big move' when I transferred to England in order to start a degree, so I already had a previous experience to reflect upon. That being said, every country is utterly different (praise the diversity) and so has been my situation, therefore moving to France in early September was still a different experience.
For starters, despite being an un-paid placement, my contract includes the accommodation and bills paid for, which saved me the trouble of having to find a house or a flat. I share a traditional Norman house with one of the other English assistants at work and could not have wished for anything better. Moreover, since I don't have to pay the bills either, opening a bank account for the time I am spending in France is somewhat pointless. Basically, all the paperwork involving living abroad has been considerately reduced thanks to my placement.
On the topic of homesickness, I must say it was a whole lot worse when I moved away the first time two years ago to study abroad. Missing home is always going to be a thing, since it is part of your comfort zone and you will definitely miss your family, friends and – let's be honest- the food. However, when the people surrounding you make an effort to make you feel welcome, and every day there is something new to look forward to, you don't really have the time to feel homesick. I promise you, it gets easier but the best way to deal with homesickness is to keep yourself busy and avoid the temptation of curling up in bed to sob. If you don't let it overcome you, you've won. You can always cook food that reminds you of home and, of course, call your loved ones. Just don't let yourself get too tangled in the feeling – a little cry sometimes is good, but make sure you then cross the T's and dot the I's and put yourself out there!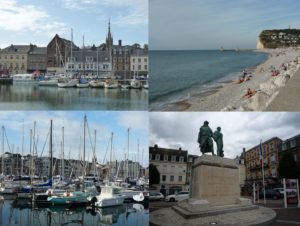 So, where is Fécamp? Fécamp is a picturesque coastal town situated in the Valmont river valley in the Seine-Maritime department (Haute-Normandie region). North of the D-Day beaches and only 35km away from Le Havre, the town has around 20.000 inhabitants and is famous for its fishing tradition, Bénédictine Palace and liquor, rich history and, of course, the Falaises which are the beautiful cliffs in the Alabaster Coast. There is a pebble beach and the town is plagued with Norman style houses and narrow streets, so every time I go out I feel like I'm in a fairy tale town, so different from Bath and my home in the Canary Islands.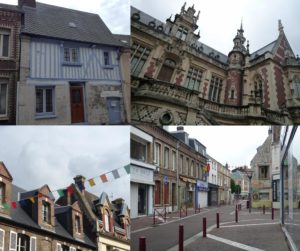 Still, it is a small town, which has its pros and cons. I chose to come here because I wanted a placement away from the capital and, since I was going to be here for only slightly over three months, I wanted to be able to make the most of my time and actually get to know the place I would be living in. One of the advantages, therefore, is that, being a small place, you will be able to get to know your way around quicker and actually explore everything available to you. On the other side of the coin, there is only a limited amount of things to do and places to visit, especially for young people. I've found it hard to meet people my age because, since it's a small town, young people go to other cities to go to University or find a job – there is no Erasmus bubble in a place with no University. However, from experience I have also found that people in Normandy are very nice and more willing to help. I have no idea if this is just the people in the area, but from my trips to Paris and train changes in other parts of France, I have clearly noticed a difference in the way I've been treated. I have felt very welcomed here and people have been willing to help me with my French and other problems arising. That being said, you might also find that being a foreigner, people might be more wary around you, or that it is hard to integrate into the local community. I have been lucky and my hosts have helped me and the other assistants with finding activities to do and meeting people from the town, but you definitely have to make a conscious effort to put yourself out there and make acquaintances and speak French, just be warned. And, finally, since it's a small town I feel that Fécamp is very traditional and picturesque in the best of ways. As I've said, the landscapes are unique and, as far as I've seen, everything is very typical French, with tons of cafés, boulangeries and other food shops, squares… I can say I am definitely living in a typical Norman town. That being said, I also have to mention the public transport, which is nothing like England. In the area, buses do not run on Sundays or late at night, and there are no train lines reaching Fécamp, making travelling around the region to discover nearby towns quite tricky. Fortunately, the people I have met have been incredibly nice offering to give me and the other assistants lifts if we need them. Having a car is the best means of transport here, but you can definitely get around if you don't have one – most places in town are within walking distance anyway.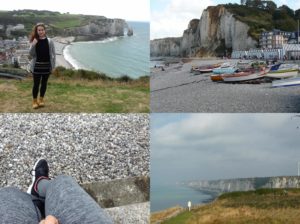 Overall, I am very pleased with my placement so far and cannot wait to see what else it has in store for me. I will be back in a couple of weeks to tell you a bit more about my placement itself.
À bientôt!
Zoe