Guadalajara is the second largest city in Mexico with over 1.5 million people, and so makes a marked change from Bath, shy of 84 000 residents and where you can get from A to B in thirty minutes max. The neatly aligned Georgian townhouses and the flat-roofed bright purple house fronts couldn't be further apart, and nor could the experiences.
Six weeks in and time has passed unsurprisingly rapidly. In our hostel we met a French girl called Claire also doing an exchange, we decided to house-hunt together and after a few days found our dream house. Or as our eccentric landlady called it, La Casa Mágica.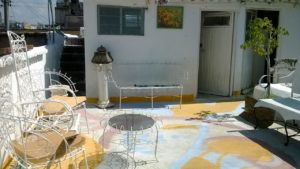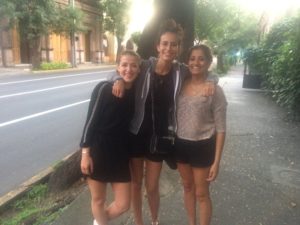 Safety was probably my biggest concern prior to coming out here, and due to the hyped media focus on cartels and corruption, it is easy to forget that there are real people who live perfectly normal lives. That's not to say it's the place where I've felt safest, but I think little adjustments such as not walking alone at night, and (over) using über, made a big difference. The patriarchal structure of society is still something I'm adjusting to, and I can't say it's one I particularly enjoy. A module I've chosen to study at the university is Gender and History, and I honestly think it's one of the most interesting modules I've ever taken. Generally the classes in Mexico are, as non-native speakers, fairly difficult to take in. I often find it difficult to listen to Spanish lectures for over two hours and sift through the relevant information. This class is the exception as it is a subject I really do find fascinating, and I think that it will form the basis of my special study.
Perhaps the reason I find it so interesting is the fact that I've never encountered (on a long-term basis) such defined gender role distinctions, and naïvely I never fully appreciated the rights and liberties that we have as women in the U.K. A femicidio is the Spanish word used to describe the killings of women purely because they are women, often in a gruesome way. Such occurrences are far from uncommon in Mexico and across Latin America.  'Ni una mujer menos, ni una muerta más' is a slogan employed by Mexican women following the spate of female killings en masse in Ciudad Juarez  over twenty years ago. Quite literally it translates as 'not one less woman, not one more female death';it is an outcry against the harsh patriarchal system that encapsulates women's lives. As much a testament to the continued gender violence that women face, the slogan has made a recent resurgence as Argentine feminists have coined it in their defiant campaign 'ni una menos' against the unjust society that tolerates the victims of femicide in a movement that has gained momentum across Latin America and worldwide.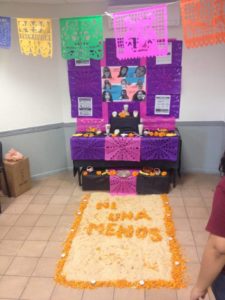 On the 19th October 'Miercoles Negro' (Black Wednesday) took place and women across Latin America protested in solidarity; it so happened that my Gender and History class coincided with this day so naturally our class joined the protest. However, as we gathered outside our classroom donned in all-black with banners in hand, we were approached by a male professor at the university who told us that we were making a fuss and that what we were protesting for was 'a broma'. A joke. The Mexican students we were with quickly began citing death tolls and statistics that clarified it was far from a laughing matter. Despite the fact that he was clearly outnumbered on the topic he continued to fight his corner, and retreated telling us that we were too 'linda' (pretty) to be protesting. Sadly this kind of set the mood for the protest, as generally the looks from men we encountered weren't those of support or even of sympathy, but of a weird kind of mocking, or over reaction. Of course you can't generalise an entire gender, but that was my experience at least from this protest.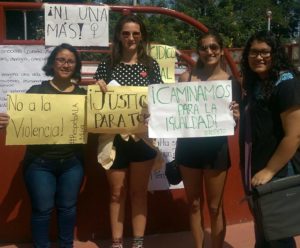 Having spoken to many Mexican people here it's evident that there's a sad acceptance of the state of affairs for women and in general. The disappearance of the 43 students in the South of the country without a trace was one event that was exemplar of the government and its blatant widespread corruption; this is a commonly accepted fact and it's more a hope that it doesn't one day tragically affect them as attempts at change seem futile in such a established form of governance. I feel this post thus far has concentrated on the negatives of Guadalajara, but for every negative there are a heavily disproportionate number of positives. I mentioned before the lively coloured houses, but that vibrancy resonates in the people too. Those whom I've had the pleasure of meeting so far all have a warmth to them; they go that extra mile to help welcome you, and make you feel at home. It's a sad comparison to the xenophobic rhetoric currently employed so forcefully by Western countries to migrants, but an ethos the West ought to emulate.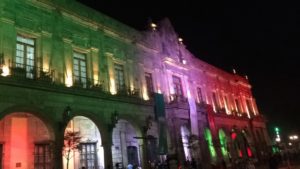 Having said that I only actually live with one Mexican, six French and one German, all students at different branches of the university across the city, and we all get on well. The French boys we live with are architecture students and so through group projects have befriended lots of Mexicans who form our extended friendship group, so we have a nice mix. As a house our one common nemesis was our initially 'eccentric' to now slightly crazy landlady who doesn't actually live there but basically does. She is quite like a dorm mother and has been known to fine people for displaced socks. My rent is incredibly low and at £100 a month I have an en-suite room with bills included, though my friend did remind me that I live on the roof. My room, as with all the others in the house, has just been made this year in response to demand and so the infrastructure still has some way to go. I share the roof with Maxi, a very feisty young dog who cannot be tamed, and barks all night long. Laura (my landlady) recently tried to build a bathroom next to my room which resulted in a gaping hole in my wall. Ah, planning permission, Health and safety and Mexican architecture- a potent intoxicating combination.
Hasta pronto.