Guadalajara is best known for two things; mariachi music and tequila, not really abating the stereotype very well. But the latter association is because it is forty minutes away from the town of Tequila, where the university took us on a day trip which involved some tasting and sight-seeing. I learnt a lot that day, mainly that I had been doing tequila shots wrong my whole life. As we were told, you're meant to suck the lemon or lime (which they kindly infused with cinnamon, tamarind or salt), inhale, and then take the shot. It is, believe it or not, quite a pleasant experience.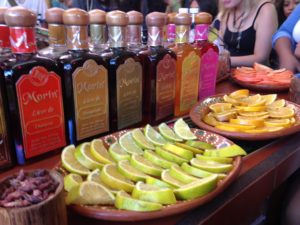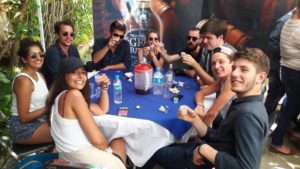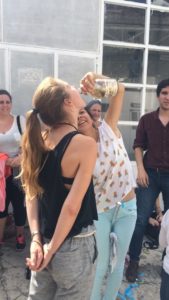 Mexico is a beautiful country, and with my university schedule permitting for long weekends, combined with the cheap and high quality service of the buses, I was able to see quite a bit of it. Puerto Vallarta is a beach town in the state of Jalisco, and we embarked on a house road trip there. It was consistently hot through the day, and unrelentingly beautiful. From its blue skies and seas to the the bunting and street art that adorned every street, it was such an idyllic place to visit. We also had a local guide in Miguel, our Mexican housemate who had grown up there and showed us some hidden gems, from the lesser known beaches to the best taco stands.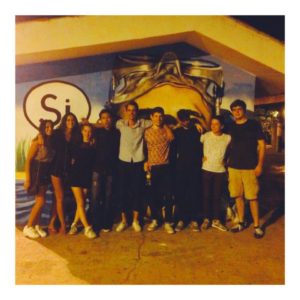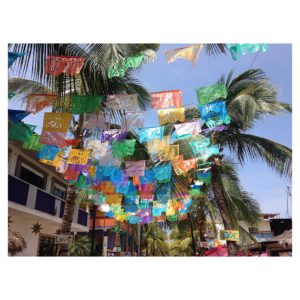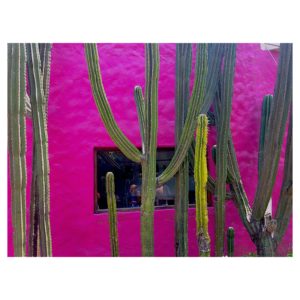 Dia de los muertos is a tradition in Mexico, and the most traditional place to spend it is on the island of Patzcuaro in Michoacan. Claire and I were eager to go and spend the weekend in the most authentic way we could, of course we weren't the only ones with that idea. Every exchange student in Guadalajara was on the same wavelength and all the accommodation had been booked up months in advance. That didn't deter us though, so caught up in the festive hype, we jumped on the bus, toothbrush in tow, determined to arrive in time for the night time celebrations. After two bus journeys we arrived at Michoacan and tried to find the boat to ferry us across to the elusive Patzcuaro island.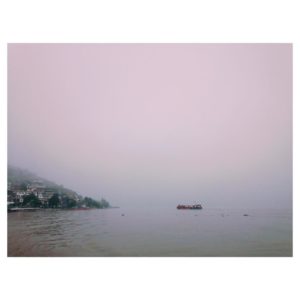 The above photo really can't do justice to how beautiful a journey it was, and some things can only be seen by the human eye. The sky was a medley of different shades of pink and grey and it was a strange, magical sort of atmosphere. The only comparison I can make is to Harry Potter, and the scene where Harry and Dumbledore are searching for horcruxes on an island, it had that same mystical feel to it. Patzcuaro appeared from the distance to look like a lighthouse, but upon arrival we found a buzzing island, a strange setting to celebrate the day of the dead. Set up in spirals, each floor of the island had multiple restaurants, bars and stands offering typical Micheladas - beer with tamarind and hot sauce, these juxtaposed with the opulent colourful graveyards, provided a strange but beautiful contradiction.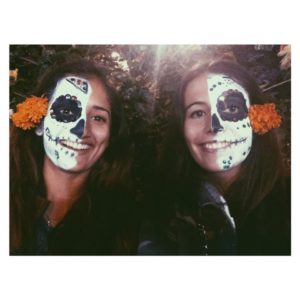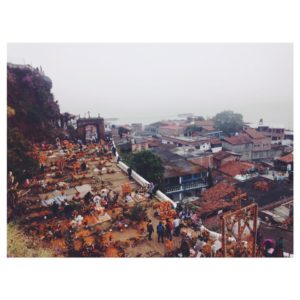 Of course as the night went on we began to lag slightly, and at about 3am we felt it was time to call it a night. Of course, we had that slight issue of finding somewhere to sleep. Another slightly naive presumption on our end was that Mexico was always hot, we were about to learn that different states have different climates; Michoacan in November was not dissimilar to an English October. We were definitely underdressed in light day jackets and blankets wrapped around us clinging to warmth. We looked like sleepwalkers haunting the island. With the alcohol wearing off, the thought of a cold ferry ride to sleep in a bus station appealed to neither of us. We decided to seek refugee in one of the restaurants and eat some warm hearty soup; after ordering two sopes, Claire conveniently remembered as they arrived that sope in Mexican Spanish is not in fact soup, but a thick fried corn tortilla. We were both nodding off in the restaurant, and mused how we could literally just sleep there. I'm not sure which one of us suggested it, but collectively we decided to enquire into whether we could stay there. This was slightly compounded by the fact that our server was 10 years old, I asked her and she had to ask her Mum who had no qualms. We had found our lodging for the night, free of charge. We hunkered down on the floor of the restaurant with our jackets on and a blanket shared between us, a firm vice-grip on one another. It was a very strange scenario given the restaurant was still open, and we could hear the hustle of the festivities going on. We were woken by the tap of a broom at 8am; it was the mother who explained she needed to clean the floor and obviously we were impeding that process.  Overall though, we got to experience one of Mexico's most famous festivals, and at a bargain price.
Maybe it wasn't the most comfortable night's sleep I've ever had, but it's a funny experience I'll look back on and treasure.