Sunday: I arrived with my family a nervous little 18-year-old, some of my flatmates had moved in the day before so I was eager to meet them. Once we had dumped my stuff, we headed off into town to get some lunch and shopping. We went to Gourmet Burger Kitchen which was delicious, although I got given a children's menu! We popped to a Tesco express which didn't have much choice so was not the best place to go! (Handy Tip- Head to the big Sainsbury's in Greenpark, which apparently has big pizza's for 90p!). My parents left and slowly I met people as they arrived back at the flat, as they had been stuck in town, due to buses being delayed and cancelled.
Everyone in my flat seemed really friendly and we soon congregated in the East kitchen and got around to pre drinks as a flat with Faye our crew member, another pharmacy student (2nd Year). We learnt a lot about each other, playing' never have I ever' and the game where you have to guess if a statement someone says is a lie. We went to the Claverton Rooms for a very hot but enjoyable couple of hours of dancing.
Generally mid-week: There were many induction talks and lectures, we found out and met our tutors, met our peer mentors, who are students in older years that we can ask questions to, found out more about certain elements of the course and about using the library and course specific activities such as lab coat and safety spec fittings on the Wednesday! On the Monday there as a welcome speech by the Vice Chancellor to everyone split by accommodation and then sketch like information which was quite funny. On Thursday afternoon in the pharmacy department there was a group activity making something science/pharmacy related out of recycling and my team won! We made some safety specs, a jellyfish, some DNA with Watson and Crick, a box of tablets, a syringe and a lab coat!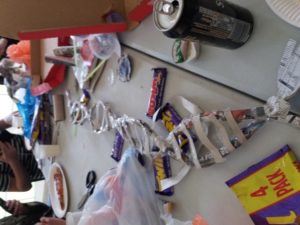 Then afterwards they gave us Domino's pizza and drinks which was so good- as a Fresher you learn to take advantage of free food! The same night the Christian union ran a free BBQ which was great but it meant I got double free food! There were also quite a few fair type things advertising sports, societies and local businesses which was cool like I won a voucher for a free main meal at Wagamama.
The Evenings!
Monday: The theme was show your colours, we all got a t-shirt dependent on what accommodation we were in, which were different colours. The main event was so busy; it was so buzzing! There was a lot of inter-flat rivalry and chanting, which was pretty entertaining (big up Wolfson). The music for the night was the chip shop boys who did some classic tunes.
Tuesday: The theme was Welcome to the Jungle and I was a tiger, the Midnight Beast played and it was super good. There were lots of animals, that night there were slightly less people so in my personal opinion it was better as it was a bit less squished. My flatmate Alice and I met these really cool security guys, we chatted to one for a while and the other was dancing!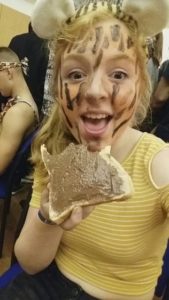 Wednesday: The theme was Bath time, which most people did struggle to dress for I wore a blue denim dress because water is kind of blue with a little yellow top to go with the minimalist theme and a blue wave on the side of my head.
Thursday: Neon Night! This was cool, I got purple/pink neon glitter hairspray and wore my brightest colour clothes, with bright yellow face paint dots. The music was DJ Kristian Nairn from Game of Thrones (Hodor!), then Danny Howard.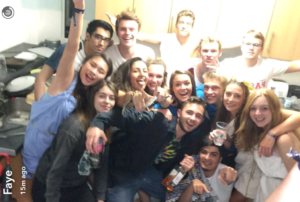 Friday: theme was 'When I grow up', which I found hard as I wasn't sure what to do, in the end I bought some angel wings and was an angel. Other people were things like a policeman or a nun! The music was the Hoosiers and George Shelley.
Saturday: Toga Night! It was a case of grab a bed sheet and a load of safety pins! One of my flatmates fell over in the main event where Greg James and Beat a Maxx were. We had to take her out to the water tent for a while and we were all freezing in our little togas! Greg James was so good he was definitely my favourite DJ of the week.