I am in my 6th week of university. One assessed essay behind me, two reports due next week, two group presentations to perform, more assessments to come and unfortunately, I'd say I have not yet got into the flow of work. It's difficult, here at university, to get anything done. Whenever you manage to sit yourself at your desk with the laptop open on an empty Word document, and begin typing, someone is bound to knock on your door asking for a chat. How can I say no? It's rude; isn't it?
Psychology is a demanding subject. Unlike other sciences at Bath, 70% of the assessments are coursework which makes for a productive year and a lovely, relaxing exam season. I'm not used to this. After dropping AS Drama at the end of year 12, I only had two pieces of coursework to complete. One for Biology and one for Chemistry. This meant the effort I put into studying was a bit unevenly distributed. Have a look at this chart I drew while procrastinating the next paragraph of this blog post: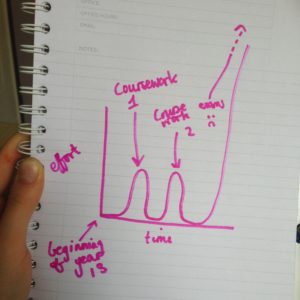 As you can see, my studying habits (if they can be called habits at all) are a bit inconsistent. I work when I need to work, but this isn't sustainable! The amount of coursework I need to complete means that I need to be working all the time and not just three times a year. It's time for a change.
After spending a good half an hour googling "How to be more productive?", "How to stop procrastinating?", and "Why am I so god damn lazy?" I reached the conclusion that googling the answers to my issue was counterproductive, and was only contributing to the problem. What I had to do was block out all distractions and just get on with it. I locked the door and then, after a second thought, I unlocked it again because I figured out the key to stopping my pestering house mates. After some scribbling and taping, I stood in awe of my solution. All I needed this entire time was a sign: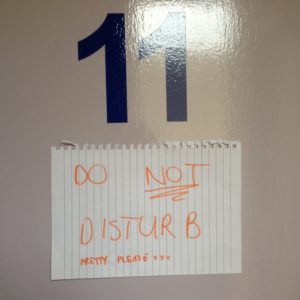 My sign to deter potential distractors
My house mates, of course, decided to deface it: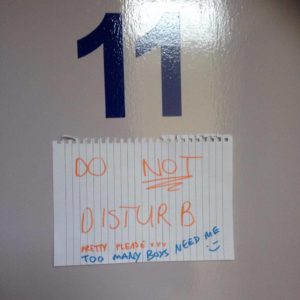 Nevertheless, my plan worked. I was left alone to do work. Great. With my ear phones in, blocking any outside noises, a jug of water by my side (because hydration is key) and a new determination to just get on with it, I got more done in an hour that I got done all week. I realized the secret to productivity was never a secret. Get on with it. "Just do it." like Nike says. After a while, just doing it, will become your habit and after it becomes your habit, it'll only get easier.
The only issue left was the issue of distractions. Sign or no sign, sometimes my house is impossible to work in. The temptation to go downstairs to goof around is a little bit too strong. Those days I need a plan B or a plan B, C and D, so I can mix it up and prevent studying from getting too boring.
Plan B
The Lime Tree – The Lime tree is a bar, café and food court. It'll be great if I want to study right through lunch and dinner times but might become a bit of an issue if I ever need to hand in written work. I doubt lecturers take too well to food stained coursework.
Plan C
Local cafés – Bath is a national heritage site. Its continuous stream of tourists means there's many local cafés perfect for some filmesque studying. I recommend buying one coffee and staying for the entire day, no matter how busy the place gets! I hear staff love this but, ideally, find cafés out of the way that you know won't get too busy and enjoy the quiet that usually accompanies them.
Plan D
Lastly, here comes the dreaded plan D. This is where I'll come when all other options fail me, when the food stains on my coursework build up into full course dinners, when the owner of every Bath café runs me out of their establishment and I am left with only one option… The Library. Studying there can't be that bad. Can it? I mean, I see people coming in and out of there all the time… They don't look like they've been permanently traumatized by some event there. No sign saying "NERD" ever develops on anyone's face. Maybe I too, could become a library goer. Only time will tell. Right now, the sign is enough.
Working out how I'm going to avoid my house mates during crunch time and deciding to start getting on with things has already made me more productive. The elaborate techniques the articles I searched for on Google suggested may be helpful to those already doing their work but when you're having issues getting started, reading them only wastes more time. Next time I'm sat staring at an empty word document, I'll know to just start typing. After all, I've already made my sign.