Fécamp, Normandy, France.                                                                                                                                                       November, 2016.
Je suis revenue! I'm back! This time, as I mentioned in my previous post, I will explain what I am doing in this northern corner of France: my teaching placement in Fécamp.
Where do I work?
I work in a small family-run English school called 'The English Centre des Hautes-Falaises' in Fécamp.
Fécamp is a picturesque coastal town situated in the Valmont river valley in the Seine-Maritime department (Haute-Normandie region) only 35km away from Le Havre. The town has around 20.000 inhabitants and there are a couple of schools and high schools, so there are quite a lot of children of various ages coming to the language school, both from Fécamp itself but also from nearby towns and villages.

The school is located inside an old flour mill that stopped working in 2007. I was amazed when I first arrived! All the objects and machinery from the mill are still well kept in the main building. However, the school is within the property but not inside the mill itself. The English Centre is made out of different classrooms in varying sizes: the office and four different classrooms ranging in size to accommodate individual students through to a considerable amount of toddlers running around.  All the rooms are decorated with English paraphernalia to your heart's content: flags, Beatles posters, teapots, The Doctor, the Royal Family, red post boxes… there is even a Sherlock Holmes and telephone booth to greet you at the entrance! Apart from these things, the school is well equipped with tons of vocabulary posters, craft supplies, games, books, whiteboards… which are at our disposal for the lessons. Anything we might need for the lessons, we can more than likely find – it's all about being creative and engaging here!

One of the main characteristics of the school is that a lot of importance is given to learning English in a fun and engaging way, while achieving results. This means that the lessons are very dynamic in order to keep the students interested: different topics for the adult lessons and lots of different games and songs for the children's lessons. We use some course books sporadically but the main stress is on learning through games. Therefore, the English Centre has a lively atmosphere every single day –and as a stagiaire you have to keep up with the action! The strangest thing I've had to do so far would probably be performing 'Lollipops' with a wig and fake microphone up on a stage with one of the other stagiaires while a group of 6 year-olds stared at us in astonishment. A fun lesson that was!
What does my role entail?
As one of the placement students of the school, my role is to teach English to French children, teenagers and adults. This means that I assist the main teacher when it comes to larger groups (mainly children), but I also have to plan and implement individual lessons and some group adult lessons.
At the beginning, I found it hard to gauge the level of the students as I had never done any teaching myself, but during the first two weeks we were given a lot of assistance in order to learn our way around and grasp the dynamics of the lessons. During this time, we got to know the students – it took a while to learn everybody's names, there are so many students! Slightly under a hundred I'd say! – but, soon enough, we learnt how the school works and how to handle the classes.
When it comes to individual or adult lessons, we are given quite a lot of freedom on the topics we can work on in class, so I've personally given some lessons on Tenerife, Musical Theatre and Films since they are topics that interest me; it's a matter of balancing speaking, grammar points and topics which your students might also find interesting (or even better, tailor the lessons to the students' own interests and needs which is, of course, the ultimate aim). We also have weekly meetings which help monitor the progress of the students, find solutions to any problems that might arise and distribute the work. I have found these, along with discussing the lessons with my colleagues throughout the weeks, a great way to improve my language teaching skills and overcome any problems that might arise!
We also have to do basic office admin like answering the phone or making sure the timetable is up to date. We don't actually teach in a business-like environment ourselves, but we do assist the main teacher by phoning the workers from a partnering business throughout the week to help practice their English on the phone.
I've found my responsibilities as stagiaire quite varied which has been a great learning experience so far – I get to teach students from all ages and all backgrounds, and I have learnt so much since I've been here. All the students are lovely and (mostly) well-behaved and it is such a rewarding feeling when you notice a class has finally grasped a point you have been teaching them! All progress, little as it may be, absolutely makes my day!
The team.
Since The English Centre employs language students from different Universities in the UK, the staff changes every couple of months. The manager is a lovely woman who loves her job and makes sure that you are well settled and confident with your work at the centre – she always tells us "if you are happy here, things will run smoothly" and that is what we all want! Despite being a very busy woman, she is always there for you to reach out for if you need any help. Sometimes I haven't really known what to prepare for certain lessons, for instance, because I haven't met the student yet or because I am running out of ideas, and she has always offered help. Along with the manager, there are some other English teachers at the Centre who come and go. I got to meet one of them at the start of the placement before she left, and the other is working abroad at the moment. As I've said, they are all really nice and helpful and I literally have nothing negative to say! Since it is a family-run business, it is really important that everybody gets along well for things to run smoothly. Everybody has been really welcoming and helpful; if you put in the hard work and energy required, you will have a rewarding experience working here.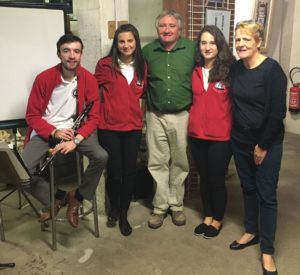 Concerning the British students, while I have been working here there have been two other exchange student stagiaires: a Bulgarian female student from Glasgow University and an English male student from Liverpool University. We all get along really well (especially because we all arrived at the same time so we've all learnt along the way together) and, since we all come from different places and have different backgrounds, it is great for the students who get to work with natives with different accents and perspectives of the UK – the variety makes a huge difference and keeps things interesting!
What is an average week like?
At the moment, since there are three stagiaires plus the main teacher, we get quite a lot of free time throughout the week. We work flexible hours which means that each day is different. Wednesdays and Saturdays are our busiest days as most Children lessons take place these days – morning and afternoon. The rest of the week, classes are spread out throughout the morning and the afternoon/evening, to suit the students' availabilities. For instance, most adult lessons are in the evenings to allow for the clients to fit a lesson after the work day. Most lessons are an hour long with the exceptional hour-an-a-half. We get Sundays and another day of the week off each and, in addition to the free hours in between lessons, it means we only work around 15-20 hours each and have plenty of time to join other activities, work on assignments, plan lessons or any other thing you might want to do.
Aside from the classes, the Centre also organizes different fun events throughout the year. During my placement we've had a photo exhibition, a 'speed-meeting' event to practice English in 5-10' conversations, Guy Fawkes night, a 'Fish and Chips' night and we have a concert night and a Christmas workshop coming up. As I've said, it is a very dynamic business and we do our best to share English traditions and offer opportunities to improve in English while having fun. All of these events have been really enjoyable!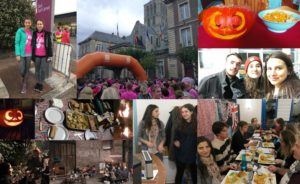 My personal experience and thoughts.
I wanted a teaching placement because I thought the Year Abroad was the perfect opportunity to test the waters and find out if education was the thing for me. Both my parents are teachers and, as a non-British person, I had English lessons myself through to University. Other than that, I started off as a complete rookie – I had never taught lessons myself and all I knew about teaching came from what I had experienced as a student, what I'd seen at home and the content of the ELT unit offered to second year Modern Language students at Bath (which, by the way, you should totally take – it was interesting even if you aren't contemplating teaching!). Fortunately, no previous experience was required for the position at The English Centre, but they do require you to work hard and be willing to learn. There is a great supporting system. You work hard and give the best of you, but you also get to share ideas and try new things while being assisted along the way. I have learnt so, so much during the past four months. Putting the ELT theory into practice does require a bit of creativity and on-the-spot problem solving at times – theory is not always the same as reality! However, at no time have I felt on my own and I think that is the main point I want to get across – if you are worried because of lack of experience, there is always a first time for everything!
In addition to gaining teaching experience, the perks of the placement which – I must mention – is unpaid, are a fully furnished house just two minutes away from the school and ten from the town centre with the bills included (gas, electricity, water, TV, Wi-Fi, washing machine…). In addition, we have received so much help from our hosts to get involved with activities and social life in the town and improve our French, it has been amazing! I have taken up some fitness sessions and the other two students have joined the local band and go to dance lessons. We have also been invited to take part in all sorts of events in town, from a charity marathon to a short film festival!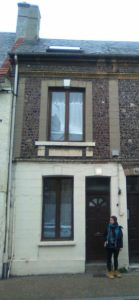 Even though it might not be the best placement to improve French, since you are indeed teaching English and speaking English most of the time at the workplace, the placement at Hautes-Falaises is a great opportunity to give teaching a try and experience for yourself what it is like to live in a French town. Everybody has been really nice and kind; it is just a matter of making that extra effort to speak French outside work.
If you are interested in a teaching placement where no two days are the same and you are surrounded by kind and supporting people, then definitely consider The English Centre! You can find the application details on Moodle and I promise, you will have a great time!
À bientot!
Zoe