Tenerife, Canary Islands, Spain.                                            December, 2016.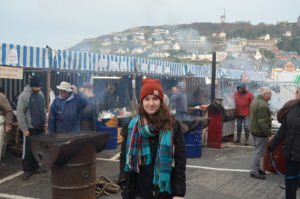 Bonjour! Last week I returned home after my 3-month-and-a-half placement in Fécamp, Normandy, teaching English. I had a blast while I was there and was really sad to leave. However, after reflecting on my experiences of living abroad in France and Britain, I have found various similarities between the experiences. There is a certain pattern that repeats itself each time you spend a period of time away and I thought it would be a good idea to share with you what I've learnt. Maybe you will find it helpful.
The most important thing is, first and foremost, make the most of your time in this new place. Sounds like a given, but believe me, time flies. Whether you are doing a placement for professional experience, to improve your language skills or whatever the reason, you are there for a limited amount of time and it is easy to get stuck in the routine and forget to wring out every little opportunity your placement has to offer. It would be a shame to arrive at the end of your placement realizing you could've done much more… And because time goes by incredibly fast, you must make a conscious effort.
Visit the area you are in. It might seem like a stupid thing to think about but when you are working all the time the last thing you might feel like doing is going out and exploring. It used to happen to me in Bath. It wasn't until my second year when I lived in town that I took the time to explore the culture that the city had to offer. I wasn't going to let the same thing happen this time. Despite being quite tired after the work day and really just wanting to stay in bed and catch up on sleep during my free days, I pushed myself to explore every little thing Fécamp had to offer. I wrote down a bucket list and it felt great to tick things off: visit the Bénédictine Palace, climb up to Notre-Dame du Salut like the fishermen used to, try the food from the area… I used the holidays to travel throughout the region with my dad. We rented a car and visited many cities which I wouldn't have been able to see otherwise. It was tiring and intense, but it felt great to visit so many different locations and actually get to know the area! As a language student, learning about the culture and customs of the place is one of the most important aspects of the Year Abroad and sometimes you have to go that extra step to expose yourself to them!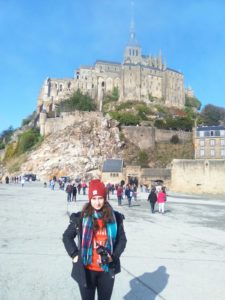 Mingle. This sort of goes without saying but it is extremely important to put yourself out there. You arrive in a new place on your own and it is easy to embrace the fact that you don't know anybody and let the homesickness trickle in. All you really have to do is go out on the street and talk. Talk to the other customers in the supermarket, talk to the baker, talk to the people waiting at the bus stop, talk to the other person at the bar. Just try. Particularly if you are an introvert like me, it might be hard at the start but I cannot stress enough how important it is to talk to people. You will practice the language and make friends – you have so much more to offer than you think! I also noticed, particularly while in Fécamp since it is a small town, that people knew who I was even though it wasn't the other way round. Well, the solution to this is to get to know the others, and mingling is the way!
Hop onto every new opportunity. Be safe, of course, but if people propose plans, it is a great idea to tag along and you never know what might come out of it! I really followed this piece of advice while in France and I had great experiences. I was invited over for lunch by a French family which let me catch a glimpse of the French life-style. I was invited to tea by another family and then we decided to meet the following day for a day trip around the nearby towns. After an event I was invited to go to a farewell party and hesitantly agreed – it was one of the best decisions I made because I met a lot of younger people with whom I became friends! You really never know what opportunities have in store for you, so it is better to give things a try and see how it turns out than regret not even attempting it! And this ties in with the next advice, get out of your comfort zone.  It reminds me of a recent viral video in which Rabbi Dr Abraham Twerski uses lobsters as a metaphor and states that "the stimulus for the lobster to be able to grow is that it feels uncomfortable" (1). You have to challenge yourself and put yourself into uncomfortable situations in order to grow and learn, and the Year Abroad in particular is all about personal development. Get out and experience new things. Not just a different culture but also different foods, places and activities you had never thought you'd ever do. I ate shark while in France. True, I didn't know it was shark when I ordered it. But it was really tasty, even after I learnt what it was. I took part in a film festival and had to make a short film in 48 hours. We had to form the teams, come up with a story, film the scenes and edit the film. I had never acted before nor did I know anyone else taking part in the challenge, but I signed up nonetheless and it was a fantastic experience and I made new acquaintances and learnt a lot of French. Push yourself.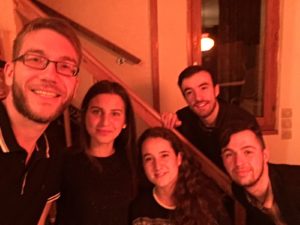 Another important thing I've learnt while living abroad is that you make memories to last you a life-time. Because you are alone in a new place, the friends you make become very close in a short amount of time. I became really close with the other two stagiaires in particular because they were both students like me. Because we were in the same situation, we shared the same problems and similar opinions and got along very well. However, I also became close with some of the other French people I met who had extremely different interests and opinions than mine, and I find this diversity enriching. They helped me learn more about France and its traditions and they made me not feel alone, which sounds so cliché but only when you find yourself alone do you realize how important having people who are close to you is. They soon become your family abroad and saying good-bye (for now) is one of the hardest things to do.
It is also hard to say good-bye to the place you've spent the last few months in. You finally feel at home and suddenly, you have to leave again. I've spoken about this before but every time I land in a new place, I make myself a new life in this new location: new acquaintances, new routines, new home. You get used to the place; the dent in your bedroom wall, the smell of the bread as you walk past the bakery in the morning, the frost on the grass by the Abbey. They all become part of this new life you've had for a limited amount of time. And when you leave, a small part of you stays behind and a new part of you has developed. Constant change and development, that is what I believe life is all about.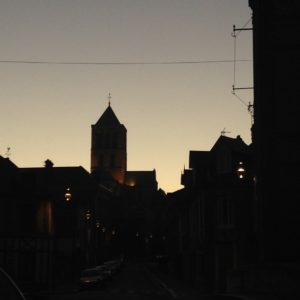 I now have memories and experiences that I will cherish forever and I have had an amazing time working in Fécamp as a teacher of English. It was sad to leave, but I am excited for the new chapter in my Year Abroad. Bring on the next adventure!
Next stop: Siena, Italy.
France, à la prochaine!
Zoe
Source 1: https://www.youtube.com/watch?v=3aDXM5H-Fuw