As a languages student, the highest priority for your Year Abroad is to improve your language skills – this goes without saying. But ask any student who is currently away, or has completed their placement, and they will tell you it's not always that easy. Your Year Abroad will not comprise of steady and neat improvements in your abilities, but rather little leaps and starts of understanding, which will be oh-so rewarding, but utterly frustrating.
You will, of course, have the immediate spike in knowledge when you initially move abroad; living and working in a foreign language all day will leave you exhausted but amazed at your own ability to pluck words from nowhere: you're a natural, you're fluent! Unfortunately, this will often wear off after the first few months, once you have mastered the complexities of the supermarket and your nearest café. You may even be dismayed to find that after just a week or two at home for Christmas you've forgotten some of the fancy idiomatic phrases which you were using with such confidence in November. Speaking from personal experience, your language acquisition – and with it your confidence – can go a little bit like this: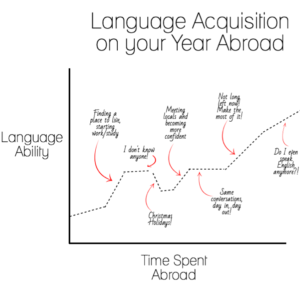 But do not fear! Here are 5 unusual ways to practice your languages, if you ever find yourself struggling to work enough Dutch into your day or Español into your evenings!
BlaBla Car (or similar company). I would encourage any Year Abroad student to travel and explore as much as physically possible and a great cheap way of doing so is by using a company like BlaBla Car. BlaBla Car matches people who are taking a certain journey in a car with those who need to travel but have no car – an efficient way to save money on tickets and on petrol! Using BlaBla Car in a foreign language will guarantee you with quality language practice on any number of topics, from the reason for your trip to the political state of the country – trust me! It has the handy benefit of putting you next to the driver rather than opposite, which can take the pressure off! Bear in mind that while BlaBla Car is more commonplace in Europe, you should still be aware of the risks of getting into someone else's car – make sure you use the code provided to find the right driver, tell someone where you are going, and keep friends as updated as possible.
Theatre. The theatre might not be your cup of tea at home, but it is an excellent way to catch up on the nuances and stresses of your new language. If you can keep up with Shakespeare in Italian, you're ready for anything! There is also something distinctly fascinating about telling your friends from home that you are off to the theatre for the evening! Grab a friend – native or otherwise – and get two front row seats! You won't regret it.
Trains. Similar to BlaBla Car but more spontaneous, you will be amazed at the number of strange conversations that can spring up on a train journey. I, for example, had the delightful experience of sharing an overnight carriage with an Italian family, their dog, and a drunk man. The inebriated Italian spent most of the night telling me what a "bella donna" I was, whilst the family quizzed me on everything from why I was travelling alone, to how the police force works in England (I was not too helpful). When travelling by train, either alone or with friends, make sure you keep an eye on all your belongings, to avoid being the victim of an opportunistic crime. To be on the safe side, check out the Foreign and Commonwealth Office's advice on what to do if you're the victim of a crime abroad before you travel.
Gym. This may come as a surprise, as my experiences of English gyms have never involved making a best friend. However, joining a gym on your Year Abroad is the perfect way to keep busy and meet the locals. For a start, many people have routines, and you are likely to see the same faces each time you arrive. Secondly, gym lessons such as yoga, Zumba and boxing are all great ways to interact with new people and potentially bond over your lack of coordination.
Café local. This is something you should do anyway, but it's also great for improving your chit-chat. Find yourself a nice sunny café, with the widest selection of cakes and coffees possible, and make yourself at home! I would recommend bringing a book or some work to do, but don't be afraid to dive in and get chatting to your friendly barista. You might feel awkward at first, but nothing will beat the feeling a few weeks down the line of being warmly greeted as a regular and handed your 'usual' drink of choice. Do be careful when you're out and about on your own, especially if you're a woman travelling alone – again the FCO has some great advice you should look over.
Whatever you decide to do, you won't regret taking a chance and trying something new! Do plenty of research on your destination here before you go, not only to find the best sightseeing tips, but also to make sure you're familiar enough with the customs and culture so that you don't offend anyone – not a good way to make friends! Make sure you keep safe and sensible, and follow @FCOTravel on Twitter for all your latest updates.