We are currently half way through the Santos Tour Down Under 2017 in Adelaide, and I am absolutely loving it! What a fantastic event that I have had the pleasure of being a part of.
SASI Talent Search have been here all week talent search testing to find Australia's next female cycling champions! I have been running the initiative called 'Girls Pedal2Podium' where we have been testing strength, endurance and power in females aged 12 - 20 in a series of tests on stationary watt bikes. I have really enjoyed running this project as we have tested over 150 girls in the past week, and found some incredible talent. We have also promoted the importance of female participation in sport, which is very important to me.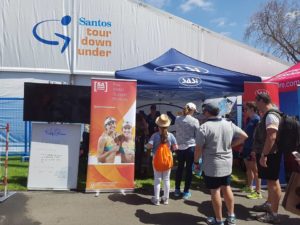 This was our testing tent on the first day of the Santos Tour Down Under 2017, busy and raring to find talent!
SASI Talent Search works mostly by testing athletes in secondary schools around SA to see if they have the potential to participate in one of the 4 talent search sports at an elite and international level. We test athletes' physical and physiological ability for Canoe Sprint / Kayak, Beach Volleyball, Rowing and Cycling through a range of tests and if we believe that they have what it takes, we invite them to SASI for further sport specific testing and then if they perform well, invite them to be a part of a SASI Talent Search development program. The program has been incredibly successful, with a large number of athletes representing Australia at the recent Olympic Games being identified at a young age from SASI Talent Search.
As well as running Talent Search testing this week, we have organised a series of talks and presentations in the Tour Village from some of our successful SASI cyclists that have gone on to or are working towards national and international selections. They've provided great insight into the life of an elite cyclist, ie what the training and commitments involve, and some tips for the sport!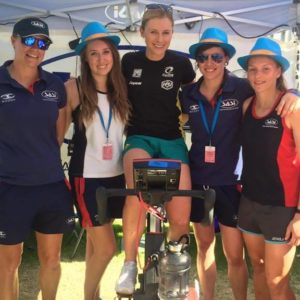 The SASI Talent Search testing team, with the addition of two-time Olympian and ex- SASI Talent Search athlete, Annette Edmondson. 
I have also been responsible for the marketing of the event by making the promotional advertising material ranging from logos, flyers and posters to help get the message out. In addition, I have been actively promoting the event through social and digital media; I arranged a press conference at SASI last week where we had a live TV crew, assistant minister to the Premier, representatives from SA Task Force Women in Sport, some of our current Talent Search athletes and SASI management attend, which was a great success. I am in the process of trying to get the message out to local radio stations and newspapers, to encourage even more girls to come down to be tested, and also, just give cycling / sport in general a go!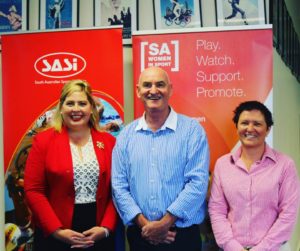 This was at the press conference at SASI that I organised.
I'm looking forward to the rest of the week to see what other talent we find, and I'll hopefully get the chance to watch some of the race! My set target was to test 80 females; I have definitely exceeded this, so I am now aiming for 200!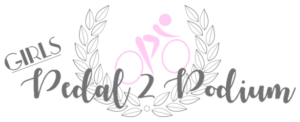 #GP2P2017