After a short and welcome return home for Christmas (much of which was spent facing shock therapy to the cold), I found myself back at Newcastle Airport on January 1st. Destination: Buenos Aires. I'm here to do a three month placement at an English language online paper. Following university I'm not sure what the future will hold, but journalism or something similar is something that I would be very interested in pursuing.
I was determined to find as friendly a house as I had in my first semester, and I particularly wanted to live with more Spanish speakers as opposed to French. Although I had enjoyed my stint in Mexico I do think perhaps I learnt more French than Spanish. However, apparently there are French people all over Latin America, and after nearly a week of looking I settled on another exchange style house in a good location with friendly people; 7 French, an Ecuadorean, Venezualan and Uruguayan. C'est bon. They were all really welcoming and on my first night there we had an asado (a barbecue) a typical Argentine tradition.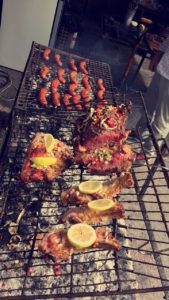 I was both nervous and excited to start working as I'd never had a job apart from tutoring or bartending before, so the process was very new to me. Luckily it was a very close knit team who instantly made me feel at ease, and fast became my closest friends there. The paper runs on volunteer interns ,which meant that every day you were allocated articles to write. Although we were writing in English it proved useful translation practice as we were reading multiple Spanish articles, as well as keeping ourselves informed of current Argentine events. In particular having Argentines in the office meant that they were able to give context to otherwise very complicated situations.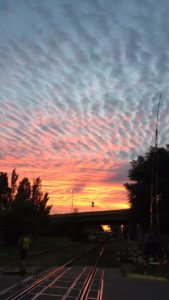 Palermo, the area I live in has an abundance of things to do, see and eat. I myself have taken a particular interest in the last of these. Buenos Aires is a very image conscious city, and everyone here seems to be bursting with health and well-dressed. I'm not sure if it's the sweltering heat affecting my brain or the naivety of actually following up  New Years resolutions, but I have joined a gym; a written and signed contract to improve my health as it were. After a slightly awkward exchange outside a zumba class ,I befriended   an Argentine man called Gustavo, the only man in a class of 20 women, and Jacqueline, an Argentine dental student who have taken it upon themselves to become my personal trainers. We form an odd little trio but as I struggle to keep up with the instructor they nod and smile encouragingly at me across the room; we have drinks planned for this weekend! A friendly aspect of Argentine culture is that everyone always greets you and says goodbye with a kiss on the cheek; this extends to all social situations including the beginning and end of an intense gym class. I do quite like this as at least there's an established form of greeting unlike the awkwardness of England where you end up ignoring people you actually know. I feel like if I did this at home though it would probably come across as either pretentious or forward. I'll enjoy it now whilst it's socially acceptable.
Chao for now x