As there's so much to update on, I thought I'd go for four mini-posts! So without waiting any longer…
The Christmas Party
Now, the NBCUniversal Christmas party is an event that is hyped up to the point where you're excited for Christmas from about mid-August. As the date approached, I found myself seriously considering the extent of which I was looking forward to this more than actual Christmas (sorry mum). Each year it happens in a different location, with plenty of music, food and drink. This year's theme was "Night Circus" and took place in the Waterloo Vaults (a venue that stretches out under Waterloo train station).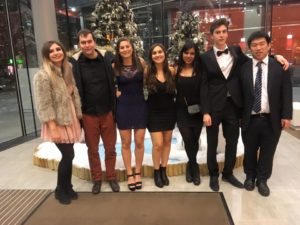 Getting dressed up in the office was taken pretty seriously here in research, topped by one of the interns bringing in a light up mirror. The event itself definitely lived up to expectations, with room after room filled with something new. Highlights included challenging various people to an arcade dance machine, eating nitrogen ice-cream and subjecting my colleagues to my terrible dance moves.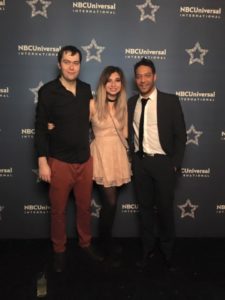 M. Night Shyamalan and Free Coffee
This placement has led to a lot of slightly surreal showbiz moments, but up there has to be when M. Night Shyamalan was the reason for the café on the newly acquired floor of our building becoming completely free. It started with a business update at a theatre near the office, during which James McAvoy and M. Night Shyamalan answered questions about their new film Split (which I definitely recommend, even if I literally had to hide my eyes behind my hands for some of it). However, on the more logistical side of the business update, the prospect of a subsidised café with real-life baristas was raised. To cut a long story short, M. Night congratulated us on the cheap coffee which was enough to persuade the Chairman that we should actually be having this coffee for free. So thanks M. Night, can't beat drinking an Americano whilst looking over London.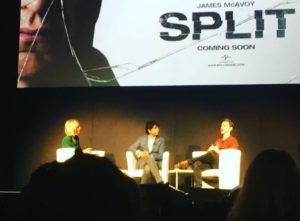 InterMedia
As I mentioned in a previous blog post, I am now a member of the committee for the LGBT+ employee resource group OUT London. Part of this has involved reaching out to the cross-media LGBT+ alliance InterMedia UK. Subsequently, I attend monthly steering committee meetings at offices across London (recently this has included Channel Four and ITV). Ultimately, the group's aim is to make the media industry more LGBT+ friendly and getting to discuss issues with such a plethora of industry professionals has been incredibly insightful. It's still early days, but there are some cracking events coming up.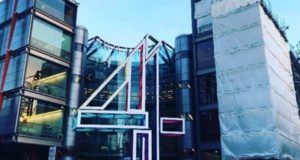 50 Shades Darker Premiere
I first read Fifty Shades of Grey when I realised that I could get it for free because I shared a Kindle account with my mum who had already bought it (a mixed blessing). It was therefore incredibly exciting to open my emails one Thursday and see that I had won an internal contest to attend the premiere that evening. Walking to Leicester Square, I could see the lights and hear the crowds as we approached the cinema. As luck would have it, we arrived on the red carpet at the same time as Jamie Dornan and the flash of cameras was unreal. Security moved us down the red carpet quickly, but we still were able to take lots of pictures. Before the film itself, we were treated to a glass of champagne and a quick introduction from E. L. James herself. It's safe to say I could get used to that lifestyle!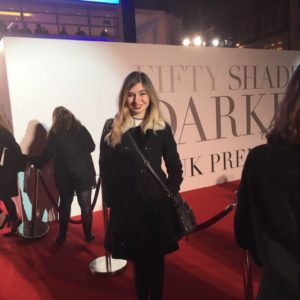 I've officially reached the halfway point of my placement, but I know the next half will likely be just as eventful!