So soon after the rest of the Christmas break I found myself back at home for a week, nursing a very sore head, a lovely black eye and balancing a pair of broken glasses on my head. The one thing so many people fear will happen to them whilst they are on placement happened. However, the bad news did not stop there.
On Wednesday the 25th of January I ended up in A&E after cycling to my placement and going down in a crash. I turned onto one icy road going down a steep hill, braked and my back wheel went out from under me. I landed head first on the cold road, with my glasses cutting deeply into my head. What I first thought were tears from the pain turned out to be a torrent of blood. I ended up needing 17 stitches, with five of those being deep ones where my glasses had cut so deeply. They even pulled out a bit of metal from the wound that had snapped off of my glasses.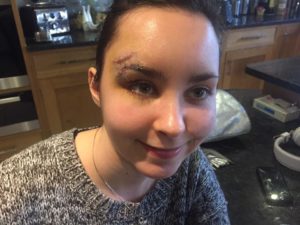 (Resting at home a week later)
Thankfully, a mum stopped her car to help me, she called an ambulance whilst I sat there clutching my head feeling very dazed. Her son walked around picking up bits of my glasses and bike that had fallen off. Conveniently, she worked at the RUH and said she would drop my bike there so I could pick it up later. My thoughts then turned to my placement: 'Oh No! I am going to let them down, they were counting on me organising their sibling group today, everyone else is too busy to do it'. I started worrying about that and asked the lady to call the Lifetime Service and let them know about it.
But I needn't have worried.
One of my colleagues came to see me in A&E and sat with me until my flatmates arrived to look after me. She reassured me that everything would be fine and another colleague would sort out the sibling group, telling me that because they had started organising it so late I should not worry about getting it done. My colleague even told me that I should take the rest of the week off. My placement was so understanding, they encouraged me to take as much time as I needed. They even called to check up on me later on, on the day and during my recovery time to make sure the wound was healing ok.
Unfortunately, on the evening of the day of my accident another bad event happened. My Great Grandma passed away at the age of 97, after suffering a stroke caused by her Dementia. The following week, my dad was hospitalised with three kidney stones and my mum went in for a planned operation. Those two weeks were really the hardest in my life. So many bad events happened.
I called my placement supervisor the following morning, to let her know about what had happened to my Grandma and ask if I could have the following week off to attend her funeral (and nurse my mum and dad back to health as I found out on the Monday, whilst looking after my own injuries!). My supervisor told me to take as long as I needed, there was no rush and no pressure for me to return any sooner than I was ready. One of my colleagues even got me a little get well gift and left it in my tray for when I got back. They were all so supportive and it helped me realise that if you do suffer an event like this during your time on placement you shouldn't worry or feel like you have to return to work in a couple of days. Yes, being on placement is like having a full time job, but the pressure of having to come back right away or put the job first is certainly not a similarity.
And this isn't just my experience. A friend's best friend passed away after a long battle with cancer near the start of her placement, she is still struggling with this, having grown up with her friend. When she found out what happened she asked if her placement could be postponed to give her some time to recover, her supervisor said that was absolutely fine and moved her start date to a month later. After my friend had started the placement, she was continuing to struggle with her loss, and broke down in tears to her supervisor one day telling her everything. Her supervisor arranged for psychological support around bereavement to be given to my friend and also changed her working hours so that she could have shorter weeks, giving her much needed time. My friend has told me her placement were 'Amazing' and that she has no idea what she would do without her supervisor who has been so supportive with her on-going difficulty.
So, if you do have an accident, illness or an unfortunate event during your placement, please do not worry about asking for the time off or support you need. As you are working for free at most Psychology placements they really want to make sure your own wellbeing is put first and not the placement. After all, you will not perform well if you force yourself to work when you are ill or too stressed. You do not need to suffer alone whilst on placement. You can still access support through the university Counselling Service and most work places have access to psychological support for their employees (even unpaid ones like us). See more about the University Counselling Service here: http://www.bath.ac.uk/groups/counselling-mental-health/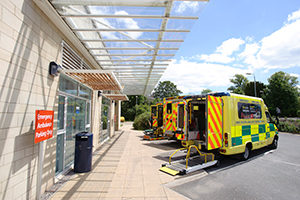 Now that I am well on the road to recovery, with two new scars to adapt to. I joke that as the Lifetime Service is based at the RUH, I made it into work on time that day - but just in the wrong department!