Siena, Italy                                                    March, 2017
Buongiorno a tutti! Long time, no see. I have now started the second part of my Year Abroad – my study exchange in Siena, Italy.
Why Siena?
I decided I wanted to do a study exchange rather than a work placement in Italy because I wanted to try out both options. I felt quite confident with my Italian before coming to Italy but I thought spending the spring and summer months as a student in this beautiful country would be the dream – good weather, amazing food and a lot of young people.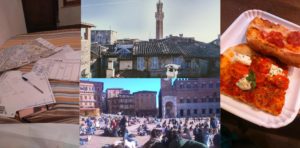 The University of Bath has study partnerships with five different Italian universities: Naples, Rome, Trento, Parma and Siena. When applying for a place, we had to shortlist the destinations to three, so I took it to the Internet and final years' experience (pro tip – you should totally ask year abroad returners about their experiences, they will be happy to help you out retelling their [hopefully] amazing time abroad from a student's point of view!) to narrow the list down to three. First of all, I was looking at the size of the destination. I did not want to go to Rome because, as a capital city, I deemed it too large and probably quite expensive for only six months. Remember, I come from a tiny island, Tenerife, and Bath isn't what you'd describe as a big city either… Naples was a similar case. It seems to be renowned for not being the safest city in Italy which threw me off. In contrast, the location and fact that it is the only coastal place in the list was very appealing, but the cons outnumbered the pros. Then I looked at connections. Trento was soon discarded because I could not even find how to easily arrive there. I've been told it's beautiful and picturesque, but I'm planning on travelling around the country so having good travel connections was very important. And then I was left with two options: Siena or Parma. Both cities quite student-y and of similar size; connections seemed to be equal too, so my choice came down to the region they were in. Eventually I went for Siena because of its history: a very 'Italian' looking city with lots of narrow alleys and a wall surrounding the historic centre.
Siena is a medieval town, Florence's life-long enemy and UNESCO Wold Heritage Site just like Bath (cannot stay away from beautiful cities apparently), in the Italian region of Tuscany. It's mostly famous for Il Palio, a horse race between the contradas or neighbourhoods of the Old City, held twice a year in the Piazza del Campo. There are two different Universities and it is a very touristy city with masses of tourists arriving each day (even now in the winter), which reminds me greatly of Bath. Inside the city walls, all the buildings have that typical Tuscan look: tall windows and red bricks, along with the laundry hanging to dry under the window sills. I must say I have fallen in love with this (extremely hilly) place and I'm quite happy with my choice.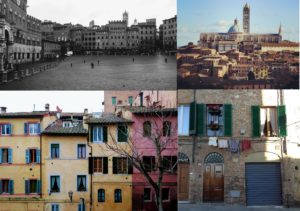 My arrival & finding accommodation
I moved to Italy late January, since I was yet to find somewhere to live and had signed up for an intensive Italian course in February to pick up my Italian again, and will stay here until July. The trip to get to Siena was long but went fine. I was quite worried I'd lose my suitcase during the short layover at the airport in Madrid, but I was lucky and my luggage got here just fine. It was a long journey - two flights and a couple of buses and taxi ride-, but I feel like I've mastered travelling by now. I had to fly from Tenerife to Madrid and from there to Florence. To arrive in Siena from Florence there are two options: a bus or a train journey with change in Empoli, so I went for the easier bus option – make sure you get the one along the autostrada or highway, shorter and less curvy!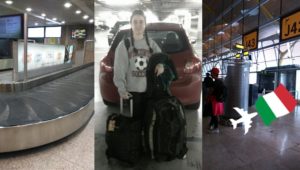 I'd booked an Airbnb near the Duomo for the first two weeks while I looked for a flat; perfect location a minute from the Piazza and very comfortable since I had the apartment basically all to myself! I would recommend doing this when moving to a new place: find an Airbnb or hotel for a week at least while you look for long-term accommodation once you've arrived. Things look so much different in person and this way you'll avoid scams (I was sadly victim of one before arriving, so please don't make the same mistake and make sure you look at the place in person before paying anything). I must say, it was hard to find a flat. Since I'd arrived so early the first semester Erasmus students were still around with exams, so their places were not available yet. In addition, a lot of landlords do not seem to like Erasmus students because of the short-term contracts, which limited the options. It has been even worse for male students, as most adds I saw were for female student and camera doppia which means a room-share. I was looking for a central apartment where I could have a single room and I had been doing research from home, sending tonnes of messages to book viewings with little luck. I used webs like uniaffiti, easystanza and housinganywhere. Eventually I managed to get a viewing that was really promising and that ended up being my actual flat. I live in the centre, in the Contrada del Drago, and I couldn't be happier! Siena is quite small so you can walk everywhere. I'd recommend looking for a place within the walls, because everything happens inside the historical centre, but if you end up outside it's not much of a big deal either. Also, make sure you actively look for a place; not only messaging online but talking to everybody you meet in the street as I know of people who got lucky because they met someone who knew of an available room. And, above all, don't give up!
Taking an intensive language course
Concerning the language course I took, I have mixed feelings. Before arriving here we were offered a mostly subsidised Italian language course (75euro) by the Universtà degli Studi: either intensive in February or ordinary between March and April. I went for the February one since I had the time and it would allow me to sort out accommodation before the start of the semester in March.
If you're going on a study exchange, I'd recommend doing a language course if available just to make sure you'll be able to follow the lectures. While I was in France I barely got to speak any Italian so my skills had become rusty from being out of use since June. I do think doing the course has eased me back into speaking Italian confidently and has definitely tuned my ear.
However, I found the quality of the course at the Università degli Stranieri (the course is in the other University; my exchange is with the Università degli Studi), to be quite disappointing. We had to do a language level placement test at the start, after which I was placed in C1 level. I was accurately placed since the OLS test results also classed me as C1. However, I don't know if it was because of the higher level or the timing, the group I was assigned was a mix of international students out of which I was the only Erasmus, contrary to first semester students' experience. Also, I believe we (the other Bath students and I) were put into ordinary lessons not the intensive course we'd signed up to. Anyhow, we had four and a half hours of Italian lessons a day for three weeks. In my class we did a lot of reading and debating, but not much grammar. I found some of the topics interesting, such as language and dialects in Italy or the economy. However, I do not feel like it was worth the money or the time overall. A week would've been enough for me. Everybody was really nice and I met quite a few people in the course, which was great, but if I were to condense the new things I learnt over the course, they'd come up to an hour and a half, maybe two hours-worth of lessons… I did the end test a couple of days ago and all it involved was writing a 'for and against' essay (250 words minimum) about social networks and we were given two hours and a half and a dictionary. Talk about challenging… Either this was really easy, or Bath is really demanding.
Overall, it will depend on who offers the language course. Here in Siena it could definitely improve. For lower levels like A2 or B1 I imagine it will be a lot more useful since you'll be taught actual grammar along cultural topics. For higher levels like me, the experience might vary. I do nonetheless recommend searching for a short course before starting, particularly if you haven't been able to practice the language during your other half of Year Abroad.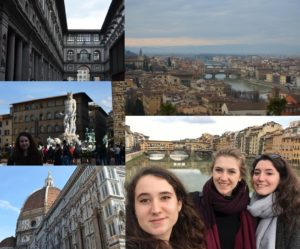 Despite the unsatisfactory experience of the course, I've really enjoyed the time I've spent in Siena thus far. The place is smaller than I anticipated, but now that the lectures have started life has got busier.  I've been using my time to run errands and sort out most of the paperwork, as well as exploring the city and surrounding area. I feel like I've got a grasp on the situation by now thanks to that extra time. Since I had to change modules and send Erasmus paperwork, I'm glad I arrived earlier and have had plenty of time to sort it out before getting caught up in lectures and module work. I must say the Italian system is nothing like the English one. We've had to chase down quite a few people to get the papers signed – it has been quite an adventure – and I expect this is the usual process in this country. My piece of advice? Be patient but persistent, and don't stress out.
I will be writing another blog entry on the Erasmus paperwork and Welcome Week in Siena because the whole process definitely deserves one on its own, so keep your eyes peeled!
Ci vediamo presto!
Zoe