During this Inter Semester Break, I have possibly had, what I would call, the best trip of my life. Paying £300 to go Morocco with Bath's Surfing Society has most probably been one of my best money spending decisions to date. I've met so many wonderful people (surf soc and Moroccan surf instructors included), started a new hobby, caught some African sunshine, and on top of that managed to prevent the stomach bug I caught from ruining my trip. T'was a wild 7 days.
The trip started one dreary morning, when I woke up at 6am to get myself on a coach that was soon bound to leave campus.
(pic of fb post here)
Only properly knowing one person going on the trip with me- my housemate Richard- I was a bit apprehensive of how this trip was going to go. Worried about people being up themselves about surfing, I was unaware of the Surf Captain's promise to make this year's surf soc "more inclusive". I was later enlightened about this new surf ethos but to be fair, the ethos could be felt as soon as I arrived. Everyone was lovely.
When we first arrived at our accommodation, it turned out Richard and I had to join up with other people to fill up an 8 person apartment. I knew two other girls, met on previous surf socials, so we had a four. 3 other people joined us. It's amazing looking back on that moment, thinking how we didn't know each other at all and comparing it to where we are now. There's nothing than bonds you more to people than getting collectively crushed by the same waves, getting drunk together nightly and living in the same apartment.
And what an apartment it was! Every day after surfing, we would sit on the balcony, listening to Claudia's music paired with the background sound of the waves crashing against the rocks, waiting for dinner, and watching the sun set.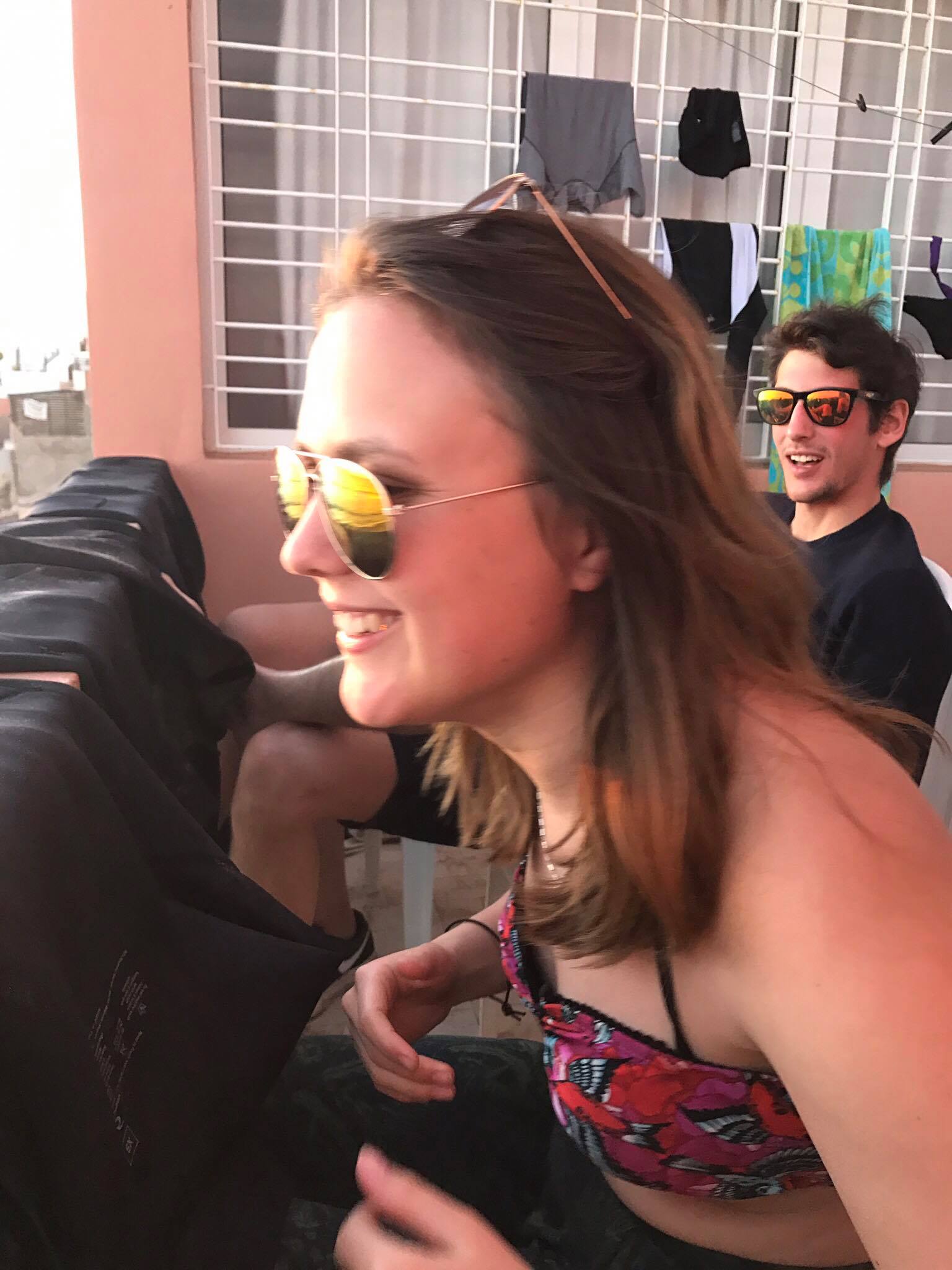 We would have breakfast and dinner on a terrace with the ocean surrounding us: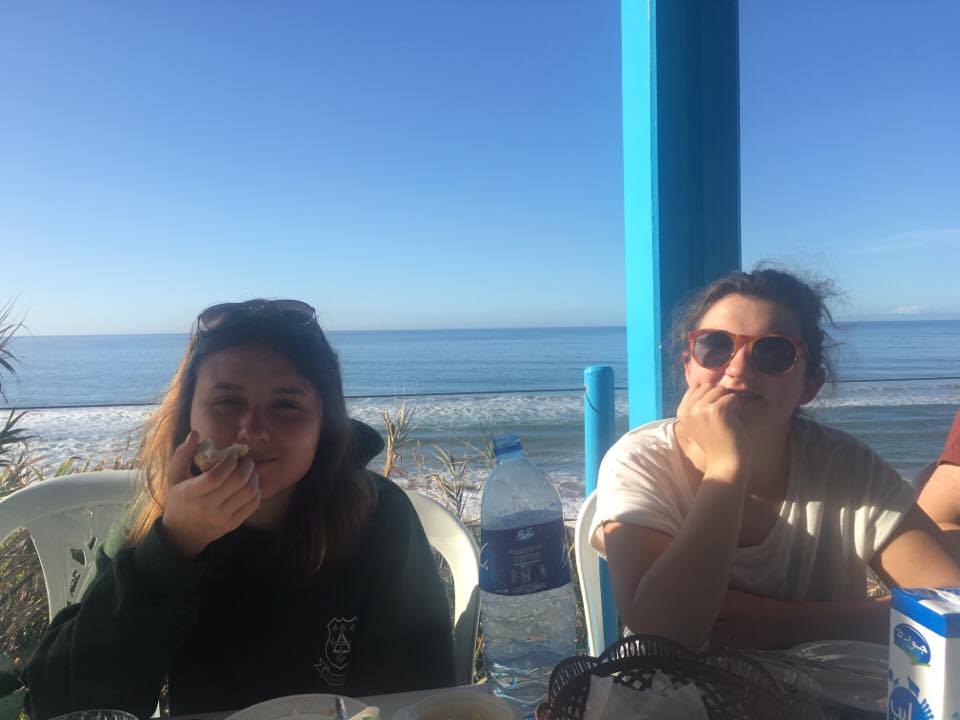 Lunch was reserved for the beach. We would spend entire days either on the beach or in the sea, doing our best not to drown. Our surfing instructor, Abdo, is possibly one of the most stereotypical surfers I have met. He would very often come out with the following types of great phrases:
• About surfing: "it's not a sport; it's a feeling"
• About smoking: "it's good for nature; it kills people"
• About the relentless current pushing us in all the wrong directions: "it's nature man"
• And my favourite: "Enjoy the short life."
We have since adopted some of these phrases and learnt the meaning of "gnar", "gnarly" and "shaka", which were subsequently heavily overused during the trip and for some time after.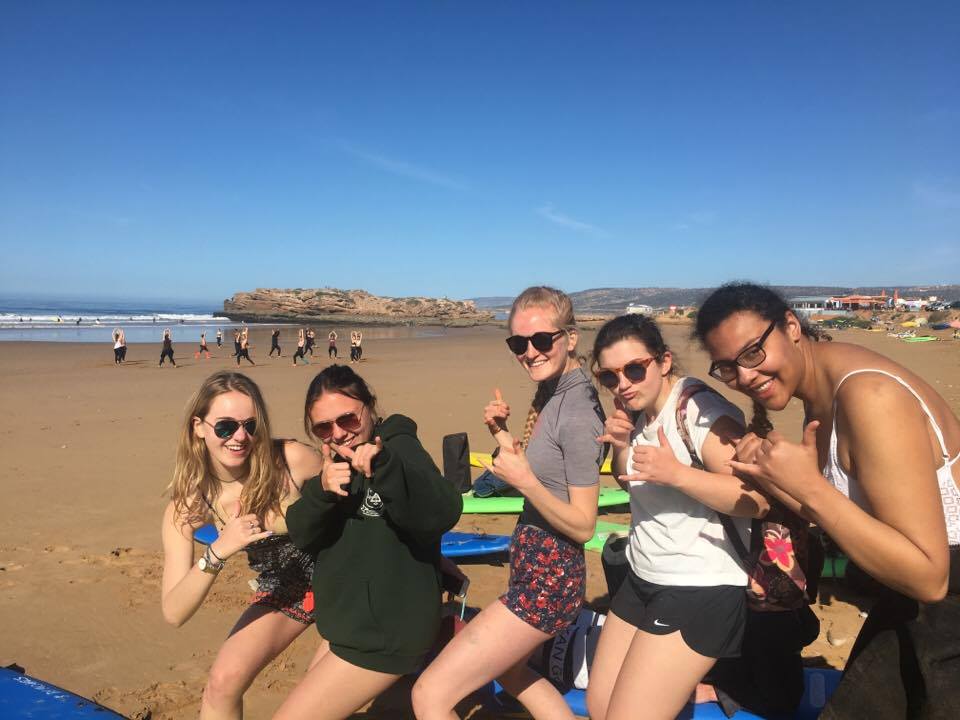 I'll never forget the last day of the surfing trip, when upon contracting a stomach bug and mistaking it for a hangover, I lay sleeping on my surf board while everybody else enjoyed the last day of surf.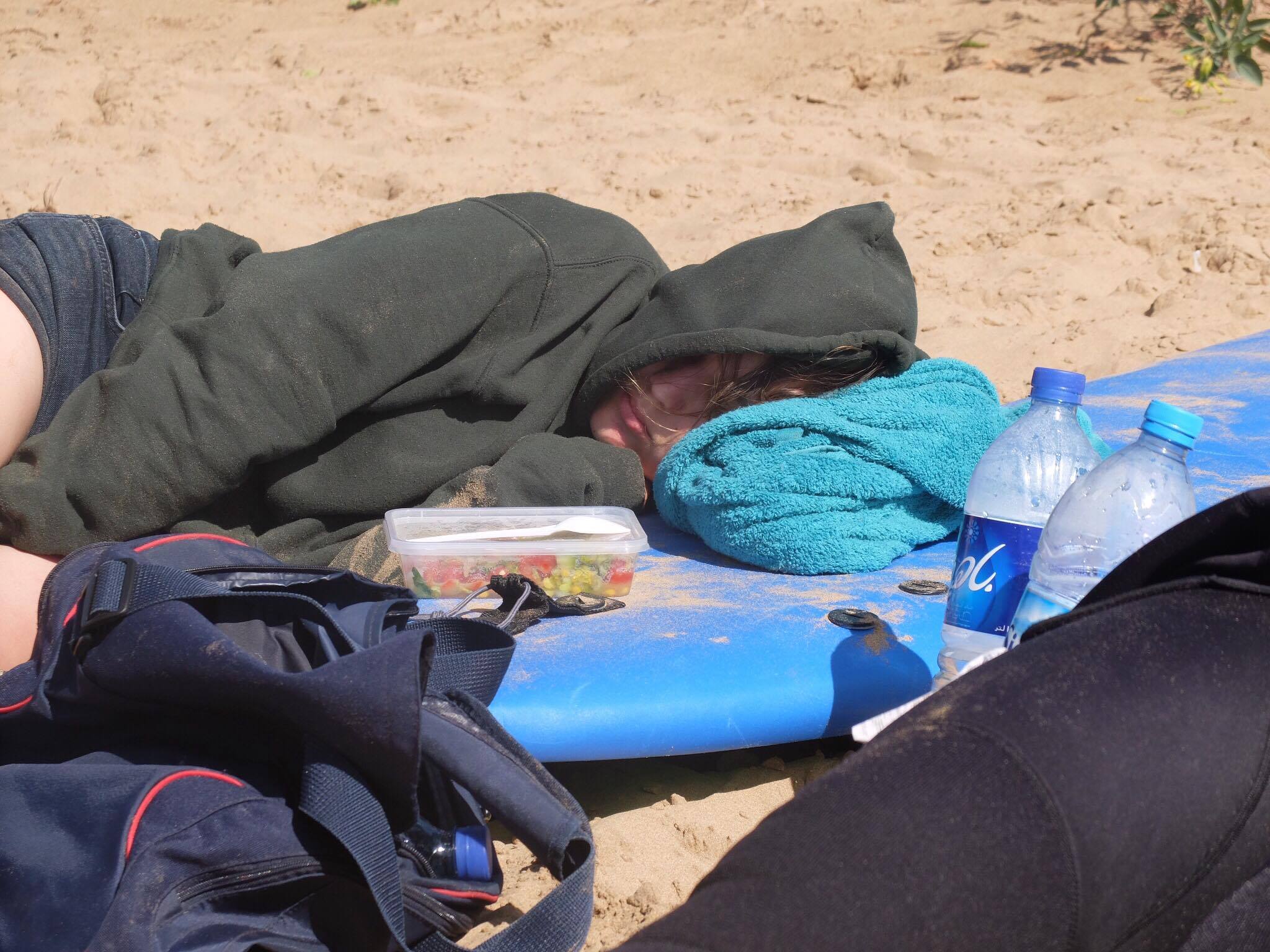 I felt like death but Abdo managed to make me feel better by sharing a story of one of his nights on the beach, upon which he drank so much vodka he couldn't walk in a straight line. "Never again." He said.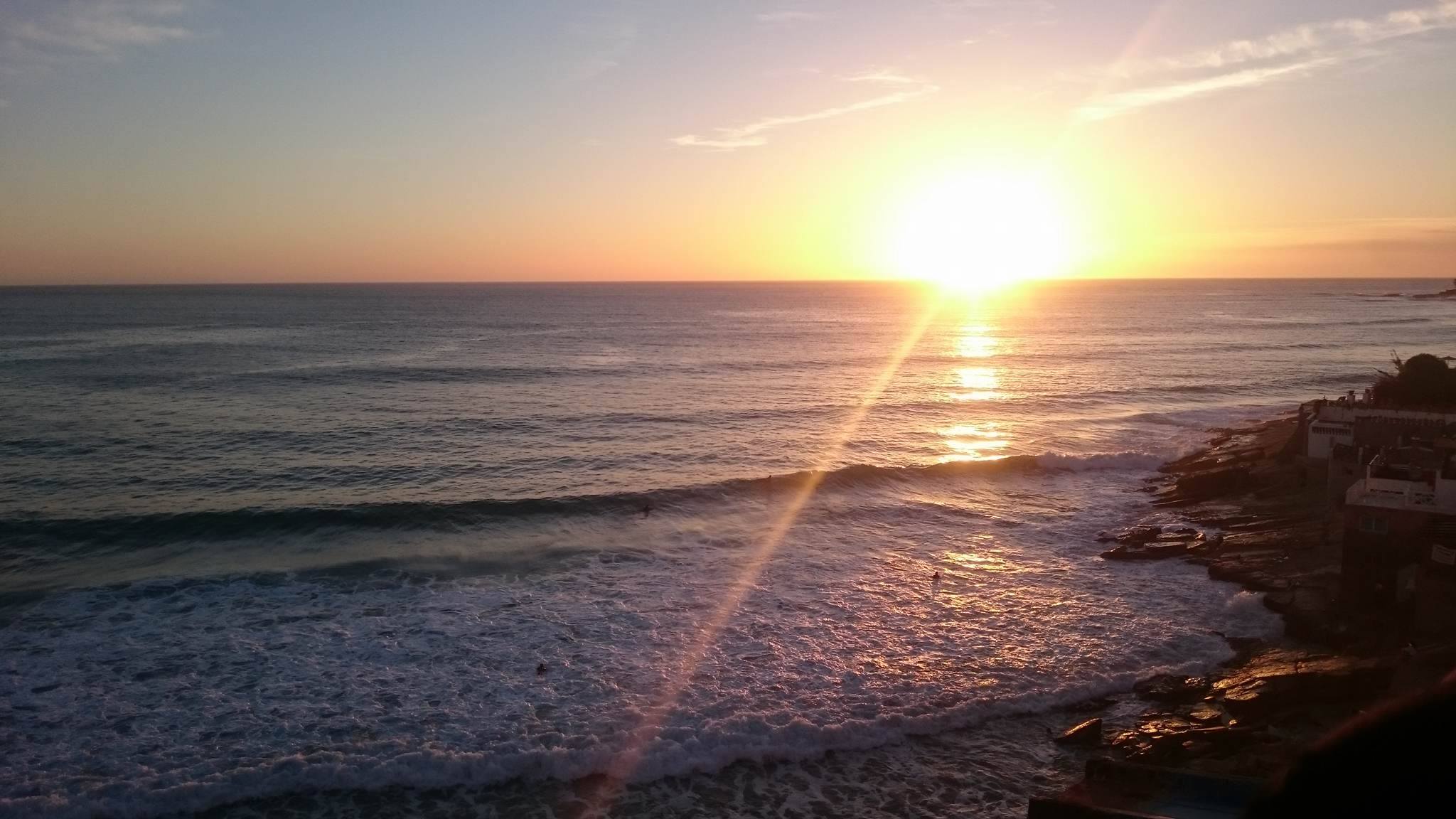 Speaking of nights on the beach, one of my favourite memories from the trip must be when we had a bonfire on the pebbly beach. It wasn't the softest of beaches but that didn't put anyone off coming down and lounging around the light and warmth coming from the middle of our circle. At one point, we decided to run down to the water and get soaked. The darkness of the water blurred with the night sky, distinguishable only by the brightness of the stars. I wish I had taken a photo.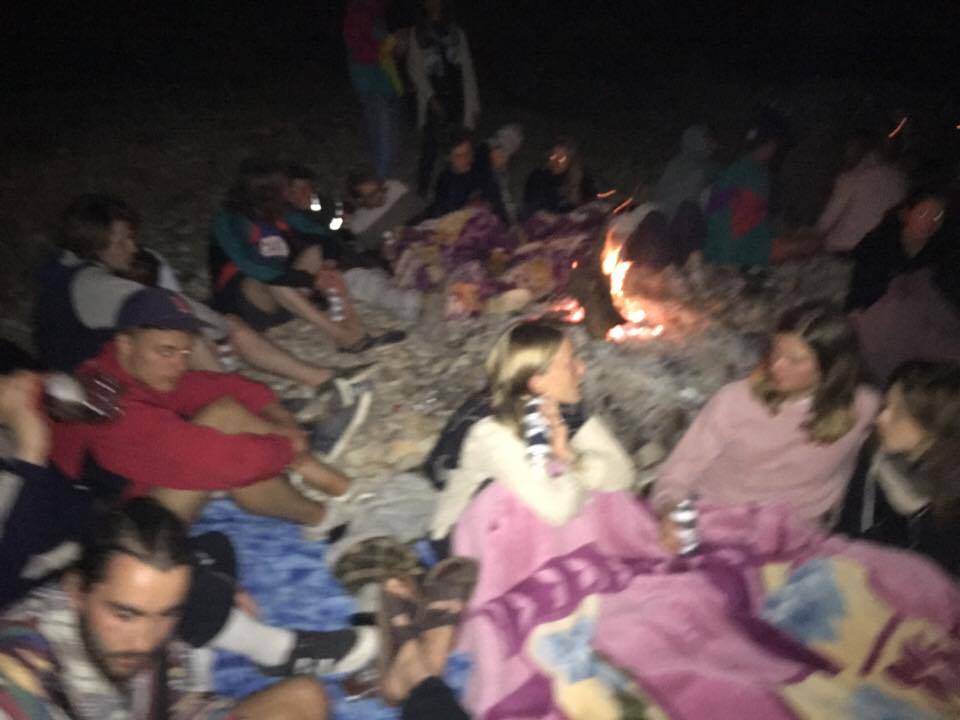 There are so many reasons why I loved this trip. These were just some of them. I would strongly recommend anyone coming Bath to come on this trip or to join the surf society here; however, it may not be everyone's cup of tea so I'll say this: when you go to uni, try that thing you've always wanted to try. Don't worry about not being good enough or the fact you've never done something before or that you won't make friends. You miss 100% of the opportunities you don't take so throw yourself on them! You'll thank yourself in the end.
Stay gnarly lol