Siena, Italy                                                           late March, 2017
Ciao! I'm back with a new post and this time it is all about the Erasmus paperwork. If you are going on your Year Abroad, then you will certainly be familiar with the Erasmus process to get that very much awaited grant. However, you will also know how much of a long process it is. Here is a breakdown.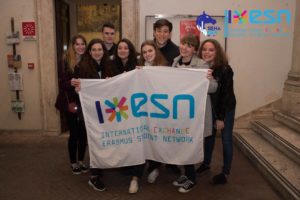 What is Erasmus?
Erasmus+ is a European Union programme which provides opportunities and supports to EU students who want to study or work abroad in Europe for up to one year (2 or 3 months minimum depending on the activity). The EU allocates a certain amount of money to the programme and, as a participant, you may be eligible to receive an Erasmus grant – quantity of which changes depending on where you are doing your placement, for how long, what sort of activity you will be doing, and internal matters from the University and EU itself (every year the amounts tend to vary, which is why you are asked not to rely on your Erasmus grant as a part of your Year Abroad budgeting!).
Follow this link for more information about the programme: http://ec.europa.eu/programmes/erasmus-plus/node_en
One of the most important requirements, aside from being a registered student at University, is to complete all the paperwork within the set deadlines.
The Erasmus Paperwork
Probably the most tedious part of your Year Abroad. During the information sessions held by the University pre-Year Abroad we were clearly explained all about the Erasmus grant and paperwork. I must say, the Erasmus team at Bath are super-efficient and helpful with any doubts you might have – do approach them if something is not clear!
On Moodle you will find the basic spread of all the documents you have to go through in order to receive the grants (and probably sign up to modules in your receiving University since the Learning Agreement is pretty much your exchange contract!).
The University of Bath starts with the paperwork quite early on, which is great because then it doesn't pile up or you are faced with having to deal with it once you are actually away from British soil. My biggest advice is to make a clear list of what documents you have to sign and hand-in but, above all, when they are due. Missing a deadline is the worst thing that can happen. It might sometimes not be the end of the world, but you definitely have to pay attention because missing a deadline can mean not getting the much needed grant…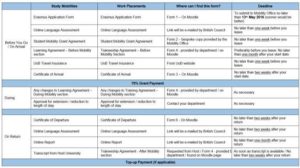 Erasmus paperwork is different for both Traineeships and Erasmus+ Study. Again, you will find all the information and files on Moodle (your Holy Grail!), but roughly:
1.       Apply for either for a job or a study exchange.
2.       Complete an Online Language Assessment (OLS) – both before going on the exchange and after returning. The assessment is to check your language progress and is made to collect data for the EU. It's a good way to track how much you've improved, but I wouldn't worry too much about it!
3.       LEARNING AGREEMENT / TRAINEESHIP AGREEMENT – probably the most important documents because they are your 'contracts' with your receiving University where you will be doing your study placement or the agreement with your supervisor/company where you will be doing a placement. Keep this thing safe – I have a million copies of the document, all different versions and at different stages of completeness.
4.       Travel Insurance – I'd advice getting the one offered by Bath. It's fairly cheap and comprehensive.
5.       Certificate of Arrival / Certificate of Departure – document certifying that you made it to sunny Italy or wherever your placement is, and the same after leaving. It seems like quite a trivial document but it's very important in order to both receive your grant and the correct amount. It's due two weeks after you arrive/leave, so don't forget! It's easy to get caught up in the excitement/post-Erasmus blues!
6.       Changes form – during your mobility you might need to change modules, make changes to the agreement or extend or reduce your mobility dates; this is the form to do that. Don't change the original Agreement!
7.       Finally, the online report /transcript from Host University/After Mobility section – after your placement you have to fill in a report about it. It is a fairly tedious document, but necessary. You will need the collaboration of your supervisor or Host University, so I'd advice leaving this either done and dusted or ready to be before you leave.
When it comes to receiving the grant itself, Bath have split the payment in two instalments, as an incentive for you to finish the paperwork. Believe me, you definitely need the incentive.
My experience
FRANCE
If you've read the rest of my posts, you will know I worked at a local language school in Normandy called The English Centre des Hautes-Falaises. Fortunately for me, I had access to a printer so I could print and scan the paperwork, and my supervisor was very efficient when it came to signing the paperwork and getting it sorted. I was lucky in my case, because I know of other students who have had to actually pester their supervisors to fill in the papers, particularly after the placement, so make sure you get it done asap!
ITALY
Now, studying in Italy is a whole different story. In Siena's case, the Welcome Office deals with the arrival and departure certificates along with the transcript of records. The Ufficio Didattica deals with the actual Learning Agreement and any changes you might make, as well as signing you up to the modules you choose. And then there's the Erasmus Coordinator. To be fair, after the induction it is fairly clear what steps you have to follow, however the nightmare arrives when your Coordinator is not where he or she should be according to their Office Hours… I had my LA signed back in February to avoid having to deal with it later on, as the deadline to hand it in at the office in Siena was the last day of March. I decided to wait until I made sure my modules didn't clash before going to the office and, just as I did it, I was told I had to get the changes form signed. Yes, I was forced to change modules because we had to choose the options in Bath back in April when the 2016/2017 timetables were not yet available. Yes, I had to chase down the Coordinator. I went to his office a couple times as well as sent him emails. It felt like such a waste of time but, to be honest, it only made me appreciate the efficiency at Bath even more!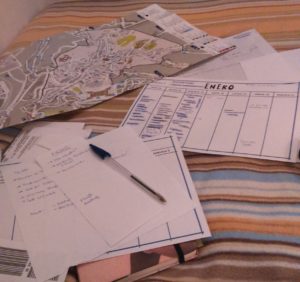 GENERAL ADVICE
·         Keep on top of it! Make sure you keep track of the documents you have to hand in, when they are due and have copies of them!
·         You need to hand-sign the Erasmus paperwork, which just makes it so much more complicated… This means you have to be able to print the forms, sign them, scan them, and send them back to the respective institution. Having a printer is ideal. I personally did not have one in either of my placements which made it slightly harder. I had access to the company printer during my placement in France, which was great. However, in Italy students generally don't have/use printers. In this case, the copisterie or print shops will be your best friends. Bring a pendrive and shop around; expect to be spending a couple euros to get the whole paperwork process finished… Also, you can have scanning apps on your phone which turn photos into pdf documents and will save you money (life hack right there).
·         Make sure you know who has to sign what. Find out your Erasmus Coordinator's Office Hours and contact details as soon as possible – you might have trouble finding the physical person like I did!
Studying in Italy: the ESN and Welcome Week
THE ESN
ESN Italia or Erasmus Student Network is an association of Italian university students who offer their help to foreign students and help them integrate into their Erasmus University. They are like the Erasmus club at a national, regional and local level and are in charge of organising different events – from formal inductions, guided tours and trips to fun events throughout the semester. As far as I'm aware, all of the Italian Universities that Bath has exchanges with have an ESN group.
The ESN group in Siena is amazing. All the volunteers are really friendly and helpful, which is great when you've just arrived. They also make sure to offer a variety of different events to take part in, great for meeting other Erasmus people and also some Italians! Definitely look for the ESN group when you arrive at your Italian university!
If you want to find out more, follow this link: http://www.esnitalia.org/it

WELCOME WEEK
Welcome Week for the second semester in Siena took place during the last days of February/first few days of March. During that week you had to be here so make sure you check your dates when booking your flights!
During Welcome Week we had the formal induction to the Università degli Studi di Siena in which we were given general information about the city and University, such as where the buildings are, the sports facilities, the banking system,… Each faculty also had their own specific induction (mine is Scienze Sociale, Politiche e Cognitive, even though I don't actually follow any modules within that department) – make sure you find out when yours is because it will be when they give you all the information you need about Erasmus paperwork, choosing modules and actually visiting the building where your lessons will take place.
Alongside the 'official' events, the ESN committee organized a tonne of different fun events so that Erasmus students could meet each other. On Monday there was Happy Hour which was great, then there were also a few club nights as well as beer competition, wine tasting, and guided tours of the city and even an outing to Chianti. There was an event for everybody. It was a little bit like Freshers' Week but Italian style – everything a tad more disorganized and late! I really enjoyed it, so make sure you attend the events! The last night – la Festa al Rettorato – was a proper Erasmus student experience to start the exchange with a bang!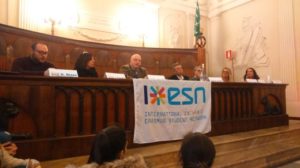 I hope you found this post useful. Even though the Erasmus paperwork is quite tedious, the numerous opportunities and perks Erasmus+ gives you outnumber the drawbacks. As I said, make sure you keep track of dates but, above all, HAVE A GREAT YEAR ABROAD!
Alla prossima!
Zoe