7 days, 4 states, 3 planes, 2 sheilas, 1 car, a whole heap of exploring and some work. Road trip over!
I've been looking forward to writing this blog for a while, as I have just got back from what has been the most amazing trip I've ever done! I was fortunately asked by SASI to be an athlete chaperone for the Oceania Road Championships as some of our cyclists were competing. As part of this role, I had to drive the SASI cycling car to Canberra from Adelaide. For those of you that aren't overly knowledgeable with the map of Australia (very much like me until recently), that is one heck of a drive; 750 miles, and a very boring route through the middle of nowhere, known to Aussies as 'Whoop Whoop'. Consequently, I asked SASI if I could do a slight detour to see some of Australia's most beautiful sights that I probably wouldn't get the opportunity to do again.
So, Shannon, another Bath placement student, and myself set off, for what was to soon become one of the best, and most memorable weeks ever.
On the first day we drove from Adelaide to the Grampians, which are a stunning mountainous range in Halls Gap, Victoria. If they aren't already one of the wonders of the world then they definitely should be! We arrived at the Grampians National Park just before sunset, so got to see a sneak peak of a lovely view of dusk at MacKenzie Falls. However, the drive down the steep mountain in the dark was slightly scary! Good job we'd already done a treacherous 7 hours of driving that day, so we were used to it. We woke up early the next morning to make the most of the beautiful scenery before setting off again, so we drove up to see Reid's Lookout, Pinnacle and the Balconies. We were lucky to arrive before the mass crowds of tourists, so really got to soak up the tranquility and stunning beauty of the Grampians, and of course take some awesome (and very generically touristy) photos!
After a fantastic morning, we left the Grampians and had a short drive to Port Campbell. This was the start of the famous Great Ocean Road! We had both seen lots of photos of some of the sights you can see along the way, and had a meticulously planned schedule so were very excited. We stopped at London Arch, Loch Ard Gorge and the 12 Apostles, and again saw some really breathtaking views that depicted Australia's stunningly picture perfect natural beauty.
Great Ocean Road – definitely a huge tick off the bucket list!  
We then set off for Torquay, and arrived late in the evening. The next day we woke up and drove down to Bells Beach – a world renowned surfing beach, 100km south-west of Melbourne. Whilst unfortunately it was too chilly to try surfing ourselves, we definitely enjoyed watching top class surfers ride the waves, unbelievably in awe!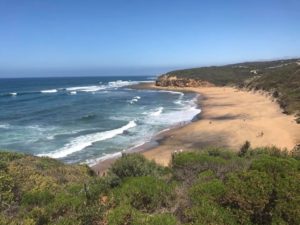 After spending a short time at Bells Beach, attempting to get a suntan which didn't end too well, we drove to Melbourne. Our first stop was St Kildas beach, where we enjoyed a beautiful sunset and swim in the sea. St Kildas was a great spot, full of cool restaurants, cafes and bars, and was jam packed. Being so near to the city, and as one of Melbourne's most popular beach, we definitely felt the city buzz, slightly new for us Adelaideans! As Melbourne is famous for its food culture, we enjoyed a tasty Pho from a trendy Vietnamese restaurant before getting an early night in preparation for our long drive the next day to Canberra.
This marked the end of our road trip, and start of our working responsibilities. The next day was a long grind, we drove for 8 hours, but after multiple repeats of Ed Sheeran's new album, a few games of I spy and lots of snacks later, we finally arrived in Australia's capital city; Canberra. This was the fourth and final state that we had visited, Australian Capital Territory, preceded by South Australia, Victoria and New South Wales. We met the SASI athletes at the airport the next day where we accompanied them to their training, and helped when needed. We also managed to soak up some culture and explore the city, visiting Old and New Parliament House, the Telstra tower at sunset, the War Memorial, Australian Institute of Sport, Lake Burley Griffin, the National Museum and had a fun night at the Enlighten Festival and Night Noodle Markets with some friends we made on our travels. To top it off, SASI cyclists won a gold medal in the Women's time trial, and a silver medal in the Men's road race.
Spot the wannabee SASI cyclist.
So after 2,000 miles of driving and lots of sightseeing, we did it. And what a week!! Definitely a MUST DO for any avid travellers!