Siena, Italy                                                                  April, 2017
Salve! I'm back with a new post, this time about culture shock, which is a term many of you who have lived abroad or are soon going to have definitely encountered. Here's a little break-down of what culture shock is, how to recognize it and deal with it, and how I have personally experienced it.
According to the Merriam-Webster dictionary (1), culture shock is "a sense of confusion and uncertainty sometimes with feelings of anxiety that may affect people exposed to an alien culture or environment without adequate preparation". Basically, when you move abroad it takes some time to feel comfortable in the new country, and this period of adaptation is when you generally feel the culture shock. Everybody experiences it different as it depends on where you are from, where you are going, previous experience of living abroad, preparation before moving… Some people don't really go through culture shock, or suffer it later on (it can hit at any point, even well into your time abroad), some are very vulnerable to it – everybody is different.
General consensus is that culture shock has three to five different phases:
·         Honeymoon Phase: you've just arrived in the new place and everything is different and exciting, new food, new people, new places – you're loving life!
·         Post-Honeymoon Phase: you start to notice the little (and not-so-little) differences between your culture and the new one, and you're not too keen on them. Maybe you dislike how people act in a certain situation or you are missing your mum's food, so you start feeling upset and unhappy.
·         Negotiation Phase: probably the most important as it is the turning point, you decide to give into the negativity and unhappiness or to adapt and make the most of the experience. Hopefully the latter.
·         'Everything will be fine' Phase: you finally feel more comfortable in the new culture, enjoying the differences. It doesn't mean you have to adopt all of the different traits, but you can recognize them and act accordingly. You no longer feel unhappy or upset and you might even decide to immerse yourself completely in the new way of life and actually end up loving it.
·         Reverse Culture Shock Phase: you can actually go through the whole process of culture shock again once you return home, particularly after a long period of time. Just pointing that out, because it's a possibility even though it might sound crazy!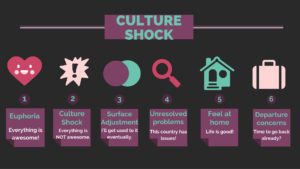 How to deal with culture shock
The best way of dealing with culture shock is to educate yourself. Learn as much as you can about the new country in preparation for it – before you go and after arriving. This can range from knowing how the political system works or how to go to the GP, to smaller things like knowing if you can drink tap water.
Other things you can do are to be open-minded and eager to learn; I've found that most locals are happy to explain how and why things are done a certain way in their country, so don't be afraid to ask questions (speaking the local language helps a tonne – and this is relevant even if you have all your courses in English or aren't necessarily a language student!). Also, try to be as involved in the community as possible, don't lock yourself in your room because this will encourage homesickness and limit your opportunities of meeting new people and making friends who will help you settle in. Finally, it's ok to bring things that remind you of home and will comfort you when you are feeling down, as well as keeping in contact with your family and friends back home – the point is getting over culture shock, not completely separating from your previous life-style!
My experience
Here's a little background knowledge about me. I'm Spanish, I grew up and spent all of my childhood and teenage years in the Canary Islands (save for one year back when I was 7, when I lived in Portsmouth with my family). So the most distinguishable experience of culture shock that I can fully remember was moving to Bath in 2014 to start my degree in Modern Languages. Yes, I'd lived in the UK before (even though I couldn't remember a lot of it), so I already had a fairly precise idea of what living in the UK is like: the weather, the way people act, the different food, the different language,… but I still had to deal with culture shock. As much a fan of English life-style as I may be. It was indeed a drastic change: first time I was living on my own, in a new country, with a new language, where I didn't really know anybody. Culture shock hit me a little after Freshers', when I was still settling into the routine and figuring out the new place. I remember one of the most clear examples of culture shock for me was the way young British people approach drinking – I was definitely not prepared for drinking games or binge drinking. The drinking culture I had experienced in Spain was different and it took me a while to understand (still trying, actually), this cultural difference. I had a positive attitude and was adamant on making the most of the opportunity of studying abroad, even though dealing with culture shock and homesickness was pretty hard at times, but following the advice mentioned earlier helped me cope. Eventually I ended up feeling at ease in England and now I love both my homeland in Tenerife and studying in Bath, each for their own unique reasons.
This year, as part of my Year Abroad, I've had to live in France and Italy. Sounds like a chore but it really hasn't been. I've had (and am having) a blast. Fortunately for me, the information sessions in Bath in preparation for the YA are quite extensive and I already had experienced moving abroad once before. It was just a matter of doing the same thing with the two new countries. So far it has been alright. I was in Fécamp, France, for four months and fortunately for me I was so busy I had little to no time to dwell on culture shock or homesickness. I think the fact that my colleagues were British and I lived in a small town was also helpful as I felt really welcomed and supported. When it comes to Italy, I've noticed Spanish and Italian cultures are pretty similar, so I feel quite at home in Siena. That doesn't mean that I haven't noticed cultural differences, by any means. Here is a short list of anecdotes.
·         Greetings - it might sound silly but I've experienced quite a lot of awkward situations in all of the countries I've lived in because the way you greet someone when you see them varies not only from culture to culture but also from person to person. In Tenerife, men shake their hands or hug if they are close, while women will either shake hands with men or give one kiss on the cheek, leaning into the left. In other parts of Spain you give two kisses, one on each cheek, again starting from the left. In Britain there is less physical contact and the hand shake or wave is usually the norm, whereas the bisou is big in France; you give two, one on each cheek starting from the right. In some regions you only give one or you might even give three! The fact that you lean first to the right confused me so much when I first arrived in France, and still towards the end of my placement I would forget to start on the other side which would result in a weird moment avoiding the mouth and changing to the right side – I'd laugh it off but it was quite embarrassing! Same in Italy, usually when you first meet people you shake hands, and later on you give two kisses on the cheek starting on the right. I still find myself caught off guard sometimes – fortunately I'm quite short so I don't usually have to make the first move.
·         Smoking – smoking is quite popular amongst young people all over Europe, but I was surprised by the fact that every single young (and not so young) person I met in France smoked. Might have been a coincidence as I know of other people with different experiences, but it surprised me nonetheless. I knew cigarettes were popular, but I didn't expect people to leave the dinner table and go outside in order to fumer une clope!
·         Aperitivo/aperitif- this is a cultural difference I've grown to enjoy. In France it is custom to have a glass of some sort of strong alcohol – calvados, Campari or whatever takes your liking – with friends before you sit down for dinner. It is quite a social thing to do and something I was not aware of until I moved to France. In Italy it is also very popular- it is quite usual to go to a bar that does aperitivo, usually starting at 6 or 7pm, with some friends to have a drink (aperospritz and Negroni seem to be the most popular options), usually with access to a food buffet where they serve dishes like pasta, couscous, focaccia,… Aperitivo is a great invention!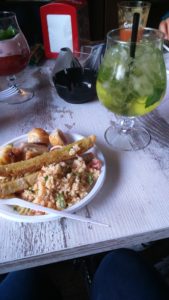 ·         Finally, I think it's worth mentioning Italian men from the point of view of a foreign girl living in Italy. Of course, not all Italian men are the same and I don't want to generalize, but it did take me aback how straight-forward and adamant some Italians can be, particularly when going out, so be aware of that.
There are obviously many more cultural differences between these four countries than the ones mentioned above and I'm yet to discover even more but I hope you have found this post helpful. As a language student I love discovering new cultures, but it is fair to say this is not always positive so raising awareness about culture shock is a very important point for those planning to live abroad and if you're currently going through it, just know you are not alone!
A presto!
Zoe
(1)    https://www.merriam-webster.com/dictionary/culture%20shock
Images: https://www.hastac.org/sites/default/files/upload/images/post/cultural_shock.jpg
https://eap.ucsb.edu/sites/default/files/Culture%20Shock%20final.%20jpg.jpg
My own.