Siena, Italy                                                                                        May, 2017
Ciao! When I decided to do an Erasmus study exchange in Italy as the second half of my Year Abroad, one thing was clear: I wanted to travel as much as I could. In a country like Italy in which every region is so different from the neighbouring one, it is amazing to be able to go and explore new areas, as there is such diversity. But, how to do this on a student budget? Here are my tips for travelling around.

Choose the right time
First of all, the ideal Erasmus situation is having a timetable in which you have a long weekend. That is, you have either Mondays or Fridays free and so end up with a three-day-long weekend. This would give you more time to travel, but is not always possible. In my case, I don't have a long weekend, but I can catch up on my Friday lessons easily so I can miss a Friday once in a while… Try to find the timetables for each module when choosing your units, but don't fret if you can't do a long weekend – you will find the time to travel anyway!
In addition to that, the time of the year also affects the prices of the tickets. I've been in Italy since the end of January and back when it was still winter it used to rain a lot, which is not ideal when you plan on walking around new cities. I'd say the best time to travel is probably late-March to early May: the weather is a lot nicer but the 'tourist' season isn't full-blown yet. Now, you will always find tourists in Italy, no matter the time of the year as it is non-seasonal tourism, but in order to avoid the masses and extortionate prices definitely avoid travelling in late Spring-Summer.
Travelling during the official holidays can also be tricky. First, because obviously everybody travels then so there is a ridiculous rise in prices during that period, but also because it can be hard to nail down the actual dates. In Siena's case, our Easter holidays were actually only four days long and were followed by a few school days before a pause in the lessons during the April appello or exam period. In theory, the lessons would be on during those days in between, but in reality, a lot of the teachers cancelled their classes and so we actually had around a week and a half of holidays if you were not planning on sitting any exams in that appello period. I'd suggest trying to speak to local students in years 2 or above, as they have more experience of the system, so you have a clear idea of the dates and can book your holidays in advance and save money (whether it be travelling around Italy or going back home).
Transport
There are many ways to travel around Italy, but choosing the right one will depend on the distance you are trying to cover and the time you have available.
For example, if I wanted to visit the Tuscan towns around Siena, the ideal thing would be to have a car. Car Rental companies are incredibly expensive for rookie drivers, so unless you are a big group in which all chip in or you know a local person with a car, this is an option available but hard to realize. You can also travel by bus, which is very cheap, but at least in this part of Italy the public transport connections are poorly structured, with journeys taking a couple of hours to cover only a few kilometres and very limited timetables.

If you are planning on visiting places in nearby regions, try the coaches or pullman services which are very popular. They are generally cheaper than trains and sometimes even take less time! I've been using FlixBus quite a lot, which covers a huge range of different cities. From Siena, I've been able to go to Bologna and Perugia using FlixBus and spending around 20 euros both ways. Another coach service that seems to be popular here is Baltour, but I haven't used that one yet. It's just a matter of looking into routes and prices! And, of course, booking in advance!
Another option is to use Blablacar. I personally can't review this service as I've never used it, but I've heard good things about it. However, use your common sense – it might not the best option if you are travelling on your own, as it involves a car share with strangers.

A pricier option is taking the train. However, high speed trains are worth it if you are planning to go somewhere that is far away – they are quicker than coaches. Trenitalia works quite well in my opinion, but delays and trains being cancelled is not something unheard of, so beware if you are going somewhere that requires a couple of changes along the way. Another alternative is to fly to your destination. If you are in Siena you will know that your closest airports are in Florence or Pisa though, requiring you to take the train or bus in order to reach it anyway. So, unless you actually have a few days to spare, I wouldn't choose to go anywhere too far away – it is worth staying somewhere nearer and having more time to explore!
Accommodation
In terms of finding where to stay, hotels are clearly an option but not the most budget-friendly. If you are travelling in a small group, look into youth hostels – they can be a fun experience if you are not too fussed about sharing rooms with strangers and you can meet all sorts of people.
However, my favourite option is Airbnb. I've used this platform a few times now and I find it the most convenient for me as it gives me the option of finding a private room within a flat – sort of like a hotel – but cheaper. I always look for an Airbnb with access to a kitchen, so I can have breakfast before heading out or cook dinner and save a few euros. If you've never tried Airbnb, it's definitely worth a shot! All the experiences I've had so far have been great and you can find real gems out there.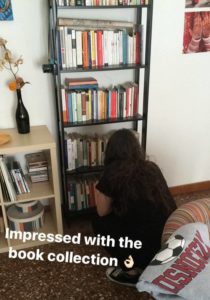 Of course, if you know someone in the area, they might be able to host you for a few nights too – that would be the ideal situation as you would also know a local to suggest things to do!
Travel companions
In my opinion, the ideal group would either be a couple (2 people) or a larger group of 4. Of course, the amount of people travelling will not only influence your options for travel and accommodation, but will also make it harder or easier to decide what you will be doing each day. I wouldn't try to put together a group with more than five members because, unless you are in the same mind-set and financial situation, it will probably be hard to get organized and make decisions on what to do, where to eat… My travel buddy in Italy is Megan, a course mate from Bath who is also doing her exchange here. You will probably end up travelling with somebody foreign, because not a lot of Italians seem to have the time or interest in travelling as much as you plan to over your Year Abroad, which is understandable. We make a good team because we both have similar interests and expectations about travelling in Italy. Also, she is the foodie who does the research on local food to try and where to go, whilst I do the cultural research on sightseeing itineraries and museums – great combo!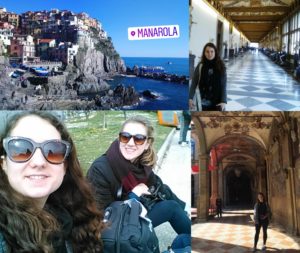 To sum it up, think about whom you want to travel with and the pros and cons of your group size. Of course, solo travelling is also an option and, by all means, I would encourage everybody to travel on their own at least once in their life, but use your common sense and be safe about it.
Extra tips
A couple of extra trips I have about travelling around Italy:
·         Write a bucket-list. Usually it will not be a very realistic bucket list (at least mine isn't), as you will probably jot down way too many places for the amount of time you really have. However, it will give you an idea of where you want to go, if you can join different destinations that are close together (for instance, I went to Bologna for a weekend and spent one of the days in Parma) and ticking off places is always satisfying!
·         State Museums or Musei Statali are generally free-of-charge on the first Sunday of each month, so make the most of it. For instance, the Uffizi Gallery in Florence is free, but the queue is massive so set aside some time!
·         Always ask for student discounts – use your Italian badge or student ID to get discounts at most museums. I've found that, in general, there are fewer discounts than in the UK, but it's always worth a shot!
·         Do your research – look online before your trip and make a list of places you want to visit or recommendations for places to eat. There are so many blogs online written by locals that can give you a great insight into the place you'll be visiting. Alternatively, don't be afraid to ask your hosts or if you know anybody from the area (which is likely, since at University you will encounter so many studenti fuorisede) on their personal suggestions! It's the students who know where to get the best apericena in town!
·         Make a rough plan of what you will be doing each day, particularly if you are only going away for the weekend. This way you will use your time efficiently and make the most of your stay.
·         Finally, and in contrast with the previous point, don't be afraid to improvise! The best stories usually begin with a change of plans!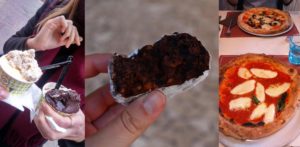 Hope you've found this post useful. Travelling is one of the best opportunities the Year Abroad offers you, so try to make the most of it! Happy exploring!
Alla prossima!
Zoe