First year is officially drawing to a close, with only one seminar and one lecture remaining for me. This doesn't mean I'm finished though, as I'm rudely reminded by the list of deadlines on the wall in front of me, but there are just 4 pieces of coursework and an exam between me and a four month summer! It's very strange in the sense that Freshers' Week feels like it was just the other day, but I also feel like I've known my friends here for years, so I can't really tell if this year has flown by or felt crazily long..
It's very strange though that knowing that I've almost done a quarter of my degree (and I'm doing a placement year, so for those who aren't they've done a third!). I've got involved with a lot of stuff this semester and I'm really glad, as, although it's not good to overcommit yourself to stuff and end up stressed, I definitely feel like you get more out of uni if you put more in. I only realise this now after my mum nagged at me for years in secondary school to get involved with stuff and I could never be bothered… oops! Never too late I guess.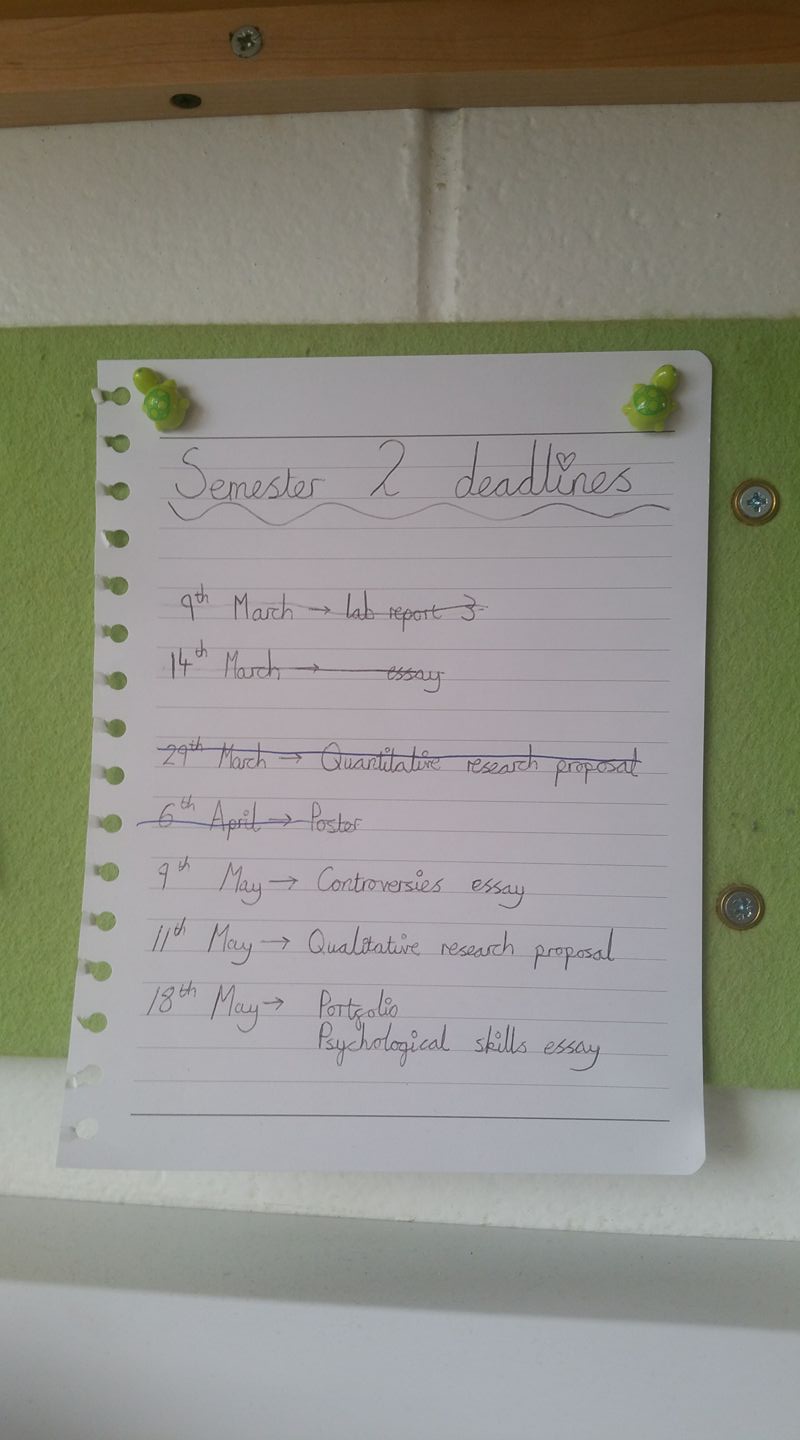 There are some good things about first year being over. I know that the course next year will be more interesting, as a lot of second years have said that. I've still really enjoyed this year, but it's a fairly broad overview to psychology, and I'm looking forward to focusing in on more interesting aspects and learning about more things which I haven't studied before. I'll also get to leave behind the flatmates who never quite learned that the kitchen sink is specifically there for washing up… a concept some clearly struggled with. Ah, I can't wait to have a tidy kitchen!! And I'll get to live in a nice, big house with a bath! And a tv!
Halls is like living with your friends and I do love my flatmates, but it is going to be great having our own house and kitchen and being able to sit in the garden and have a local pub.. can you tell I'm excited?? But I also know a lot more about the uni now. I haven't got the apprehension that came with starting last year about making friends or getting lost. I'm now in societies and do volunteering and just kind of feel like I know what I'm doing which is definitely a nice feeling!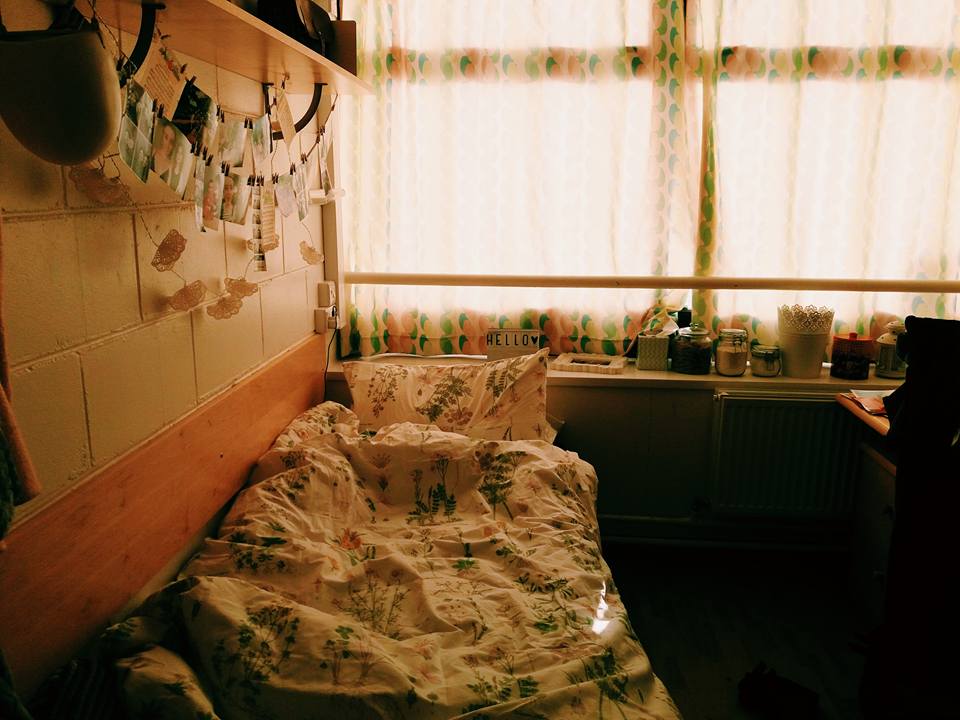 Obviously, there are a few downsides, too. Like, er, the grades counting towards the final degree. I would love to know how many times this year I've said 'it's fiiiiine, it's first year; doesn't count' when someone's stressing over work. It's the go-to phrase in moments of doubt. You just need 40% to get to second year, and while a 2:1 or first is preferable if you're doing a placement, it's very easy to forget that when trying to convince someone to come on a night out. I'm also a little bit gutted to leave behind Norwood House. Halls are the epitome of convenience; when again will I ever live above both a night club, a supermarket, a starbucks, etc. etc. etc. And being able to crawl out of bed 10 minutes before a lecture and make it there on time?! I have essentially been living the dream. While there are lots of perks to having a house, halls have been pretty great. And I don't get to have freshers week again! My friends are reliving it by being freshers crew, where they'll be allocated a flat and take them to activities and drop them off at different events during the week, but I'll be working at home so didn't want to commit. I'm quite jealous though as I'm sure the events will be great again, and I'm still not over missing Russell Howard this year… maybe they can sneak me in..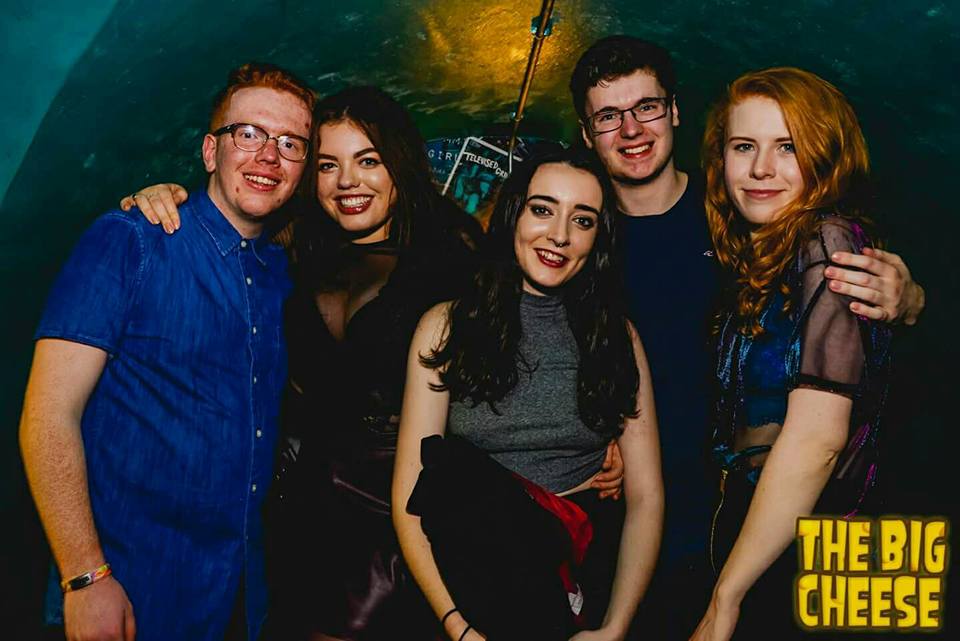 First year has been so, so good, and involved all kinds of things, from late night hide and seek in the library, sitting with cider on sunny days by the lake, trying ballet lessons for the first time, nights out in Bath and Bristol, late night work sessions in the library, countless trips to Fresh (the on-campus supermarket), flat walks around the golf course, gym classes, lots and lots of coffee before 9.15s, many, many trips to the various fast food places in town open after the clubs shut… and that's just naming a few. While it will be nice to go home for summer and have the luxuries of a washing machine and not having to do things like remembering to buy food, uni has been great and I'm already excited to come back for next year!
Laura x