I thought it would be helpful to write about my journey to studying pharmacy here at the University of Bath. I will start by saying that while I have enjoyed my first year of Uni, pharmacy is an incredibly difficult course. When I was younger, I wanted to be a doctor and even when choosing my A levels I knew I wanted to do something involving patients, using my science to help people. I did work experience in a hospital with the view to do either studying medicine or pharmacy and I honestly found the doctors job on this specific ward very boring, spending hardly any time with patients hours looking at a patients' tests.
I also spent time with most other healthcare professionals- physios, occupational therapists, nurses, healthcare assistants and a ward pharmacy assistant. I found their jobs much more interesting and rewarding- I talked to the pharmacy assistant about the role of the pharmacist and really enjoyed what the pharmacy assistant was doing, checking drug charts, talking to patients, arranging discharge medicines, roles the pharmacist often did as well. I also did some work experience with emergency nurse practitioners in a minor injuries unit- I loved their role as well but knew that I didn't want to be a nurse. I found out that pharmacists are starting to be used in this sort of area in A&E and in GP surgeries, and I also considered other potential areas for pharmacists, and from then on I decided that I wanted to be a pharmacist. I completed an Extended Project Qualification (equal to an AS) on the future of pharmacy- how pharmacists' roles are changing in traditional types and what new areas of pharmacy are emerging.
I first came to the Uni on the open day and I fell in love with Bath straight away, even after a difficult journey that should have taken about 3 hours but which took over 5 (leave plenty of time if travelling by car to an Open Day as Bath can get quite congested!) I had also visited Bath a couple of years earlier and had always wanted to come back and so it was so great that the Uni offered pharmacy. I would really encourage people to go to open days- it is a wonderful way to get a feel for the university, the facilities and the course that they are offering. I think it is so important that I am helping out at our upcoming open days (more to follow).
Bath is one of the top universities for Pharmacy in the UK, consistently getting 90-100% pass rate in the pre-reg exam (which is set by the General Pharmaceutical Council (GPhC) and all pharmacists must pass to register). As a comparison, one other uni that I applied for had a pass rate of about 50%. The grade requirements for pharmacy at Bath are quite high- AAB, including chemistry and one other science at A level as the scientific content is of a high level and is hard. I exceeded the offer and have still struggled to understand/remember things at times this year!
For me applying to do Pharmacy went like this: I went to the summer open days at the end of first year of college in around June time (Bath has Open Days in June and September) then applied in October for 5 pharmacy courses of different standards/grade requirements. In early November I had my first interview, at Bath! For healthcare courses, you almost always have to have an interview, partly I think to help reduce the numbers of people slightly as lots apply and it is very competitive, but mainly to check that you have the people skills for treating patients, to check your motivation for wanting to study pharmacy and to ask a little bit of chemistry. I was so pleased my first offer was from Bath (my favourite uni) and then over time I had interviews at the other places and got other offers. Once I had got one from Reading as well, my insurance, I officially put my firm and insurance choices on UCAS. I was worried about putting my firm and insurance as Bath and then Reading as they both had high requirements but my personal advice would be to put your two favourites unless you are really unlikely to get the grades.
In April I applied for accommodation,  and then I found out I had a place at Bath on results day in August. From then on I was in a pharmacy Facebook group chat and then we got allocated our accommodation and there were pages set up on Facebook to find your flatmates so then we had a flat groupchat. Then at the end of September I finally started studying Pharmacy at the University of Bath.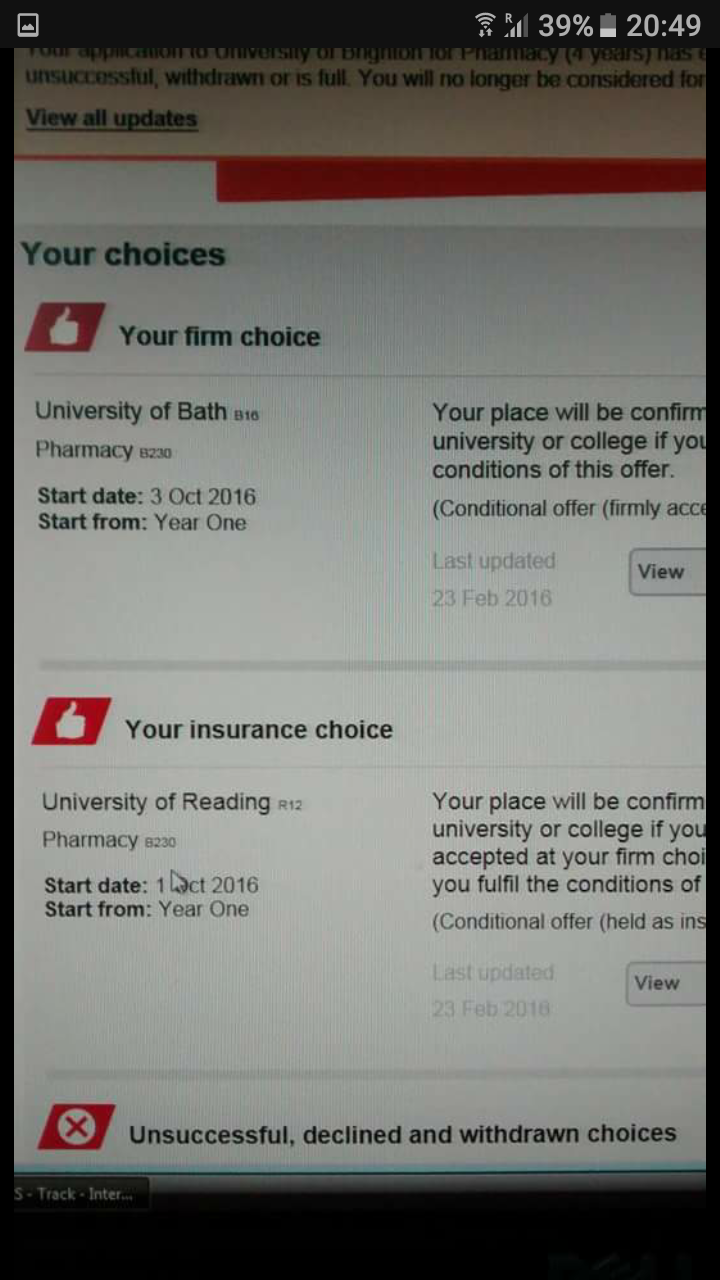 A bit of advice if you are just looking to apply to do Pharmacy as a backup for medicine-don't! If you are thinking about it be careful as some universities say they would rather have someone with lower grades/lower predicted grades that wanted to do pharmacy than someone who wanted to do medicine but didn't get in. I didn't realise that Pharmacy would be so hard or intense- everyone thinks medicine is really hard but I think (maybe controversially) that pharmacy is just as hard and you have to have much of the same knowledge - complex biology and chemistry, potentially even more chemistry and maths doing calculations as well and knowing more about drugs. The course for pharmacy is 4 years as opposed to 5 for medicine but really pharmacy needs to be or could easily be stretched to 5 years (with some unis doing this).
After completing a pharmacy degree there is a year (pre-registration year) where you work in a pharmacy underneath another pharmacist, with an exam at the end set by the GPhC. One of the slightly annoying things about pharmacy is the fact that you have so much knowledge you must know and by the time you are qualified you have had a lot of training and often continue to train (Independent prescribing, Clinical Pharmacy Practice Certificates/Diplomas/Masters etc) and have to complete 9 continuing professional development entries every year. You don't get paid anywhere near as much as well qualified doctors (although it is still a professional salary), and may not get as much respect from people- some people think you are just training to be a glorified shop assistant, which is really not true and I am glad to say that I think the public perception of pharmacists is starting to change. If you really want to do pharmacy and become a pharmacist, which I personally wanted to, then Bath is an excellent place to study it!