It's safe to say that when I first marched at Pride in London three years ago, I never anticipated that I would spend the parade on a giant purple NBCU bus whilst singing along to the Universal Pictures theme music in the wrong key. As it turns out, the Universal Pictures theme sounds a little like the Star Wars theme if you sing it badly enough – a thing I discovered when dancing on said bus at Pride this weekend.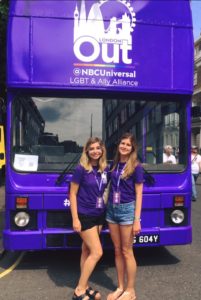 My role on the OUT London committee meant that I was plenty busy for the company's Pride week celebrations, which involved a panel on LGBT+ representation in the media, a screening of Atomic Blonde and a party held on the 10th floor of our office. I was largely involved with the latter, initially motivated by a love of glitter and a good dance. After our first party-planning meeting, we were initially anticipating a struggle to get 100 guests. We were greatly proven wrong when the sign up page reached the 260 person capacity fairly quickly.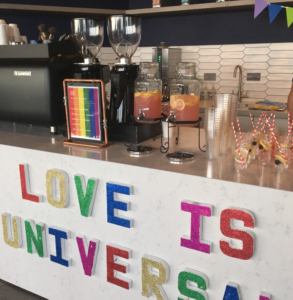 One of the main issues was getting decorations on a tight budget (relatively speaking, certainly higher than my budgets when I was organising for MusicSoc) and so I had to go a touch DIY, spending lunchtimes sticking glitter onto heart canvases (Art GCSE clearly came in useful) and getting my team to help assemble a 5 metre balloon arch. Again, such a scale of event planning wasn't something I had anticipated happening within my placement, and it was daunting but ultimately rewarding. Highlights including drinking an LGBT cocktail (Lemon Gin and Blackberry Tonic) and getting some incredibly unflattering photos in the photobooth I arranged.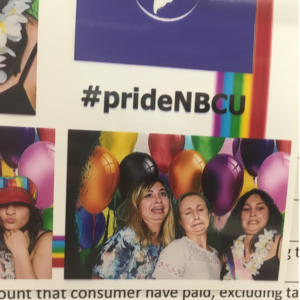 For the parade itself, my main role was to publish content on the NBCU International Twitter and Instagram pages. Whilst this wasn't the first time I'd tweeted from a company account, the sheer volume of content expected from the event presented a challenge. However, it didn't get in the way of me handing out branded flags, having a dance on the top deck of the bus and generally having a fantastic day.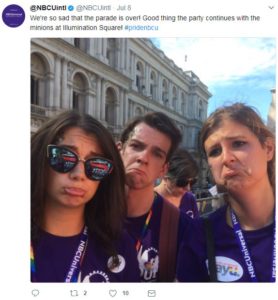 This was my first march with a company, but it was honestly wonderful to spend the day with the people who have been such a big part of my life in the past year. I was also able to bring my sister with me for her first Pride ever – I think her enthusiasm is best shown in a photo where you can't see my face because she is waving her rainbow flag too strongly – which meant that it was also the first time I spent Pride with family.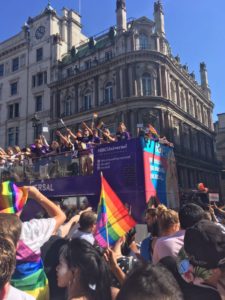 All of this makes me think back to my second blogpost where I describe seeing the bus at the parade last year. In particular, how welcoming everyone has been throughout my time here. This makes the fact that this is my last week before my handover period with the next intern (another Bath student – the best option, of course) a little strange to me. Things are quickly becoming "lasts" when it often feels like my time with the company shouldn't be winding down. Throughout my blogs, it might seem that I overuse phrases akin to "time has flown by" but it feels like this past year has simultaneously been immensely changing yet gone by in the blink of an eye.
My next post will be when I've fully finished my placement and I'll give more of a wrap up of Digital Research. Until then, I'll be enjoying my final three weeks to the fullest!