by Dee Jia & Takahito Honda (2016-17 MBA students)
We have spent seven wonderful days (June 10 – 17, 2017) in St. Petersburg for the Global Residency program from the Bath MBA. The International Management Institute of St. Petersburg (IMISP) was a great host and presented us with a multi-dimensional experience of Russian business and culture.  Below are a few things that highlighted the trip.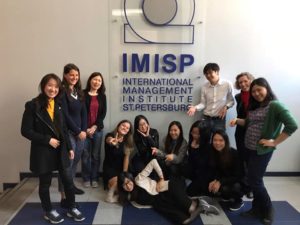 Lectures and Presentations  
IMISP is one of the leaders in Russian business education, offering high quality of continuing education for more than 1,000 managers from Russia and Soviet Union. Sitting in their state of the art lecture room, we've taken advantage of this great opportunity and learned a great deal about Russia and its culture.
The Professors from IMISP gave wonderful lectures and cases, from which we have experienced a different business world in Russia. The classes on "Doing business with Russian business people", "Business-Model-Canvas" and "Five Russian Tsars – Five models of Russia's future" definitely helped us understand the way of doing business in Russia. In particular, "Doing business with Russian business people" has shown us the unique character of Russian culture, and the typical organizational structure and decision-making process. In return, we gave presentations such as "Seven Business Models" to IMISP.
Company Visits
We had the opportunity to visit three companies in St. Petersburg during the trip.
· ESTEL: a beauty cosmetic manufacturer;
· Baltic Beverages Holding (BBH): the biggest beer manufacturer in Russia;
· YIT Company:  a property developer.
The company visiting experience is invaluable. ESTEL and Baltic are both Russian-based businesses. These companies are operating in the Russian domestic market, as well as the post-Soviet Union markets such as Kazakhstan, Turkmenistan and Belarus. Due to the massive geographical scale, the companies usually face supply chain management issues. However, they have adopted global operating systems such as the TPS (Toyota Production System) to improve their operational processes.
On the other hand, from the visit to YIT, we learned that there are many Foreign Direct Investments (FDIs) who are looking to invest in Russia, especially in St Petersburg. St Petersburg is the biggest trading gateway in Russia and post-Soviet Union market, and several global companies such as Siemens, Coca-Cola and Toyota have already launched production lines in St Petersburg. The challenge for manufacturers in St Petersburg is its infrastructure. For example, the lack of water and an unstable electricity supply.  However, the local government is making effort to solve the issues.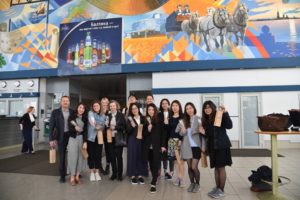 Leisure Time and Russian Culture
In addition to the lectures and company visits, we enjoyed very much exploring the city! St. Petersburg is the second largest city in Russia and an important Russian port on the Baltic sea. It is Russia's "Window to Europe". The city combines Russian, Asian and European cultures in the most extraordinary way. It has many magnificent architectures, museums and parks. To name a few, we visited the famous Hermitage museum, which contains the masterpieces of Leonardo da Vinci and Picasso; we took a wonderful boat trip on the canals; and we certainly did not miss the famous Peterhof Palace, the Russian Versailles. Peterhof is an imperial palace in the suburb built by Peter the Great in 1700s.
While wandering around Peterhof, we couldn't stop admiring the magnificent palaces and gardens. If you have one day in St Petersburg, we'd suggest you to definitely visit Peterhof Palace!

Foods in Russia
We also have enjoyed the diversified and hearty Russian foods in St. Petersburg. The foods are a mixture of Asian, European, Middle Eastern and Russian. For example, Polo (Pilaf) and Mantu (Dumplings) were originated from Central Asia whereas Beef stroganoff and Ikra (Caviar) were from west and sea side. The traditional Russian foods include Borsch (beet and cabbage red soup), Blini (Russian pancakes), Russian salads, and Russian dumplings. This variety of choice absolutely satisfied our hunger for an exchange of British foods…