First things first
Currently writing from Paris, in the midst of a`canicule` (French for heatwave), this blog aims to give students a flavour of what working in the fields of supply chain management/complex project management entails. Similarly, I'll be providing a unique insight into my EDF Energy Hinkley Point C (HPC) International Placement year to raise awareness and promote the different job opportunities available with EDF Energy, in light of the new partnership with the University of Bath.
The bulk of my blog posts will be focused around my role for EDF Energy on the HPC project,  high profile events I've attended, the international aspect of my placement and how the modules I've taken during my first two years at the University of Bath (and during my academic exchange in Mexico) have helped me along the way. With blog publications every couple of weeks, why not read for a glimpse into a placement year that has truly ticked all the boxes.
A little about me
I`m a 3rd year BSc (Hons) in International Management student at the University of Bath with a desire to pursue a career in the low carbon energy industry after graduating. Initially, I applied for placements in the renewable energy sector in Europe (solar and wind predominantly), without considering nuclear. However, when the chance to work on the world's largest low carbon energy investment arose, it was an opportunity I simply couldn't refuse (all will be revealed in good time).
I had already secured an academic exchange at ITESM in Mexico for semester one, therefore I deliberately tailored my modules to the work I would be doing for EDF Energy upon my return: supply chain management, project finance, logistics and Spanish (maybe not so useful considering I am now based in Paris).
What is HPC?
Now you`re probably thinking `Okay, but what is Hinkley Point C`? Well, you can find out here. Or, strain your eyes below on the artist's impression of the multi-billion nuclear construction project of two European Pressurised Reactors (EPR) on the coast of Somerset. HPC will soon be the largest construction site in Europe. More photos can be found on the @hinkleypointc Instagram account.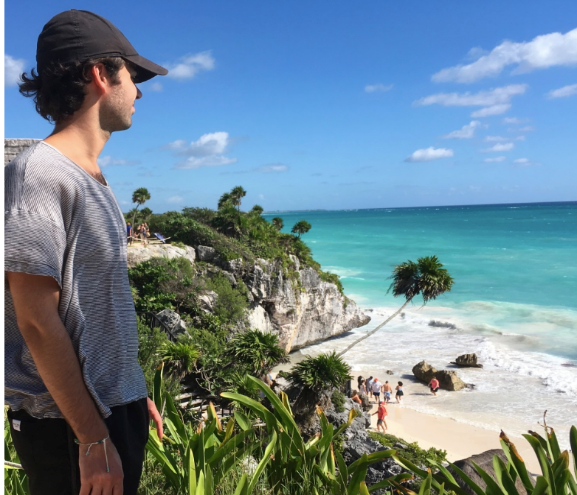 Introducing the 'EDF Energy HPC International Placement'
An exciting new research partnership between EDF Energy and the University of Bath, School of Management has now been established – The HPC Supply Chain Innovation Lab. EDF Energy naturally want to offer placements to University of Bath, School of Management students. I am the inaugural BSc in International Management (BIM) student, so here's a brief overview of how my International Placement was set up.
The competitive recruitment process consisted of a cover letter/CV, followed by a 1 hour interview with the Commercial Director of the HPC Project Ken Owen and a senior member of his staff. After successfully being chosen for the role, I subsequently went to meet Ken again in July 2016 to organise the details of my placement before heading to Mexico.
Ken made it very clear that the sheer size and complexity of the project meant a placement student would be able to choose from a variety of business/management disciplines to work in: supply chain management, procurement, contract management, finance, human resources, law and the list continues.
You won`t find many Commercial Directors willing to engage with a placement student on such a personal level, showing the high level of attention he has for all young people wanting to join the field of supply chain/contract/project management. We decided to split my 8 months by locations and areas of work to suit my specific interests:
Bristol/London (3 months)- Contract Management, International Supply Chain Management & Finance
Paris (4 months)- Procurement
Bristol/London (1 months)- International Supply Chain Management and Finance
Until next time
I hope my first blog provided a clear introduction into the HPC project, the link between University of Bath and EDF Energy and the EDF Energy HPC International Placement. My next blog will give you an insight in to my day to day work during my three months in Bristol/London. Specifically, working personally with the Head of International Supply Chain on the HPC Project, helping to roll out contract management software for multi-million pound contracts and analysing a multi-billion pound project using complex financial models. Stay tuned.