Two days ago, it was finally time: laden down a heavy sense of sadness and three bags filled with DVDs, I left the NBCU building for my final time as an intern. However, I'm not entirely sure that it will truly be my last time there.
Initially, I applied for my Politics with Economics degree without a sandwhich year included. However, I quickly changed my mind after listening to former students' experiences and switched courses within my first month (although my library card technically says that I graduate tomorrow). I know that the optional nature of the placement can be a challenging decision for some PwE students and I figured, as an absolute worst case scenario, that at least I would find out career I absolutely did not want.
Thankfully, that hasn't been the case throughout the past thirteen months at NBCU. I applied for a role in the Research department because I hoped that it would give me insight into the workings of a large media company and the industry beyond. Without a doubt, he work I did in the Digital Research team gave me that. Through analysing networks' websites, I was able to look into the performance of editorial content across different countries and consider what made a good article or video. With social media analytics, I was able to track the progress of company accounts and TV shows whilst gaining skills in reporting and presenting. Working with online transactional film and TV data made me consider how people like to consume their favourite content, with such a plethora of online options available. All of this  gave me day-to-day skills in industry standard software as well as the opportunity to attend conferences about the overall future of media.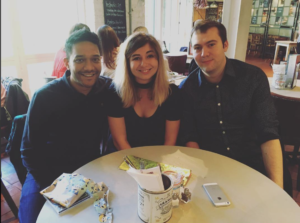 Throughout all this, I felt that one big question kept popping up - how do we make media continue to be engaging when technology is changing so fast? My placement has certainly given me a partial answer to this, whether it be through developing VR content or streaming events directly to Facebook live. I wasn't anticipating to be so drawn in by the potential for media on different digital platforms, but what I've learnt already has inspired me to change the route that I initially wanted my career to take. I hope to continue to try and answer that question through a Masters in Digital Journalism, a step differing slightly from my placement in its focus on content creation rather than analytics.
Furthermore, I'm glad that I was able to undergo all of this whilst still a student. Whilst I'm sure the internship would have still been immensely valuable as a graduate, I feel that the placement has allowed me to gain a far clearer picture of my career options and will vastly improve my final year trajectory. I think it has added value to my degree and I would, without hesitation, recommend anyone to opt in for a work placement year.
Of course, all things must end - so on Thursday night the other Research interns and I hosted our leaving drinks and began to say our goodbyes. I was gifted a miniature drum kit for my desk, a pair of light up trainers and a collection of Keane's greatest hits (apparently because I'm always so keen). Friday felt a bit like leaving school again; saying goodbye to all the people I saw every day whilst everyone wished me good luck for University. That being said, I know I'll be seeing plenty of these people again (in some cases, at a BBQ in a week) and would absolutely love to work for the company again. For now at least, I know it's the end of my placement year - and I couldn't have wished for a better one.