Two days ago marked the weekversary of my move to Argentina! I have been met with new people, foods, behaviours, climates and much more! All these new experiences I will talk in greater detail in future posts however here I will focus on my whistle stop tour of Buenos Aires and dealing with homesickness.
Before moving to Cordoba to start my internship I visited Buenos Aires briefly. Here are a few things I got up to:
1.Plaza de Mayo
What is it?
Plaza de Mayo is a square named after the May Revolution of 1810, which started the process towards the country´s independence from Spain in 1816.
Why is it important?
This square has a lot of political importance throughout Argentinian history which I would recommend reading about however a particularly interesting little nugget of history that this square highlights, is the Mothers of the Plaza de Mayo. Since 1977 mothers have congregated here every Thursdaz with signs and pictures of Desaparecidos [direct translation: the disappeared]. These pictures are of the "disappeared" children by the Argentine military in the Dirty War. Their wore white scarfs which symbolize the white dove of peace which can "unite all women". This symbol is painted on the square.
I recommend Plaza de Mayo as it is full of political and social messages.
2.Casa Rosada
What is it?
La Casa Rosada [direct transalation: the pink house) is the office of the President of Argentina. It is named so due to its pink exterior and is one of the most emblematic buildings in Buenos Aires.
Fun Fact
I read in my guide book that it is painted with a mixture of ox blood with lime!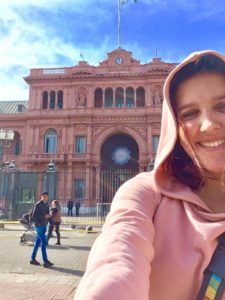 My sweatied plane gear matched with La Casa Rosada!
3.Cafe Tortoni
What is it?
This beautifully decorated cafe was inaugurated in 1858. Famous for its art scene in the basement (La Peña) which was inaugurated in 1926. Among the visitors there were Jorge Luis Borges, Federico Garcia Lorca and Roberto Arlt.
I enjoyed some Churros con Chocolate (apparently a popular choice) while admiring "Poets corner" and the surroundings. However I must warn it is expensive and commercialised.
4.El Caminito
What is it?
This is an area of Buenos Aires that has a lot of character. It was started by immigrants who didn´t have a penny who used whatever materials they could get hold of to construct this neighbourhood. All the houses are very colourful as they did not have enough money to paint it all one colour. It is still very much a working class area as well as tourist destination which creates an interesting dynamic as many working class people resent the tourists and even try to spit on them as they walk past!
El Caminito is a symbol of the tango culture which developed in this port side neighbourhood and working class immigrants.
Homesickness
I am a person who gets quite homesick so it was no surprise that moving away for 4 months was going to be a challenge. This first week has been tough however here are a few things that have helped:
Social Butterfly yourself- I have the great fortune that not only have I met lots of warm and welcoming people but I already knew someone out there. This week I have been able to share my homesickness with people who are going through it at the same time as me as well as people who have already gone through it. The caring attitude I have recieved from many has relieved the homesickness greatly.
Busy Bee around- keeping your mind and body busy= less time to think about home. Being in a different country, everything is different, including shopping. I spent half a day exploring shops and supermarkets. I've found keeping the clogs in my brain chugging along has helped remove my thoughts straying to home.
Tick it off- setting yourself goals can generate a lot of motivation. When I am feeling homesick I find it difficult to achieve. Something that I have found that has really helped with my homesickness was having a to do list. Even more so having a calendar so that I can tick off the days and visualise journeys and events to look forward to and helps visualise my time here.
Home Sweet Home- personalising your new home helps give a feeling of permanence as well as bringing home memories as a comfort. Teddy bears are a great, Monica approved idea too.
The Internet generation- we are very lucky to be able to keep in touch with our loved ones so easily. And a few words with them over a video call can help calm a homesick self.
A new world- Writing a journal is a therapeutic way of dealing with homesickness as well as helping to document all the new experiences on this journey.
Well... I hope you have enjoyed my first post from this duck out of water and follow to get notifications of future posts or keep an eye on my facebook. Until next time, Ciao!