Who I am?
Hey! My name is Baron and I am a second-year Physics with Astrophysics student; currently on a five-year Masters with placement course, so I'm going to be at Bath for quite some time! I've lived most of my life in Swindon, which isn't far from Bath at all, but I'm originally from the lovely holiday destination of Goa in India. I studied Physics, Maths and Further Maths at A-level, along with an EPQ, these gave me more than enough stress but it was well worth it (right?!). I had completed a fair few summer schools during sixth form and these really helped me in the process of applying to university and getting accustomed to university life.
What is On Track to Bath?
I will abbreviate On Track to Bath to OTB from here as it's quite a mouthful. OTB was a two-year programme (now it's one year) that I applied for in Year 12 during sixth form and it's one of the outreach programmes at Bath. Essentially, this means helping students from local schools with characteristics that might mean it's harder for them to get into university.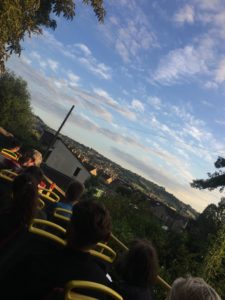 You apply for a specific track, so in my case, I chose the Science Track; the first-year consisted of preparing for and completing a research project, which we then wrote a report on and presented our findings.  The year ended with a summer school, a week living in university accommodation where we had a taste of lectures in the day and fun activities in the evening. The second-year was more of a development programme during which we had help applying to university, guidance with our personal statements and we got to meet the admissions tutors.
Everyone who applied to the University from OTB was given additional consideration by the University's dedicated Admissions Progression Team. As an added incentive, if your project was successful in being awarded a grade A (it's now a B!) and you received an offer, you were eligible for an alternative offer. This is usually one grade lower than the typical offer.
My experience with OTB
I can genuinely say that OTB is an invaluable experience that provides so much support and insight to university. I received an A for my project and so the alternative offer from Bath which made my UCAS applications process that much nicer. Of course, I still had to get the grades.
The summer school was definitely the most enjoyable aspect for me: getting to live on campus, free food provided, an insight into labs/lectures, sports or games in the evenings and did I mention free food? There was an open-top bus tour around the city which was lovely, it really showed the nice aesthetic side of Bath that everyone goes on about, who knew! It ended with a formal-ish dinner followed by a party, that was great fun! This really familiarised me with Bath as a campus and what labs and lectures would be like when went to university.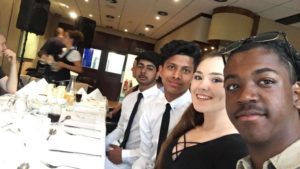 What I gained from OTB
As mentioned, I'm now studying at Bath so, in essence, I'm a success story of OTB! Every single aspect of OTB really did help me and provided me with the utmost confidence for going to university. Meeting new people and already have had an insight into what my daily life in and around campus would be like giving me so much courage in my first year.
When choosing universities, I considered all options but Bath stood out to me so much as I was already so familiar with it from OTB. Some of the lecturers during the summer school even recognised me again when I came to Bath, and having this sort of connection made it much easier for me to personally speak to all my lecturers about issues or help I needed in my first year.
Even the report writing during OTB, having that sort of experience writing up a professional lab report so early on really helped me when doing (much, much harder) lab reports at university. The programme pushed me to balance my work effectively early on and the lab sessions touched on concepts and techniques that I would later encounter during my Physics A level.
My advice to you!
Apply to summer schools!! Especially OTB, I really can't stress enough how much I gained from this programme.
I now work on OTB events and activities with the outreach office as a Student Ambassador and share my experiences with students who are in the same position as me a couple of years ago. I wouldn't work for something I don't believe in. Getting yourself out of your comfort zone and trying out these new experiences is the first step, what you do with them afterwards is what matters. So all I can suggest is you make use of opportunities that are out there. You will look back and remember them. They also feature nicely in your personal statement so..!