With Valentine's Day around the corner, maybe you are wondering where to go for the perfect date night. Or maybe you are going out with a group of friends for a pal-entines meal. For all the foodies out there, this blog suggests some of my favourite restaurants in Bath to go to impress that special someone! I've picked out restaurants that offer different cuisines to help you make your mind up.
The Oven
The best pizza I've had in Bath and it's really popular so I suggest booking in advance to avoid disappointment. There are 30 different options of pizza available and it is reasonably priced so you don't need to spend a fortune on delicious food! Pop into Vino Vino bar next door for a glass of wine or cocktail to get your evening started.
Loch Fyne
Loch Fyne is opposite the Slug and Lettuce. For all fish lovers out there, this is the place for you. There is so much choice; from fish curry to king prawn linguine to lobster, there are some difficult decisions to make. It is also possible to choose a fillet of fish from the fishmongers and you can have it steamed, grilled or pan-fried, with a sauce or butter of your choice. On top of that, you then get two side dishes included! I opted for the pan-fried sea bream with smoked paprika and sun-dried tomato butter, with sides of roasted carrots and twice-cooked chips. Being the chocoholic I am, I couldn't leave without having the chocolate fondant with ice cream which was heavenly! The waiting staff were all super friendly and the service was excellent, I can't wait to go back.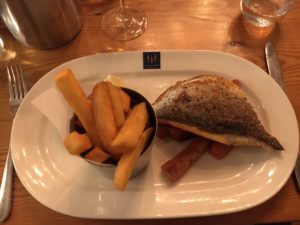 The Grand Eastern (formerly The Eastern Eye)
Located on Quiet Street in the centre of Bath, the Grand Eastern offers flavoursome Indian food in huge portions! Whilst I am a bit of a wimp where spice is concerned, the chicken korma I had was so creamy and the naan bread was to die for. The Grand Eastern is a restaurant that won't dent your bank account and you won't have to compromise on the food.
Velo Lounge
If you don't want to venture into town from Oldfield, I can recommend Velo Lounge. The menu is extensive, with lots of different cuisines. I really like the quirky furnishings in Velo Lounge and it has a chilled vibe, perfect if you don't want to go fancy for Valentines. My boyfriend and I both decided to have the tapas boards and picked three different dishes each and then shared them and so got to sample most of the menu! I was really impressed with the food, and for such a reasonable price you can't complain!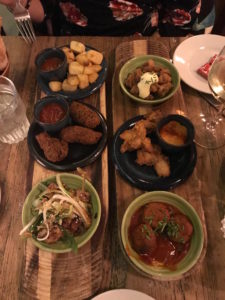 Rustica Bistro
For authentic Italian food, look no further than Rustica Bistro, located near the Royal Crescent. Rustica Bistro is small, cosy and intimate; so is the perfect setting for a romantic date night. It is a family-run Italian restaurant and you can see the chefs working away in the kitchen. The lasagna I had was super tasty and is made using the grandmother of the family's recipe. To finish, I had a delicious honeycomb cheesecake and would go back to have it again!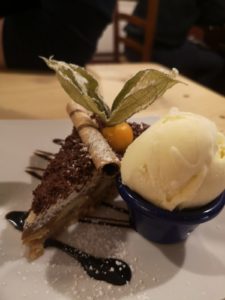 Charm
This has to be my favourite Thai restaurant. It is located in the north end of town, near Moles. The atmosphere is really cosy and I sat at the window seat that gives you great people-watching opportunities. The food is well priced and absolutely delicious. I had spring rolls and pad thai and it was probably the best pad thai I have had in Bath. It is quite a small restaurant so I suggest you book in advance - and ask for the window seat, it is definitely the best table!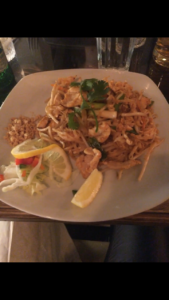 Opium Bar
If you fancy just going for a couple of drinks, I can highly recommend Opium Bar. It's not the cheapest but it is worth going for the experience. Opium is tucked away near Pulteney Bridge and is underground! It is a small, intimate venue, with quirky decor and sofas to sit on. There is a wide range of cocktails and drinks available, and it is definitely worth a visit to "Bath's best-known secret"!
I hope that one of the restaurants on my list takes your fancy and you have a lovely Valentine's, however you choose to spend it!