On Tuesday 18th February I attended the Get Connected networking event organised by the University of Bath alumni team. It was my very first experience of networking so I was intrigued (and a bit nervous) about what to expect!
The evening started in the Virgil Building with a talk from Ghislane Dell, who works at the Careers Service, about how to network with confidence.  Networking can offer many opportunities to meet and connect with different people, and can even lead to job offers. But many people can be apprehensive about networking. Some of the common concerns discussed were how to deal with small talk and feeling like you aren't adding value to the conversation if you are speaking with someone who is an expert in their field. However, Ghislane gave us some handy tips on how to overcome these worries, one of which is that networking is easier if you have something to know. To prove this, we played networking bingo where we were given a sheet with different statements such as 'find someone who speaks another language' or' find someone who shares the same birthday month as you'.
We had to go and speak with the other people attending the event to find out about them and hopefully tick one of the boxes. This exercise showed how easy it was to go and speak to strangers if you had specific questions to ask them. This can be applied to real-life networking and before we went to speak with the Bath alumni, we wrote down some specific questions we wanted answering, as well as more general questions such as "what does a typical day look like for you?" or "what is the best bit about your job?".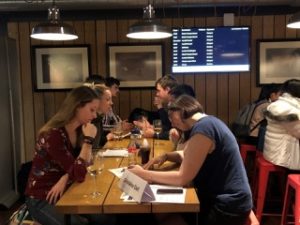 We then headed over to the restaurant Graze to begin the networking session. There were 6 University of Bath alumni who had volunteered to come and talk about their jobs.  Throughout the night, we could make appointments with them and had 5-minute slots to ask any questions. There were alumni from the engineering, finance and charity sectors amongst others.
My first appointment was with Sabrina Earnshaw who graduated with a degree in Spanish and Politics. After bonding over our shared experience studying in Chile, her advice was to do as many things as possible that help you stand out from the crowd. Nowadays most people have a degree so you need to show what things you have done, whether that is having a part-time job or volunteering.
Up next was Jessica Brander who works for the charity Next Link that supports victims of domestic abuse. Her advice to get into the charity sector was to volunteer as much as possible to show you are passionate about charity work. She really likes knowing that she is making a difference to peoples' lives and advises to seize every opportunity that comes your way. Even if it doesn't seem like the ideal job at first, it may lead you to other careers and you will have gained valuable experience in the process.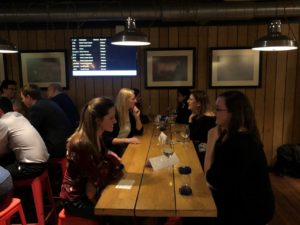 Overall it was a really interesting night and I learnt so much about the working world. I advise everyone to sign up to future events as you will get so much from it and learn that networking is actually really fun!
Here are a few other tips I learnt from the night:
Be interested, not interesting
Be confident and smile- you can fake it 'till you make it!
Be engaged not distracted e.g. don't check the time whilst networking!
Prepare questions beforehand
Maintain open body language, avoid crossing your arms as this can make you look disinterested
When joining a pre-existing conversation, smile and add an 'oh yes' where appropriate to show your support and integrate yourself into the group
When ending a conversation, say something like "you've been really helpful, I shall leave you to talk to other people". This is an inoffensive way of leaving the conversation when you have got the information you need!
Ask the other person's permission if you are taking notes on your phone, it could look really rude if not!
We will soon be hosting online Get Connected events with a panel of alumni volunteers – please keep an eye on the events page for details.