Nearly 100 alumni and friends from across the United States recently joined the Chancellor, HRH The Earl of Wessex, and the Vice-Chancellor, Professor Dame Glynis Breakwell DBE DL, for a special reception at the Essex House Hotel, New York.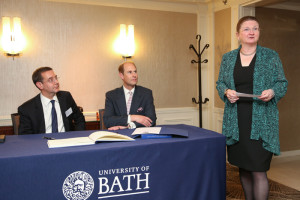 The Chancellor welcomed guests to the event and introduced Professor Breakwell who spoke about the University's recent good news including our excellent REF results and topping the National Student Survey for student satisfaction for a second year running. Guests also heard about our plans for the upcoming 50th anniversary, and the important role of alumni within that, before enjoying the chance to chat with the Chancellor and Vice-Chancellor over drinks and canapés.
As the first event in North America hosted by a University of Bath Chancellor, the evening also provided the perfect opportunity to celebrate two of our generous donors: Mike Ashworth (BSc Economics with Computing & Statistics 1986) signed the Chancellor's Roll of Honour in recognition of his cumulative contributions to the University over a number of years and Honorary DSc, Professor Raymond F Schinazi (BSc Chemistry 1972 and PhD Chemistry 1976) formally announced his gift of $500,000 to the University of Bath Foundation. University fundraising in the USA has a long tradition, and it is encouraging to see signs that Bath is now beginning to benefit too.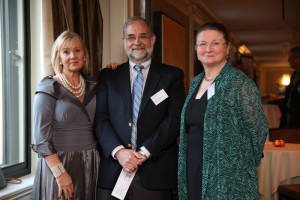 A selection of photographs from the evening are available on the Alumni Relations Flickr page. If you have any of your own please do send them to alumni@bath.ac.uk.
If you live in the area and want to be kept up to date with activities happening in the New York Tri-State Area please feel free to join the LinkedIn group.