The Vice-Chancellor headed to Research & Innovation Services (RIS) on her latest visit to find out how they help colleagues to win research funding and support them through projects.
To begin the tour Dr Jon Hunt, Director of RIS, introduced Dame Glynis to those involved in growing European Commission funding.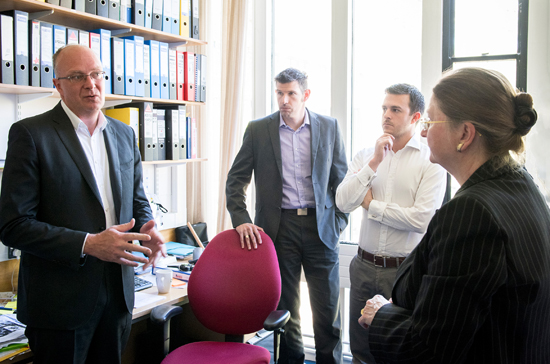 Caroline Ang, Research Development Manager, highlighted that international and European funding is at an all-time high with Horizon2020 awards growing from £11 million to £20 million in three years, including European Research Council grants secured by staff including Darrell Patterson, Tina Düren and Laurence Hurst.
Dame Glynis then met Katy McKen, Head of Research Information & Intelligence, and colleagues involved in using information and intelligence to grow targeted research applications.
Saskia Walcot, Research Impact Manager, outlined her worked with academic colleagues to build on the University's strong focus on impact while Fi Lang, Marketing Communications Officer, described how the latest email campaign on Water research was being read by many more industry partners than the sector average.
Oscar DeMello, Industrial Partnerships Manager, and Graham Fisher, Research Commercialisation Manager, explained their work to support innovation funding.
Oscar talked the Vice-Chancellor through RIS's work with industry, exemplified by the relationship with CGI specialists Imaginarium, whose initial approach for a small piece of research has rapidly grown into a key role in the Department of Computer Science's new motion capture facility.
Alison Evans, Head of Research Project Management Service; Hazel Wallis, Head of Research Grants & Contracts; and Karen Giles, Research Contracts Officer, then described their efforts to improve the department's effectiveness including improving the way research contracts are put in place, piloting Microsoft SharePoint to manage contract negotiation information, and creating a new end-to-end electronic environment from proposals to awards.
Dame Glynis spoke to staff as the whole department gathered in the Council Chamber for tea and cake. She said: "Our amazing REF 2014 results placed us twelfth overall, in among universities twice our size. Our challenge is to build on this and deliver more high quality research.
"You are doing a brilliant job. And we will need you to do even more, because what you do is critical for our future."