The Vice-Chancellor's latest visit took her the full length of the Parade as she spent time with staff in the School of Management, which now has offices at both ends of the campus.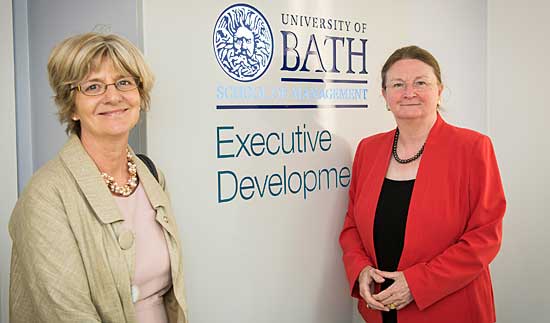 Professor Veronica Hope Hailey, Dean and Head of the School, started the tour in The Edge to see the new Executive Development Suite in action.
Dr Jan Stiles, Director for Executive Development, who joined us last year from University of Cambridge, took Dame Glynis into the side-lines of a business game that was being delivered as part of an executive development package for Nationwide Building Society. The session was led by Professor Brian Squire, Head of the Information Decisions & Operations (IDO) Group, and Professor Mike Lewis, Professor in Supply Strategy.
Nick Gittins, Senior Executive Divisional Strategy at Nationwide, said: "We are definitely a very happy client, and we're looking to develop a deeper, broader relationship with the University."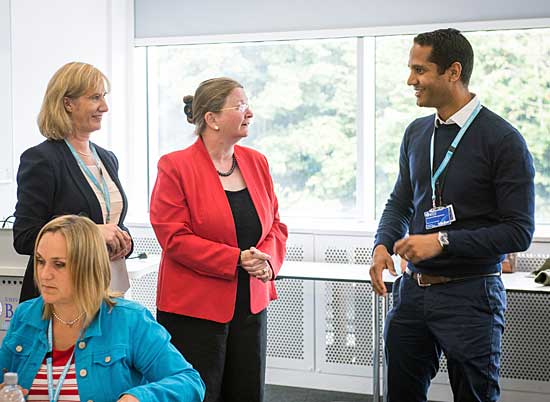 Dr Emma Brandon-Jones, Lecturer in Operations Management, then welcomed the Vice-Chancellor to the new IDO Group open plan accommodation in the adjacent East Building.
Centre for Healthcare Innovation + Improvement (CHI2) Director Dr Christos Vasilakis talked about the Centre's focus on solving the practical challenges of health and social care systems. Christos touched on the rapid progress made with local NHS organisations, with three new Fellows joining in September, and regular 'researchers in residence' in place.
Dr Güneş Erdoğan, Reader in Management Science, spoke about his work on charity retail logistics, analysing the web of connections between donations and sales to identify efficiencies that save costs for the charities and reduce emissions. "Vehicle tracking produces vast amounts of data," he said. "We are looking in this haystack of information for the needles and the diamonds."
A brisk walk along the parade to 8 West followed, where Head of MSc Operations Navdeep Uppal, Associate Dean for PGT Programmes Dr Bruce Rayton, and the MSc team explained how they provide support for students from 51 different nationalities, and achieve a dropout rate of just two or three students a year from an intake of 500.
Ben Smith, Placements Operations Manager, then introduced the placements team, who in turn gave Dame Glynis a glimpse of the huge range of placement opportunities the School offers its students to work alongside some of the star performers of the business world.

To round off the visit, the foyer of 8 West thronged with staff as they tucked into coffee and cake whilst chatting to the Vice-Chancellor.
"Thank you for taking the time to show me so much," said Dame Glynis. "I wanted to take this opportunity to tell you what respect and admiration I have for everything you are doing.
"The fact that you now occupy buildings on both ends of the campus is a sign of your growing significance. You have been a major component of our success, and I see you having a key role in taking us forward as we move into identifying and maximising the opportunities ahead of us."