Martin Williams, Chief Finance Officer, welcomed Dame Glynis to 18 Manvers Street on a Monday morning, and something different for the department's start to the week.
First port of call was the Payroll Office with Rob Coles, Payroll & Pension Manager; Simon Paul, Payroll Supervisor and the team.
Simon explained how the move to Manvers Street had been a catalyst for refreshing many of their processes and Rob showed how the foot-high pile of paper timesheets was shrinking as more staff came online with e-timesheets.
As Chair of the USS Policy Committee, Dame Glynis was keen to discuss the latest developments in pensions with our new Pensions Officer, Jo Brownlow.
Moving on to the Insurance team, Simon Holt, Insurance Services Manager, ran through the benefits of the UMAL (Universities mutual insurance scheme) with Dame Glynis congratulating him on his recent appointment as Deputy Chair of the scheme.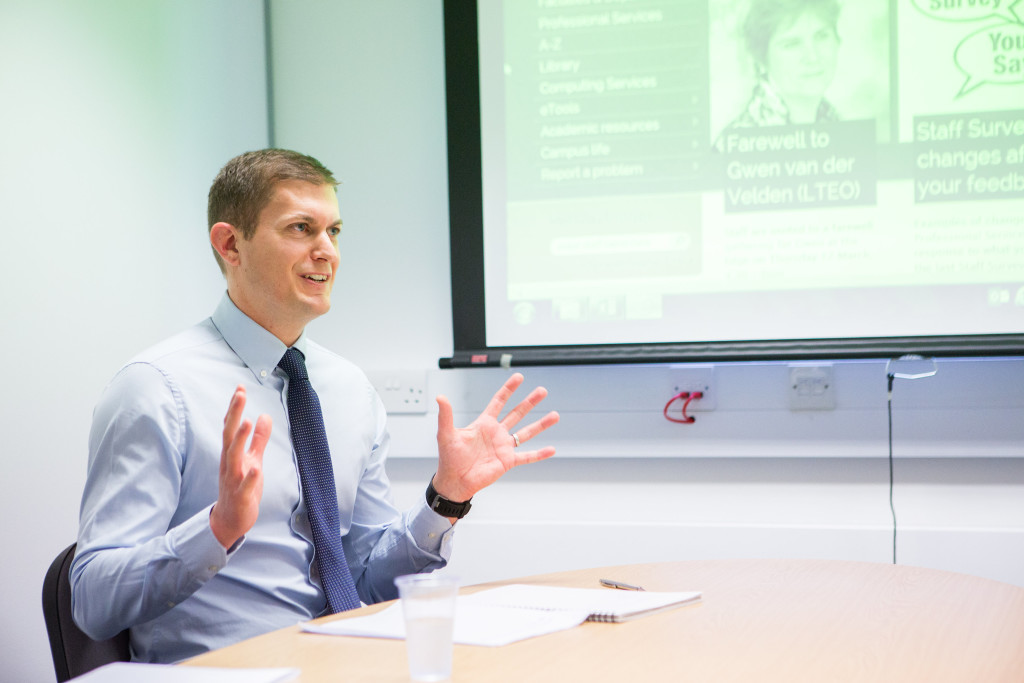 The Procurement Office then demonstrated the ease of using the e-marketplace with Tony Brett, Head of Procurement; Rich Backholer, Supply chain Coordinator and Greg Derrick, Contract Manager, ordering popular items including a 3D printer and an Oligo, a customised strand of DNA.
Staff then gathered in the staff room to hear from the Vice-Chancellor and ask her questions.
Dame Glynis said: "Thank you, it was interesting to speak to so many of you and to see the move has gone remarkably well.
"Our plans for the building will make it look really good and local residents and visitors will see it and the University as an integral part of their community.
"As the University occupies more new spaces, you are at the forefront of these developments and have shown what is possible by taking the plunge.
"Our new Strategy, which you may have heard about, articulates very significant change for us. To become an international leader in graduate education we must think outside traditional models of how we operate. The old idea is of the University up on the hill. The new one is a University in the City, in Jordan, in South Africa and across the globe.
"This means we will look to you to innovate and support this change, at speed, at a very exciting time for the University, and I have every confidence in you."