It was the turn of Gavin Maggs, Director of Development & Alumni Relations, to escort Dame Glynis, the President & Vice-Chancellor, to the East Building for her latest visit, and a look behind the scenes of events where she is usually centre stage.
Martin Cornish, Alumni Communications Officer, introduced a discussion on how they manage an event from inception to finish.
With the purpose decided - be it fundraising, stewardship or engagement – Andreea Stangu, Prospect Research Officer, described how her team works with academic colleagues to help create the guest list, Sarah Kilgallon, International Events Assistant, covered managing invites and Zoe Whitten, Events Assistant, talked about the all-important details like seating plans.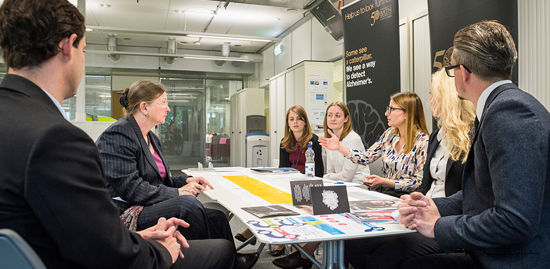 Kirsten Buckley, Head of Corporate Partnerships, focussed on the post event follow up, such as the 15 new meetings arranged after the Department's recent Windsor Castle event and Martin wrapped up describing how he publicised the event to our 100,000 alumni by email, on Twitter and in print.
Kirsten then offered Dame Glynis a virtual tour of Raiser's Edge, the database of detailed information on alumni and donors. Every interaction with an individual is recorded alongside biographical information to build up a complete picture of their relationship with the University.
The power of this data was brought to the fore when Dame Glynis stepped into the Telethon call centre.
Liz Foot, Fundraising Officer, explained how Raiser's Edge data was used to match student callers to alumni by identifying connections such as degree or society, to create conversations that as well as raising money, offer opportunities to make connections and for careers advice.
Alex Joseph, Senior Student Caller, described recruiting and training the student callers for the 303 shifts that raised £221,000 last year over, and Kit Stone, Data & Analytics Officer, unpicked how profiling and prediction modelling helped the most suitable alumni to approach.
Everyone then gathered for tea and cakes, with the Vice-Chancellor complimenting Chris Andrews, Departmental Administrator, on her outstanding orange polenta cake.
Dame Glynis said: "The £66million Look Further campaign fundraising target is ambitious. But I know you, and we, will achieve it. It is a clear demonstration of how you are enabling the Strategy and its transformational change of the University.
"I am asking you to maintain the momentum, not just to demonstrate the impact of the campaign but because it will build a platform for the next stage and where you go next."
A useful Q&A session was rounded off by Dan Graves, Alumni Relations Assistant and fervent Leicester City FC fan, with the question of the moment - what does the University have to learn from their success?
Dame Glynis said: "I was just in South Africa with the Vice-Chancellor of the University of Leicester so, as you can imagine, I heard a great deal about this.
"It shows what you can achieve by working strongly as a team and getting the whole community behind you. You need determination, consistency - and you can't worry about what everyone else says about you."