For her latest visit, Dame Glynis headed to one of the most connected professional services – the Academic Registry.
Creating innovative and prestigious graduate programmes was the first topic up for discussion. As John Harris, its Director explained: "Colleagues ask us for basic information on starting new programmes, and because we have so much experience in what's required we can help shape their ideas.
"Conversations like this early on means the more formal element of creating and delivering the programme is much more straightforward."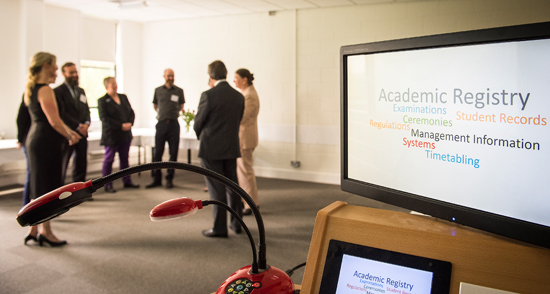 John Harris introduced Dame Glynis to members of the management team including James Arthur, Head of Student Records & Examinations, and Assistant Registrars Amy Cavanagh, Jon Davies, Lisa Isted and Caroline Turrell, alongside Rachel Sheer, Executive Assistant, and James Olver, Personal Assistant.
Lorna Joscelyne, Business Process & Systems Support, was first stop on a tour of the Academic Registry's history of developments, describing how the Student Systems team works with both users and developers to extract maximum value from the SAMIS database.
Valerie Jukes, Administrative Assistant, then gave an insight into ensuring effective liaison between our students and the Student Loans Company, especially in the complexities of changing course.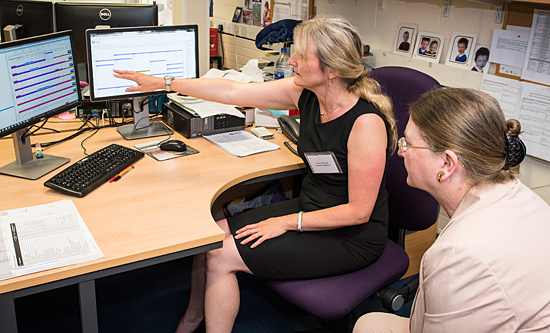 The jigsaw puzzle of timetabling was covered by Caroline Turrell, Assistant Registrar, who highlighted the My timetable app which lets students and staff customise and download their timetables and has seen 8,000 logins since it launched in September.
Dame Glynis was offered a peek behind the scenes at Ceremonies thanks to Liz Evans, Student Records Officer, and Ella Richardson, Examinations Assistant. They gave the Vice-Chancellor a chance to stamp her own official University seal using the original machine from the very first days of the University.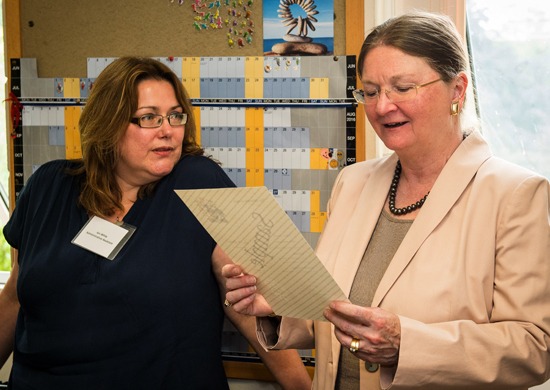 Dame Glynis then met with the whole department: "This has been a real delight, thank you - I have learned a lot.
"With the new funding routes and changes in research councils, we are increasingly looking outside traditional routes for new opportunities.
"And when we look outside traditional models we innovate - in the people we talk to, the partnerships we create, and the delivery of our teaching.
"Your experience and knowledge is vital to making these new ideas happen."