Dame Glynis joined Maggie Ward Goodbody, Director of the Academic Skills Centre, as they stepped into a teacher training session to see the Centre in action.
Twenty-three academics from Brazil were learning how to teach academic writing to their colleagues and students, led by Diana Hopkins, Academic Skills Course Leader. The course is a unique collaboration with Universidade Estadual de Campinas (Unicamp), an international partner and among the leading universities in Latin America.
Dame Glynis said: "It's wonderful to see you here. I'm very pleased our two universities are working together and I know, having spoken to your VC, how important this training is for Unicamp."
As well as studying hard, she encouraged the group to "get out and enjoy our great city".
Moving along the 1 West corridor, Dame Glynis met with colleagues over refreshments to hear about other elements of the Centre's work.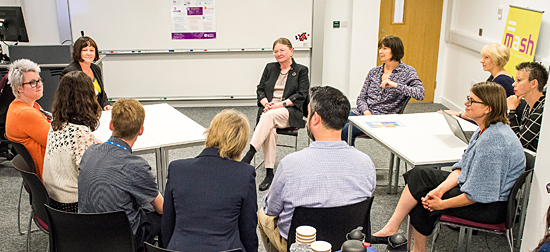 Jo Lewis, Head of Pre-sessional, spoke about the programme, which acts as a springboard to a range of courses, helping overseas students develop their academic skills and understand the expectations of study in the UK.
Miranda Armstrong, Head of Academic Skills Programmes, talked about the help students receive to attain the highest levels of academic achievement. Tom Reid, Academic Skills Course Leader, added that new sessions developed and delivered in conjunction with the Faculty of Engineering & Design were building students' real world skills.
Jackie Dannatt, Writing Centre Leader, and Justin Alam, Teaching Fellow, outlined the Writing Centre's provision for postgraduates and Dame Glynis encouraged them to contribute to the activities in the new graduate study space in 10 West.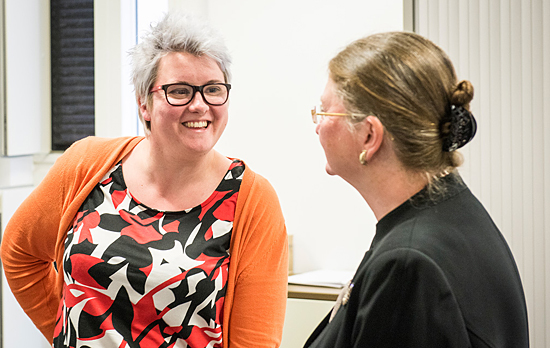 Head of Academic Skills Resources, Sarah Turpin, gave Dame Glynis an advance look at the Reflective Writing e-learning project offering online learning that can be easily adapted to provide subject-specific resources.
Dame Glynis said: "Thank you, it has been fascinating. It is good to see such a commitment to ensuring students successfully manage the transition on to our courses, something we will need to further focus on as we welcome more postgraduate students."